Hyundai Goes High-End With New Genesis Brand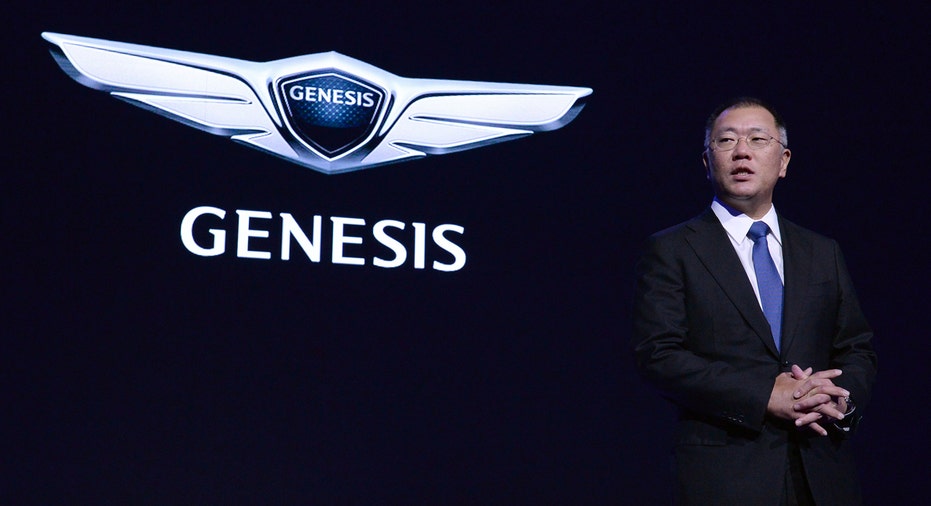 Hyundai has dabbled in high-end cars since 2008, when it launched a more affordable premium sedan called the Genesis. After months of rumors, Hyundai officially raised its bet on the growing luxury market.
The Korean automaker will introduce Genesis as a standalone global luxury brand in December to take on high-end rivals and jumpstart profits. Genesis will offer six new models by 2020, building on Hyundai's current luxury portfolio of the Genesis and full-size Equus sedan.
Genesis will initially launch in North America, China, Korea and the Middle East. The brand will enter Europe and other Asian markets once the model range "grows to full strength," Hyundai said Wednesday.
With a new lineup of luxury cars, Hyundai will put itself in position to ride a wave of momentum in the segment.
U.S. sales have accelerated this year for the biggest names in luxury automobiles. BMW, the market leader last year, has jumpstarted deliveries by 5.4% through October including Rolls-Royce and Mini. Lexus (12.2%), Porsche (11.1%), Audi (13%), Daimler's Mercedes-Benz (7.2%) and Tata Motors' (NYSE:TTM) Jaguar Land Rover (23.5%) have also reported stronger sales versus the same period in 2014.
Newer entrants like Hyundai and sister brand Kia—the maker of the Cadenza and K900—have helped the segment expand to an estimated 12.4% share of the entire new-vehicle market in the U.S., according to TrueCar (NASDAQ:TRUE) data. Luxury cars including exotics accounted for 11.5% of industry sales a year ago.
"As the economy recovers and consumers have more confidence, buyers are willing to spend a little more. Combined with low interest rates, they have more buying power," said Eric Lyman, Vice President of Industry Insights at TrueCar.
Lyman added that Millennials are moving up to luxury cars, particularly because Americans from that generation are leasing vehicles at higher levels. Leases allow buyers to acquire more car for their money, Lyman explained. High-end automakers have also begun to sell more entry-level models such as BMW's 2-Series.
Hyundai touted that Genesis will "boast outstanding driving dynamics and design," and the new brand will concentrate on providing a hassle-free customer experience.
"Every Genesis model will be created with the needs of our customers in mind, so the resulting car will perfectly meet their needs without any unnecessary burden or excess," Hyundai Vice Chairman Woong-Chul Yang, the head of Hyundai's R&D center, said in a statement.
The biggest brand challenge for Genesis is Hyundai itself. Genesis will employ a showroom-within-a-showroom strategy in lieu of developing its own dealer network. In other words, buyers will shop for Genesis vehicles at existing Hyundai dealers.
"It's clear that one of the challenges they face is the association with Hyundai. Is the showroom-within-a-showroom enough of a differentiation?" Lyman wondered.
Hyundai holds a few tricks up its sleeve. The company has successfully raised its profile in the U.S. with sales of Genesis sedans and coupes up 7.3% in 2015. Also, while pricing for future Genesis models has yet to be announced, Hyundai's current luxury options sit at a lower price point than other brands like Toyota's (NYSE:TM) Lexus.
For example, the midsize 2016 Genesis starts at $38,750. The 2015 Lexus GS 350 has a price tag of $48,600.
Luxury cars may support Hyundai's bottom line at a time when the company is coming off seven consecutive quarters of earnings declines. Hyundai has struggled amid greater competition in its home market and a strong Korean won, which hurts international sales. By launching a separate premium marquee, Hyundai can further capitalize on the segment's higher profit margins.
Transaction prices are on the rise this year. TrueCar said luxury buyers have paid an average of $54,748 per vehicle this year, up 2.9%. That is a faster rate of growth than the industry as a whole. Overall, average transaction prices have risen 2.1% to approximately $32,589.
Revenue growth has outpaced the broader industry, too. Based on TrueCar stats, luxury revenue is up 16.3% so far this year, while total automotive revenue has climbed 7.2%.