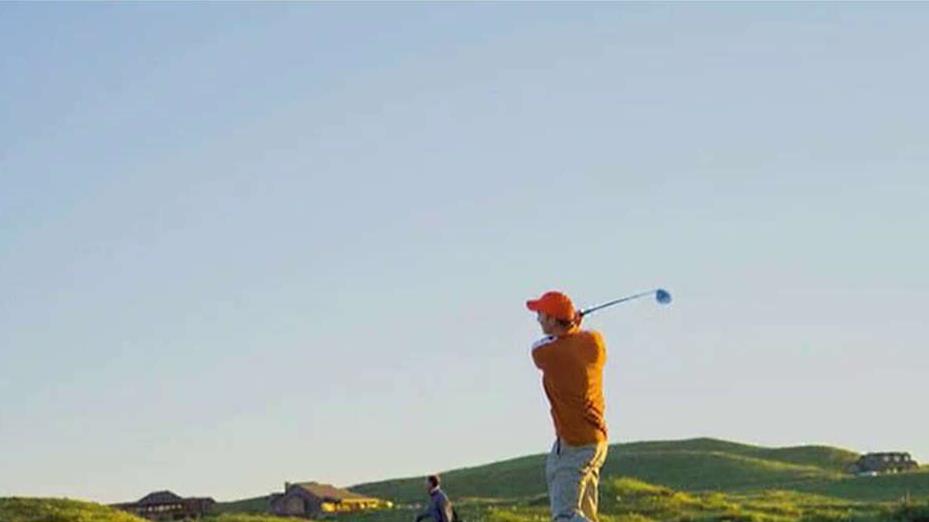 A network of golf marathons is challenging its participants to walk over 100 holes of golf in one day to raise money for charity. Hundred Hole Hike Founder Jim Colton explained how the idea came about.
"I've always been a passionate walking golfer, but back in 2011 a caddy in my club in Colorado was paralyzed in a skiing accident; It was a 23-year-old by the name of Ben Cox. I never met Ben, but it was a really tight community at the club so I decided on this crazy idea – I was going to walk 108 holes in a day and hoped to raise some money for him and his family," Colton told the FOX Business Network's Sandra Smith.
But the money raised by that first Hundred Hole Hike greatly exceed Colton's expectations.
"People thought I was nuts. And really, I thought I would email a few of my friends and raise a few thousand dollars and feel pretty good about myself, but the initiative really gained a lot of steam. I ended up walking 155 holes and we raised $110,000."
Hundred Hole Hikers Danie Steyn and Dr. William Boonn completed 153 holes and walked over 45 miles on their recent hike.
"It was lot of fun. This was my fourth hike, but this is by far the most I've gone. It was a great experience inspired by Jim and what he's put together," said Boonn.
"Dr. Boonn here, he lured me in. He said, 'no, it's going to be fun, you're going to have a good time,' but it was brutal. I tell you, nothing could really prepare you for this. What we did is we hit, ran, hit, ran, hit, ran. After the third, fourth round I was like 'hmm…I think I'm getting tired,'" said Steyn.
More from FOXBusiness.com…
For those that want to participate but may be concerned about their golf skills, Boonn says you don't need to be a pro.
"Honestly, from my perspective, I think you can be a fairly average golfer. I mean, the goal here really is to try and complete the 100 holes, so you end up really just trying to hit the ball forward and running after it and hitting it again."