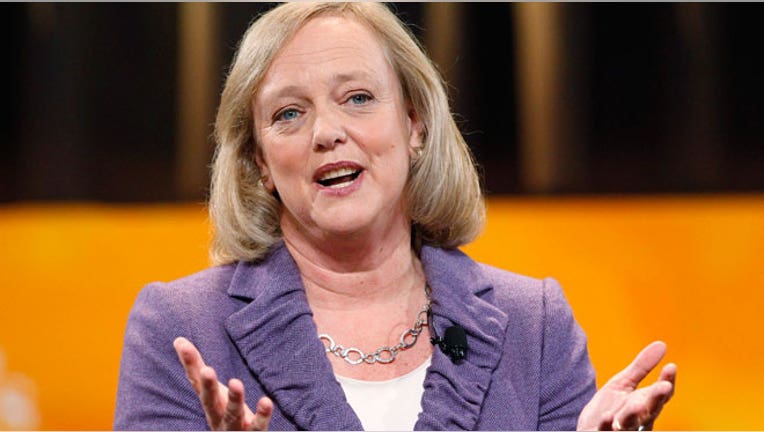 Hewlett-Packard will report its quarterly earnings Wednesday after the close of regular trading in New York, and there is a lot riding on what its senior executives, especially CEO Meg Whitman, plan to say.
The consensus among Wall Street analyst calls for HP to report sales of $29.92 billion and a per-share profit of 91 cents.
One possible curve ball however is Europe. Given HP's exposure to the faltering markets on the continent, about which Dell complained in its earnings report Tuesday, HP could conceivably see its results hurt more by Europe than Dell.
Europe accounts for 37 percent of HP's revenue, making it the most heavily exposed there among the large IT vendors. "The increasing uncertainty and resulting macro weakness in Europe will likely act as an ongoing headwind to growth," analyst Chris Whitmore of Deutsche Bank Securities wrote in a note to clients.
But the big item on the agenda will be HP's plans for restructuring and how many jobs may be lost. As reported last week, HP is contemplating a restructuring that could see as many as 30,000 jobs eliminated, including 5,000 through voluntary retirements.
What is unclear is over what length of time these jobs will go. Sources say it is likely to be a fairly long period of time
The reductions would be the latest in a long, painful sequence of cuts for HP that began years ago. Whitmore notes that HP chopped 50,000 jobs over the course of five years under the tenure of former CEO Mark Hurd.
Whatever restructuring HP puts on the table, Whitmore expects it will help the company maintain its prior guidance that it expects to finish the year with a per-share profit north of $4.00, but it is still not going to be easy.
Summer PC demand is expected to be soft, and the lack of a tablet strategy is not helping. Demand for corporate PCs will likely be a rare bright spot, but just barely.
In printers, the relatively weak results of printer concerns Canon and Lexmark do not exactly imbue the market with confidence that the trend of sliding profits and sales in HP's printer operation, recently combined with the Personal Systems Group in a sweeping reorganization announced last month, is anywhere close to being reversed.