How UFC Benefits From NY's Legalization Of Mixed Martial Arts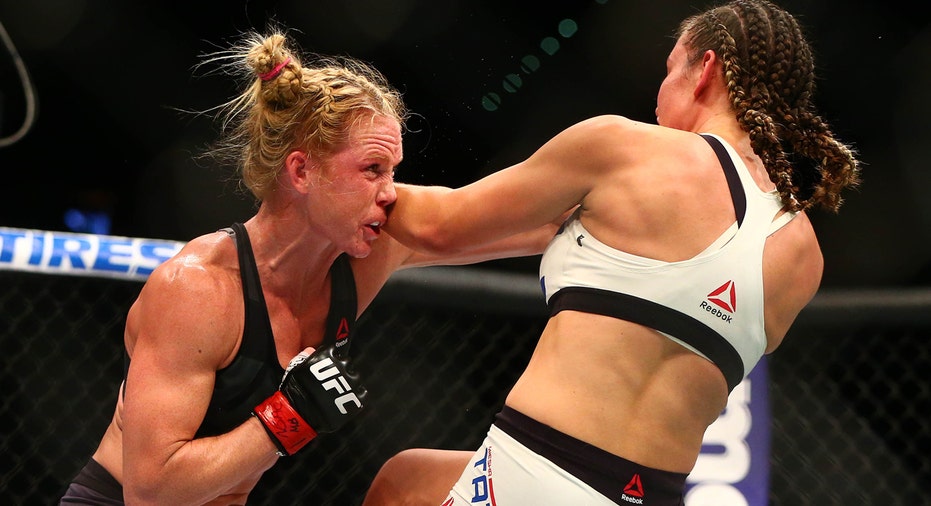 With the impending legalization of mixed martial arts contests in New York State, Ultimate Fighting Championship is ready to complete its transformation from middling fight promotion to mainstream sports league. Supporters are already anticipating a long-awaited homecoming at Madison Square Garden, but that event is just one element of the statewide financial boon UFC and other MMA promotions could soon experience.
The New York State Assembly overwhelmingly voted Tuesday to end the statewide ban, which has stood since 1997. MMA promotions could be free to operate in New York by late 2016, pending the formal approval of Governor Andrew Cuomo, who has publicly supported the sport's legalization, and the implementation of a set of regulations by the New York State Athletic Commission. The UFC aims to hold up to two events in New York by the end of the year, including one at Madison Square Garden in the heart of New York City.
Once a struggling organization with a small but devoted fan base, UFC has enjoyed explosive growth since future company president Dana White and brothers Lorenzo and Frank Fertitta purchased it for a mere $2 million in 2001. Fifteen years later, Forbes values the brand at $480 million. UFC is a private company, but CEO Lorenzo Fertitta said it earned about $600 million in revenue in 2015 alone. That number should rise even higher now that UFC has gained access to New York and its network of corporate sponsors, world-class arenas and mainstream media exposure.
"New York is the biggest market for us in the United States already, from a pay-per-view standpoint," Fertitta said this week during a conference call. "It's the most important media market in the United States, perhaps in the world. We have high expectations when we do events at Madison Square Garden or at the arenas in upstate New York."
Critics argue mixed martial arts events are too barbaric for mainstream audiences and promote a negative concept of masculinity. But supporters, including several prominent local politicians, are confident that the economic potential of fully-regulated MMA fights outweighs any risks. Cuomo preemptively added expected ticket and cable revenues to the state's 2017 fiscal budget.
Madison Square Garden is a natural choice to host the first legal MMA events in New York, given its reputation and rich history of holding some of the biggest boxing events of all time. It's also the centerpiece of UFC's plans for the state – Fertitta says the company is aiming to break the arena's gate record, as well as that of every other New York stadium that hosts a UFC event.
Record-breaking gates and stronger pay-per-view sales are enticing propositions for UFC, but the true value of the sport's legalization in New York may lie in its ability to connect brands and media buyers with mixed martial arts promotions.
"When you're doing your biggest events two blocks away from Madison Avenue and brands can walk down the street and actually be involved, that's a big step up," Joe Favorito, a longtime public relations professional and New York-based sports business expert, told FOXBusiness.com. "The reason why the U.S. Open [in tennis] is so successful is because it's in New York. If the U.S. Open was moved around the country, it would never be as big as it is right now, and the reason why is because brands can embrace it in their hometown."
The "World's Most Famous Arena" is just one of several viable hosting options sprinkled throughout New York state. MMA promotions will also be interested in holding events at the Barclays Center in Brooklyn, as well as smaller stadiums such as Nassau Coliseum on Long Island or the Carrier Dome in Syracuse. Even outdoor venues like Yankee Stadium in the Bronx or Citi Field in Queens could come into play.
"The places that will get more out of this are the places that can stage smaller shows – casinos, upstate New York, smaller venues that used to hold boxing events, charity events that can now have professional MMA involved," Favorito said.
UFC executives have expressed excitement about bringing events to upstate New York, where cities like Buffalo and Rochester have strong MMA fan bases. Fertitta said his employees started placing calls to potential venues the minute the bill passed the state assembly.
"Obviously New York City is one [option], but we committed that we were going to bring four events per year for the first couple of years," Fertitta said. "The other event [in 2016] will probably be somewhere in upstate New York, could be anywhere from Buffalo to Syracuse, Rochester, or even maybe Utica."
UFC isn't the only promotion set to capitalize from exposure in New York. Competitors like Bellator and other, smaller promotions will also benefit from access to the new market, as well as public relations victory that comes with the end to the final MMA ban in the United States.
"I think it's going to be an epic moment for the sport and for our company," Fertitta said.