How to Use March Madness for Small Talk With Employees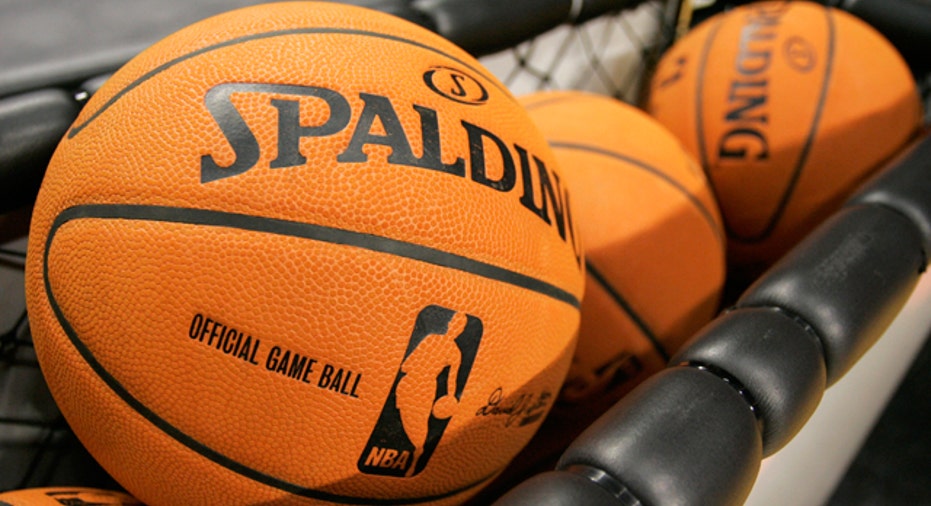 March Madness is here and has taken hold of workplaces, large and small. It's a rarity to find an office associate – whether on the loading dock or rug row – who's not pulling up online scores and checking over their brackets. Even the Oval Office has a March Madness pool.
Most likely you've heard of the productivity stranglehold of this hoops hoopla. One major study estimates this year's NCAA Men's Basketball Tournament will result in 8.4 million hours of lost productivity among U.S. workers.
But there's a bright side: These three magical weeks up the opportunity to initiate casual chatter that forges new or better work relationships. Men, women, sports enthusiasts or nerdy geeks, there's scarcely a soul who isn't aware of the big annual round-ball tourney – at least on some level.  If you're among the many throttled by the thought of sparking spontaneous conversations with relative unknowns at work, fear no more.
Pick up on the visual cues. Chances are your colleagues are sporting the logo of their favorite team on a hat, jacket or screen saver. Whatever it is, it's a great conversation starter. As a fiercely proud and passionate Syracuse University alumna, I regularly key in to my college's bright orange block 'S' logo.
You can enjoy similar dividends at work with your colleagues and managers. Here are seven tips to start small talk in no time flat.
No. 1: Read the paper and stay current on the events. This is particularly helpful when traveling for business. If you're meeting with a client in a different geographic location, pick up the local newspaper and read up on favorite players and teams. Or tap another outlet: the local all-sports radio station. All you need is 15 minutes and you'll get tuned in to colleges and coaches that will serve as good ice breakers for discussion.
No. 2: Ask open-ended questions that can't be answered with a yes or no. Go beyond simply asking, "What teams did you pick for the final four?" Inquire about factors that prompted those picks. You'll get flavor and insights that can open the door to a more in-depth conversation. In a recent Dulye & Co. poll, nearly 50 percent of respondents said when someone follows up with questions during a conversation; it conveys that they are truly listening. And listening garners respect.
No. 3: Put the focus on the other person. Don't start chiming in about your bracket picks; ask more about others' interests. Explore what got them hooked on a particular team and how long they've been a fan. People like to talk about themselves. Let them do so.
No. 4: Steer clear of topics like religion and politics. Thanks to the 24/7 Republican primary coverage, folks are pretty much talked-out or fed-up about politics. Besides, political banter can be explosive, so instead shift to neutral topics. Beyond sports – and the current tournament action – weather and food are comfortable small talk topics.
No. 5: Keep the conversation clean like you're in a 1950s movie. No potty mouth. This can be tough when it comes to sports talk. But remember, you're not analyzing stats and plays with your buddies at a bar.
No. 6: Look at the other person in the eye. Make direct eye contact, smile have a pleasant demeanor. Eyes signal interest and keep people engaged.
No. 7: Read the 3V™s: visual cues (body language), vocals (tone, inflection) and verbals (words.) If the person you are speaking with keeps glancing at their watch or sounds rushed in their responses, most likely he or she has a pressing appointment and it's time to cut off the small talk. Don't take it personally or get discouraged. Small talk shouldn't stretch beyond a few minutes.
Big Dance brackets can bring out the best in small talk. A casual conversation comparing sweet sixteen picks could deliver big dividends in new working relationships between departments and shifts. Who knows, March Madness small talk could turn the tide on workplace productivity. Grab the ball. Drive to the hoop and knock down a big bucket for your team.
Do you find it difficult to start small talk? Weigh in by taking our two-minute poll.
Linda Dulye is internationally recognized for helping many companies go spectator free. A former communications leader for GE and Allied Signal, Linda established Dulye & Co.   in 1998 with a practical, process-driven approach for improving communications and collaboration through an engaged workforce— a formidable competitive advantage, that she calls a Spectator-Free Workplace™.