How to Switch From an Android Phone to the iPhone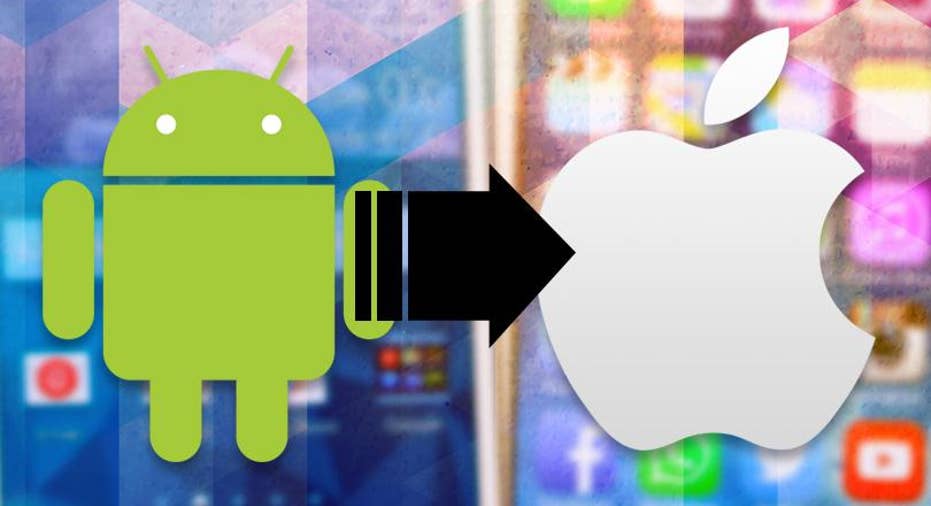 While there is an army of excellent Android phones available, that wasn't always the case; early models were sluggish, inelegant, and error-prone. That's no longer a problem, but Android fragmentation is rampant; 24,000 distinct versions of Google's mobile OS as of 2015.
In comparison, the iPhone has long been a shining example of beautiful software and hardware design, controlled by Apple to ensure that its devices provide as similar an experience as possible. After 10 years, the iPhone still beckons, and now that the large-screened iPhone Pluses are readily available, it's all the more tempting to switch. Thinking of making the move? This guide will help ensure that your transition from Android to iOS is as smooth as possible.
Get Ready For Your New iPhone
Move to iOS AppApple took some of the hassle out of moving from Android to iOS by launching an Android app called Move to iOS (pictured below). It promises to set up a direct wireless connection from your old Android to your new iPhone, and will transfer over the following: contacts, message history, camera photos and videos, Web bookmarks, mail accounts, calendars, wallpaper, and DRM-free books. The Move to iOS app will also suggest that you download the iOS versions of the Android apps you had installed, assuming there is an iPhone equivalent.
Note that Move to iOS only works when setting up an iPhone for the first time—it's not for transfers to an already operating iPhone.
Use Google's Services If you've committed some or all of your digital life to Google services like Gmail, Drive, and Calendar, you're in luck. All the major Google services have versions for iPhone with similar, if not identical, functionality.
For example, it's a breeze to use Gmail with the dedicated Gmail app on iPhone. Or sync your Gmail accounts with just about any iPhone email app, from the one that's built in, to third-party apps like our favorite, Microsoft Outlook for iPhone. Google also makes a special Google Inbox for Gmail that makes the interface even simpler. You'll also find it easy to use Google Drive to access files, or use the individual apps for Docs, Sheets, and Slides as desired for editing.
This is particularly handy for your contacts. Put all your contacts into Google Contacts on Android (or using Gmail on the PC), then sync your Gmail with the iOS contacts once you're on iPhone. Apps like My Contacts not only create a backup of your contacts on Android but also make it easy to edit names on the Web and import into iOS (or vice versa).
Centralize Your Media Once upon a time, iTunes was still the dominant app for listening to music, especially on PCs and Macs. Clunky as it is, iTunes—along with Apple's iCloud and iTunes Match services—made it pretty easy to access all your music across devices—but not on Android.
If you've got a lot of music purchased via the Google Play store, download it to a local PC—you'll have to do it on the computer—by going to music.google.com. Then open iTunes on the PC and drag all your music files in. Sync it back to your iPhone by connecting it via cable to the PC while iTunes is running. Or, use iTunes Match ($25/year) to sync the music files to the cloud and access the tunes on any Windows, macOS , or iOS device.
Or, don't worry about any of this and use Spotify or Apple Music or Amazon Music Unlimited, each of which cost $10 a month for streaming and offline playlist access of almost all existing music on planet Earth.
Quick note: if you go with Spotify, pay for the $9.99/month Premium on the website, NOT via the app on iPhone. If you pay using iTunes, Spotify charges you $3 more per month—a markup that goes directly to Apple. Why? Apple takes a 30 percent cut of all in-app purchases made on the App Store, so Spotify passes that cost to the user. If you sign up on the Spotify website, though, you can just download the Spotify app and sign in with your Spotify Premium credentials.
Media also includes photos and videos, and you may have a lot of them on your Android device. To make sure you have them at full resolution, it used to be best to plug the Android phone into the PC via a USB cable (or use a memory card if that's an option) and physically copy them to a computer hard drive for storage. You can always put a few of the pictorial faves back on the iPhone by putting them in iTunes and then synchronizing .
Better yet, use a service that auto-magically backs up photos to the cloud, which you can access on both phones. The latest version of Google Photos, in particular, is all about providing unlimited storage of pictures; back them all up on your Android phone and they're all accessible on iPhone (and PC).
Other services like Microsoft OneDrive, Dropbox, and Flickr all have mobile apps for both platforms that provide similar backup and access, though some of them will cost you for the space needed. This is especially nice if you keep that old Android phone around after you've switched to iOS to use as a camera or backup phone; then all pictures taken on those multiple devices get backed up in one (or multiple) spots. (Remember to open the apps every now and then to make sure the backups are taking place.)
Ease the USB Cable Pain With iOS, you no longer have to connect an iPhone to your PC periodically using its proprietary cable just for backup or updates. A lot of that will happen over iCloud. You can still do it with the PC wirelessly, but the iPhone needs to be connected to a power source, a bizarre limitation. At any rate, make charging the iPhone easier by picking up a small desk dock that keeps ugly wires out of sight and makes it super easy to pop the iPhone in and out.
Once You Have Your iPhone
Learn the UI The iPhone has an Android-like notification bar, but it still lacks function keys or a back button. Its home screen is actually the first menu pane. You swipe between multiple menu panels, which contain icons for the apps that do everything you'd want. Swipe right from home to get to widgets; swipe down from the top of any page to get all your Notifications.
A single button at the bottom of the iPhone screen returns you to the home screen. To delete or move an app, hold a finger down on any icon until they all start wiggling and then move them around or into folders (pull one icon atop another icon). Or click the X on the icon to delete the entire app (not just the icon).
That home button doubles as the fingerprint scanner (called Touch ID) on newer iPhones. You can use it to not only get secure access to the iPhone (or use a 6-digit PIN), but also use Touch ID for extra access on banking apps, messaging apps, or to pay for things using Apple Pay.
"Multitasking" of apps occurs automatically in the background; you can kill individual tasks by double-pressing the home button to access the App Switcher, then swipe up on any app listed to "close" it. Contrary to popular belief, however, this does not save battery or speed up your device. Apple's iOS manages how apps use memory and deactivates those not actively in use after a while unless they have privileges spelled out in the settings; mail apps or GPS apps, for example, keep working.
Since the iPhone 6, there's been a difference between double-pressing, where you physically push the home button, and a quick double-tap on the button. The latter moves the top half of your screen down, so it's easier to reach things at the top using your tiny thumbs. Apple literally calls this feature "Reachability." You can turn it and many other options on or off in the iOS Settings > General > Accessibility.
Don't forget to bask in the beautiful absence of bloatware on iOS (save for a handful of Apple-provided apps). It's arguably the very best thing about Apple keeping an absolute stranglehold on its hardware and operating system. And as of iOS 10, you can even delete the Apple-provided apps like Stocks, Apple Watch, Tips, etc., that no one ever uses.
Dive Into the App StoreThe single best reason to switch to the iPhone remains the App Store. Google Play has largely caught up, but as a general rule, Apple's App Store still offers a greater variety. You can find many more games, and apps tend to appear on the iPhone before other platforms. Incidentally, most of this comes down to economics, rather than a religious war between the two platforms. It's just easier for iPhone developers to sell apps and get paid. That said, some consider it a monopoly for the very reason that it's the only place you can get apps.
Enjoy Seamless, Stable OS updatesThere are far fewer hardware SKUs to worry about with the iPhone—no fragmentation—which greatly reduces development and QA time. Android OS revisions have become a tremendous mess over time, as various phone manufacturers and wireless carriers delay updates for months on end. Meanwhile, current iPhones get free updates with major new features on a regular basis, and nearly all of Apple's iOS updates have been stable out of the gate (with iOS 8.0.1 in 2014 being the exception to the rule).
Cradle Your iPhone in a CaseThe iPhone's construction is surprisingly durable, but you still don't want to drop it. Ever. Instead, pick up a case to keep your delicate phone protected. Here's a collection for the iPhone 7:
There are other cases for the 7 Plus, as well as the iPhone 6/6s and the larger iPhone 6 Plus/6s Plus. Apple also still sells a smaller iPhone SE with a 4-inch screen; get a case for that one, too.
The Jailbreaking QuestionWe don't recommend jailbreaking as a rule because it could brick your iPhone and lead to all sorts of warranty-related issues. But the feds say it's legal, thankfully.
For average smartphone users, the app ecosystem provides most of what people want. Still, in some cases, jailbreaking is the only way to run certain kinds of apps that Apple bans, such as retro game emulators, or do even more with the Apple Touch ID fingerprint scanner, among other things. If you're a heavy tinkerer, look into it, but be prepared for disappointment as Apple fights jailbreaking with each new release.
Another option: simply stay with Android, which is far more amenable to OS meddling.
This article originally appeared on PCMag.com.