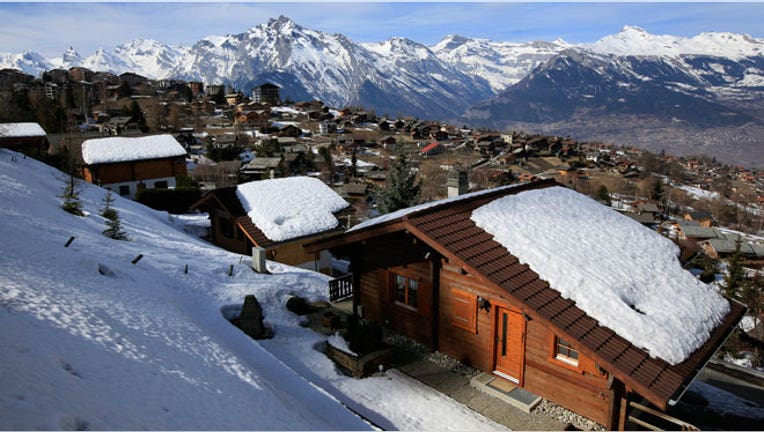 The leaves are starting to turn and the chill is in the air, and now is the time for homeowners to prep their residence for Old Man Winter.
With heating costs expected to rise this year, properly winterizing your home could save money on lower heating bills and eliminate costly damage to the house from the elements.
"The most important things are to check for leaks around the house and make sure your heating is as efficient as it can be for the house," says Larry Bilotti, executive editor of BobVila.com. Experts recommend inspecting your home and making requisite repairs now before that first snowstorm.
Seal the envelop of your home. Now's the time to walk around your house and look for cracks and places that need sealing or caulking. "It will help you save money in the summer and winter by eliminating air infiltration," says home improvement expert Danny Lipford.
Look for cracks around windows, doors, faucets, air conditioning vents, dryer vents and any other place that something can come through the wall. Most cracks can be sealed with good quality exterior caulk—it's very inexpensive and comes in many colors to match the exterior, says Lipford. "If you do find areas with large cracks, you may need to use an expandable foam."
Bilotti suggests patching any areas with cracked paint because exposed wood has no barrier against moisture, which can cause more serious problems.
Make sure doors and windows are sealing properly. "Since nearly half of your energy costs go to heating and cooling your home, you want to make certain that windows and doors are tightly sealed," says Bilotti. Check that weatherstripping is installed and that caulking around windows is not cracked or missing. This is also the time to remove screens and install storm windows.
If you already have weatherstripping, look whether the foam's in good condition, says Lipford. "If it's not, take off a small strip and take it with you to the store to match it with new weather stripping because that will give you the best seal."
Protect from critters. "While you're walking around, look for access points for insects and small animals," says Lipford. Closing any holes can prevent squirrels and other animals from living in your warm attic during the cold winter months and causing long-term problems. He suggests using binoculars to inspect areas around roofs instead of climbing a ladder.
Look for missing, loose or curled shingles.  Look at your roof from a distance to see if there are any shingles that are missing, aren't lying flat or have curled corners, says Bilotti. Fixing shingles now can help a roof last up to five years longer and prevent a bigger headache come spring—shingles protect the roof from water and moisture and prevent roof rot and leaks.
If possible, ask a handyman to check whether flashing around chimneys, vents and skylights have seals that are sound and waterproof.
Inspect gutters and downspouts. Once the leaves have fallen, clear out the gutters and check for any needed repairs, says Lipford. Look at where the downspout directs the water and make sure water doesn't puddle and stay near your foundation.
"Gutters that don't handle run-off are likely to create ice dams," says Bilotti. Melting ice can pool and cause roof rot.
Trim tree limbs. Heading into the colder months is a good time to cut down any tree limbs that are touching or near the roof, says Lipford. "These could damage the shingles."
Also, remove any weakened or diseased trees otherwise they could cause damage if they fall from bad weather storms.
Take care of faucets and pipes. You don't have to do this if you have frost-proof faucets, says David Hamtil, co-owner of Hamtil Construction in St. Louis. Unscrew hoses from any exterior faucets and winterize sprinkler systems by blowing water out of the lines.
Wrap any accessible pipes in your basement or attic with foam pipe wraps, says Lipford. "It will help prevent any freeze damaged and burst pipes and help you save money since it will carry the hot water for use."
Service your furnace and humidifiers. Call a professional to clean your heating system and check that it's working properly, says Lipford. "It will run more efficiently, save you money, be safer to operate and the whole system will last a lot longer because it's been properly maintained."
Change your furnace filter every two months to improve indoor air quality, says Lipford. During the fall, open every door and window and air your house out. Since homes are so well insulated, indoor air is more polluted than outside air.
If you have a whole house humidifier, Hamtil recommends having it serviced at the same time as your furnace.
Insulate your attic. Even though most houses have less than six inches of insulation, you need at least 12 inches, says Lipford. "If you can roll insulation, you can get your money back in energy savings in six months." Even adding one or two rolls at a time will still have a benefit. When rolling insulation, using unfaced insulation without paper instead of faced insulation with paper will prevent trapping moisture in the insulation down the road.
Sweep your chimney. Make sure your chimney's cleaned and inspected by a certified professional, says Lipford. Built up creosote in a chimney can cause flash fires.
Check smoke and carbon monoxide detectors. Experts suggest putting fresh batteries in these detectors. "Check your carbon monoxide detector to see if it's working and hasn't expired," says Hamtil. These have a five- to seven-year shelf life. If the detector goes off, you have to call the fire department to check your house.
It's also important to have a fire extinguisher handy. "You can solve a lot of problems with a fire extinguisher in a readily accessible area," says Lipford.