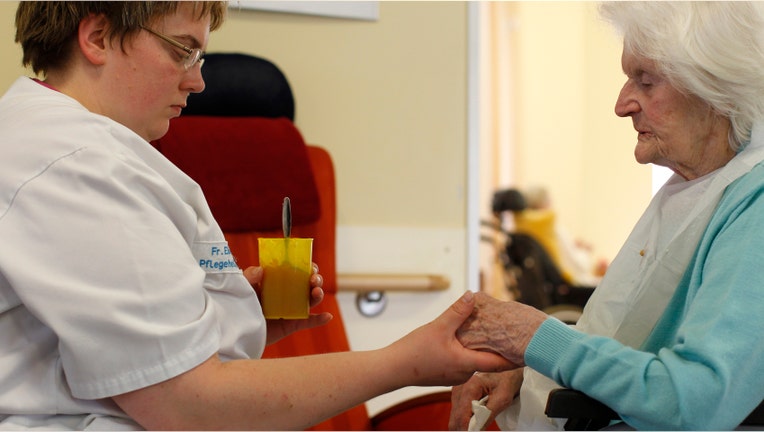 Today's boomers and senior citizens want to remain in their own homes for as long as possible, causing a surge in the home health-care industry.
"An AAPR study shows that 89% of seniors want to stay at home at all costs," says David Goodman, president of Companion Connection Senior Care.  "Someone who has been in their home for 50 years it's very hard to make the transition to go into a facility."
Home health care can be a cheaper alternative to a nursing home and more comfortable to aging homeowners.
The familiarity and consolation of remaining in a home offers many perks, but it's vital to find a professional caregiver that is not only certified, but is also a good personality match.
"Very little senior care is hired direct like a babysitter," says Julie Northcutt, founder of Caregiverlist. "Senior care is more complicated. You've got to know how to administer medication, you have to interact with memory loss. It requires training."
Horror stories of caregivers being negligent, stealing or not being certified continue to make headlines, making the selection and vetting process crucial. And industry players say the best way to find a caregiver to use an agency.
Experts suggest using an agency that is licensed in each state it offers services. Although not all states require a license to place home healthcare professionals, Goodman says the number of states that require a license has increased over the past few years. "The minimum requirement is usually pretty stringent," he says of the licensing process.
Using an agency will also protect you from any liabilities since the agency will be responsible for payroll taxes, workers compensation and the actions of the healthcare professionals. "If the caregiver hurts his or her back, workers comp will pay for that," says Northcutt.
Agencies also conduct national background checks on all the workers to prevent any theft or fraud. "The biggest aspect is the insurance protection. You don't want to lose a lifetime worth of assets because you don't have a professional," Northcutt says. Agencies also offer substitutes for when the normal caregiver is sick or off.
You should also evaluate the training of a caregiver, and Goodman says candidates that are properly trained will have more than 130 hours of training and have passed the Caregiver Quality Assurance or CQA testing, which is the benchmark for the industry to test the soft skills of the caregiver. The CQA tests dependability, honesty, aggression, conscientiousness and cognitive reasoning that allows agencies and consumers to know how a caregiver will react in certain situations.
Goodman advises getting at least two cost estimates from different agencies and to evaluate their approach to care and how they manage patients and their staff. A good agency is going to not only take your information over the phone but also want to come to the house to do an on-site assessment. By evaluating the needs of the person, the agency will be able to narrow down the field to the best possible caregiver and assign a case worker, says Goodman.
He says suggests assessing agencies' matching system to know the match up will be solid. "When an agency does an evaluation well you have a good outcome," he says.