How to Make Going Back to School More Achievable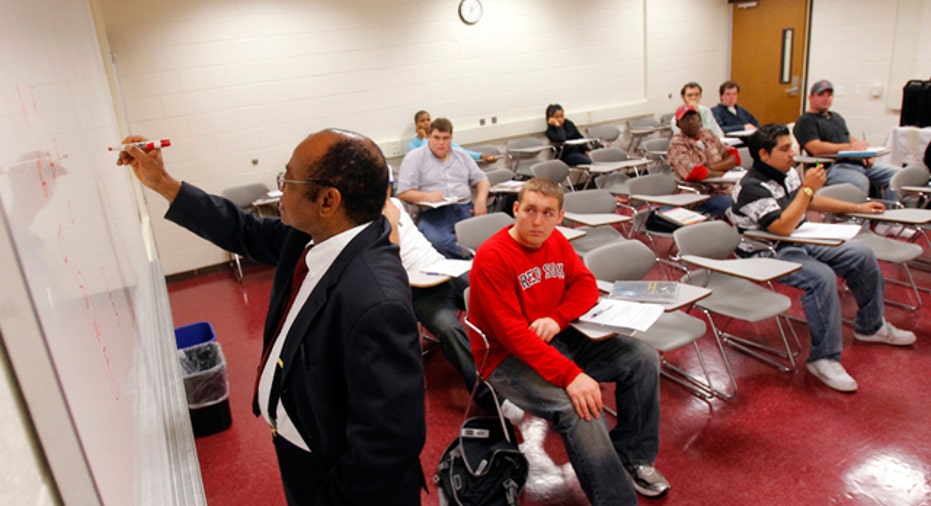 It's not uncommon for college students to change their major a few times during their time on campus, but the current economic climate and frail labor market is forcing recent graduates to re-evaluate their major and career choice.
According to a recent survey by Bellevue University, 47% of those surveyed said the economy has caused them to re-evaluate their careers and 26% percent reported that there are too few opportunities in their current line of work and would like to switch to a growing field.
"The recession obviously constrained a lot of people's career options, but it also had psychological impacts," says Emily Kissane, policy and research analyst for education solutions company Hobsons. "The career trajectory many people had in mind for themselves may not have been possible in the bad economy."
Those with the desire to return to school often lack the time and financial resources needed to update their skills. The survey reports that one in four people in the U.S. are struggling to make ends meet and 34% said the cost of tuition and fees needed to attend college is keeping them from enrolling.
For young professionals feeling overwhelmed by obstacles standing in their way of increasing and updating their education, here are four factors experts say to consider when looking to upgrade skills and increase marketability.
Identify Hesitations
The thought of venturing outside of one's comfort zone to explore other career options can be intimidating, causing many professionals to hesitate when it comes to committing to an education program, according to Veronica Montalvo, vice president of enrollment management for the Online Education Institute at Post University.
"[They wonder] how are they going to balance their education with their family, career and other responsibilities," she says. "There will always be obstacles to overcome, in order to achieve one's academic goal--the real question is, 'how badly do you want it?'"
It's important to conduct an honest personal assessment to clearly identify career and education goals, says Mary Hawkins, president of Bellevue University.
"Are your expectations realistic? Are you in job or career you love? If you're not doing something you love, the onus is on you to make a change," she says. "Education may help you obtain a fulfilling job and career, but the onus is on the individual to define what motivates them."
Address Financial Impediments
Returning to school can be a hefty financial burden and prospective students need to make a plan and research what specific programs have to offer in terms of aid and the best way to approach their studies.
"How much does it cost? Do they have a payment plan? Is it more cost effective to take one class at time as you have the money, or to wait until you have the full amount? Which will take longer? The answers are different for everyone; you have to formulate and follow the plan that works best for you," says Hawkins.
Kissane cautions against ruling out any options before exploring means of financial support by way of merit scholarships, workplace educational assistance, family or friend loans and institutional scholarship opportunities.
Finding the Right Program
Students juggling careers and family obligations should research and find programs that meet their schedule demands.
"More and more programs are designed for people who are working, they have evening and/or weekend classes, and the curriculum takes into account that students are working," Kissane says. "Check to see if your employer will support your going to school, either financially or with a flexible work schedule."
Choosing a program with support services will also make it easier for students to stay on track and graduate in a timely fashion, says Montalvo.
"A good program will provide you with access to a personal academic advisor, as well as online tutoring services, online library resources and support, and a personal financial services person who can help you manage the costs associated with earning your degree."
Reassess Goals Periodically
Taking on a drastic career change and additional educational commitment is a tall order, and taking a step back to assess the situation can help students press on when feeling overwhelmed.
"Education is a marathon, not a sprint and professionals need to keep this in mind because part time programs generally take longer to finish and dedication/commitment is key in completion," Kissane says. "I wouldn't get hung up on not finishing in your timeline you had in your head, but rather what have you accomplished that is helping you finish the end game."
Whether students decide to take one class at a time or are able to manage a more robust schedule, returning to school can help them to realize their ultimate occupational goals and achieve their dream career path, says Hawkins.
"It is not easy to balance the demands of work, life and school but the reward of earning your degree should stay in focus," she says. "By knowing the strategies to overcome the obstacles that can often stop students, you can be one of those who succeed."