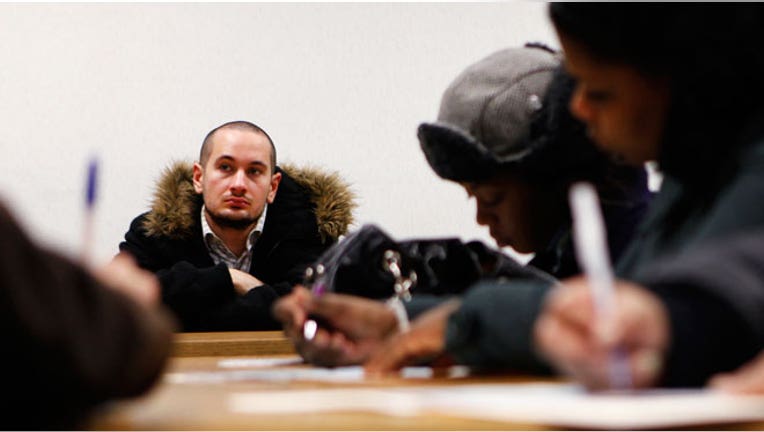 Rising high school seniors face tough competition in the college admissions pool as the number of applications increases.
The most recent data from the National Association for College Admission Counseling shows that between 2010 and 2011, the percentage of students applying to at least three colleges rose to 79% from 77%, and the percentage of students applying to at least seven colleges rose to 29% from 25%. By comparison, only 67% of students applied to three or more colleges in 2000, while 12% applied to seven or more.
Although admissions rates at elite colleges in the U.S. are falling, applicants are better off than they might think when it comes to getting accepted at a school that will ultimately be a good fit, says Sally Rubenstone, senior advisor at College Confidential.   "The good news is that most colleges accept the majority of applicants, and thus the well-publicized scare tactics apply only to a small handful of the most sought-after schools," she says. "Even students who are disappointed in a quest for an Ivy League school can find well respected institutions where they will be happy and engaged."
Here's how college insiders say applicants can leverage their credentials to stand out in the crowd, what admissions officers are looking for and making a genuine, memorable impression.
Tip No. 1: Consider a Variety of Colleges
Students should evaluate a range of schools in terms of cost, size and academic difficulty to create a more comprehensive list and increase their chances of admission.
"In terms of selectivity, we advise students to diversify their list of schools: 25% should be reach schools, 50% should be match schools, and 25% should be safeties," says Anna Ivey, founder of Ivey Consulting and co-author of How to Prepare a Standout College Application. "All of the schools on your list should be a good fit in terms of both the educational experience and the college experience overall and they should all be colleges you would be excited to attend."
Although the concept of a "safety school" may not sound alluring, students shouldn't overlook the benefits of being at the higher end of a school's academic spectrum, says Mio Perez, associate director of College Quest and Onward at Harlem Education Activities Fund (HEAF).
"Those are the schools that will probably provide more money and more scholarships to students--if you have a higher GPA or SAT scores that are higher than the average student at that safety school, they will give you money to attend," she says.
Rubenstone suggests students use sites like CollegeView to compare their grades and test scores with posted medians at schools they're considering to get a better idea of the level of competition and the likelihood of admission.
Tip No. 2: Apply Early Decision
Admissions officers usually give additional consideration to applicants who are not quite at the top of their class, but are still academically solid and willing to apply Early Decision.
A growing number of schools are now offering two rounds of Early Decision--typically ED I has a November deadline and ED II has a January deadline, says Rubenstone.
"I've seen a burgeoning number of students…apply to a top choice college in the first ED round, then--if they are denied or even deferred--they'll move onto another school slightly less selective than the first for ED II, thus maximizing the ED advantage to the fullest," she says.
Because an early acceptance is an agreement to fill a spot in the college's freshmen, seniors should make sure to only apply early at a particular school they are certain they want to attend, cautions Perez.
"Most students at that age are not really sure where they want to go, so we tend to advise students that if they're uncertain, not to [apply early]."
Tip No. 3: Show Rather than Tell in Personal Essays
Although grades and test scores will largely determine a student's fate, admissions committees will strongly consider a student's presentation of extracurricular accomplishments and essays when it comes down to making the final decision, according to Rubenstone.
Rather than listing activities and accomplishments in essay form, students should strive to highlight personal qualities an admissions officer wouldn't learn from other parts of their application, explains Alison Chisolm, head of college admissions consulting practice at Ivey Consulting and co-author of How to Prepare a Standout College Application.
"The best essays provide evidence of students' positive character attributes, such as determination, integrity, or sense of humor, through stories that are memorable because of their specific and well-articulated content," she says.
Chisholm urges students to use every part of their application to their full advantage—no opportunity to elaborate should be overlooked.
"Take advantage of the 150 characters the Common Application allows for description of your extracurricular activities to showcase your accomplishments, and don't ignore the required supporting materials, like recommendations," she says. "A strong teacher's recommendation can really boost your academic rating."