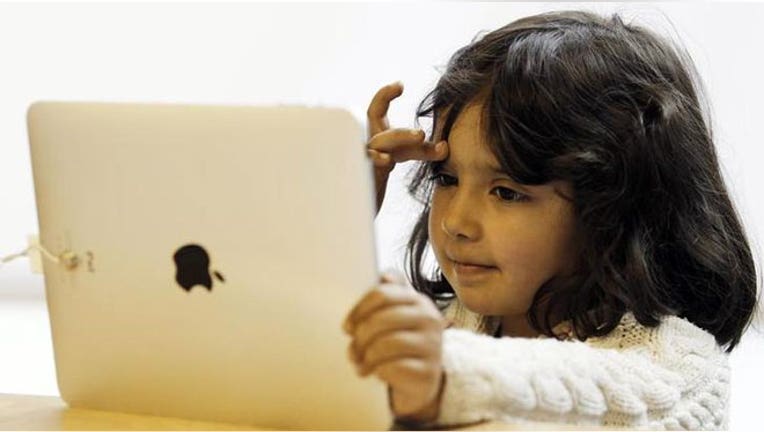 Child proofing is a rite of passage for parents with young children: locks on cabinet doors, gates on stairs and clips on book shelves. And this safety-first mentality needs to extend to kids toys, experts warn, especially the iPad.
"It's very common for kids to use iPads these days more so than using computers," says Jinny Gudmundsen, author of iPad Apps For Kids For Dummies. "Parents unfamiliar with the technology open it up, turn it on and don't realize they can customize it to become more user friendly to kids."
Children as young as one are learning to swipe their way to fun and games on tablets, but parents need to create safeguards to make sure they aren't exposed to inappropriate content.
Here are ways to ensure your child and iPad are safe from each other.  
Safety Tip No.1: Disable In-App Purchases
Apps are the heart and soul of tablets and they can be easily downloaded in a matter of seconds—which is convenient, until kids starting buying apps without parent consent.  Not only can this expose young users to unsuitable content, it can also rack up a  big bill.
And just because an app is free, that doesn't mean they can't rack up a big tab. Gudmundsen says many of the free apps make money by giving players the option to spend real money on things in the game. Those little purchases can end up to a hefty bill. The problem has become so widespread that it sparked a class action lawsuit. Late last month Apple settled a class-action lawsuit related to app purchases made by children without the consent of the account holder. Apple agreed to provide a $5 iTunes store credit to as many as 23 million people who were affected, according to Reuters.  Those that claimed $30 or more were offered a cash refund from instead.
"These in-app purchases are frequently confusing to kids who have difficulty distinguishing between buying things with in-game currency and buying them with real money," says Gudmundsen. To prevent in-app purchases, parents need to not only enable a password but close the 15-minute window where another purchase can be made without typing in your password.
Parents can even choose to block In-app purchases altogether.  "If you opt to let your kids explore these games, make sure the In-App Purchases option is 'Off,' or at least make sure that you set the password requirement to 'Immediately'," she recoommends.
Safety Tip No.2: Set Media Parameters
The Internet offers a wealth of information—both good and bad.  but it. To prevent a child from accessing anything they shouldn't when using the iPad, parents need to set restrictions.
"The iPad allows you to set the age appropriateness of the media your kids use," Gudmundsen says. "The setting you want is called 'Allowed Content', and you'll find it under 'Restrictions'.
Parents can restrict music and podcasts, movies, TV shows, books and apps. Parents can choose age categories for apps including 4+, 9+, 12+ and 17+. If the parent chooses 4+ it's essentially a G rating while 17 + can be considered a R rating. 
Safety Tip No.3: Turn Off Location Services  
Many apps ask for or rely on a user's location, but experts say not to allow this if kids use the device.
To disable this feature on the iPad, go to 'Settings' and then turn off 'Location Services''.  This prevents strangers from being able to locate a child user and retailers from sending targeted advertisements to kids.
This restriction doesn't prevent using any app that requires a location, if an apps needs it, say for instance one for star gazing , Gudmundsen says the app will alert the user to enable the location feature. Just remember to disable it when you are done.
Safety Tip No.4: Buy a Protective Cover
iPads are expensive and kids can be destructive, so experts advise parents find a sturdy cover to protect the gadget. These covers cost anywhere from around $30 to $80, and can be found at electronics retailers and/or through Apple. "Children drop things," says Gudmundsen. "A protective cover puts a lot of padding around the iPad."