How to Have an Open House with Pets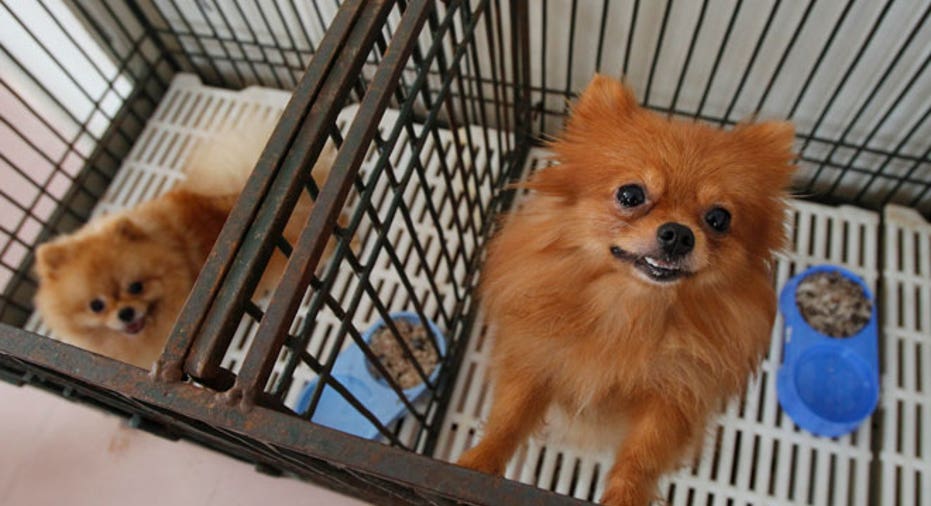 Pets are common members of many households, but when it comes to putting a home on the market, their existence should be undetectable, experts say.
Not everyone will love your pet the way you do, and you don't want to turn off potential buyers or lower the home's perceived value with furry family members.
"The pet issue needs to be given some thought and consideration when you're putting your home on the market; it's an important piece of showing your home," says Cara Ameer, broker associate and Realtor at Coldwell Banker Vanguard Realty based in Ponte Vedra Beach, Fla. "Think whether having your pet in the home will take away from your ability to command getting top dollar for your property. Do you want buyers focusing on your home or worrying about your pets?"
When it comes to preparing to put a home on the market, experts offer the following tips for pet owners:
Clean Your Home and Fix Any Pet Damage
"If you have a pet, your house has to be super deep cleaned before any showings," advises Michael Corbett, Trulia's real estate expert. He adds that any damage from pets should also be fixed. "You want to get rid of any pet residue like hair or dander….[eliminate] any telltale signs that an animal has been in the house."
At a minimum, he recommends steam cleaning the carpets. Depending on the extent of damage, you might want to consider installing new carpeting and padding if a pet had a lot of accidents to eliminate any smells.
Wood flooring or laminate may also need to be replaced because of stains or smells, says Ameer, and tile and grout should also be steam cleaned.
"Have your ducts cleaned before you put your home on the market in case of any pet hair," says Ameer. "You're really going to have to spend a lot of time and extra effort to manage that while your home is on the market."
Experts also recommend replacing any woodwork, doors or moldings and painting any walls that are damaged because of your pets.
Send Your Pet on Vacation
Buyers need to be able to imagine living in your home, so don't let pets clutter their imagination.
"Having a pet in your home leaves a real stamp of you and your life," says Corbett. "It's a reminder that this home is not theirs."
Experts also warn that open houses can become crowded and noisy, which can make some pets nervous. "A house that's very active with showings, you might have several potential buyers in there every day — try to get the pets out of there if possible, just for the pet's sake," says Tony Geraci, agent at CENTURY 21 HomeStar in Highland Heights, Ohio.
If you choose to leave your pet in the home during showings, take precautions. "Don't leave the safety of your pet up to a real estate agent or a prospective buyer," says Corbett.
Quarantining animals in a room and locking the door isn't the best fix, says Ameer, since you also want to provide buyers with full access to the home. "There's nothing worse than when the bedroom door is closed and you don't know what you're going to find," she says.
Little furry pets. Hamsters, guinea pigs, mice and ferrets are popular pets for children, but they can add a smell to your home, warns Ameer. "You want to get them out of the house — you don't want to risk someone putting their hands in there."
Fish. Fish are fine to keep in the house when it's for sale, according to Ameer. However, she recommends being clear about whether or not a tank that's built into a wall comes with the house. Don't assume this will add a lot of value to your house — it's another expense for someone else.
Dogs. Experts recommend getting dogs out of the house. "If you have a dog, the minute the doorbell rings, your lovely little dog turns into Kujo and you've already lost that buyer," says Corbett.
Cats. Some cats hide under furniture and won't come out, but if your feline is territorial, that might cause problems during a showing. "A cat that leaps all over the house, walks all over kitchen counters and is aggressive towards people who don't live there can be a turn off," says Ameer.
Birds. Birds that talk and mimic whatever they hear can make a conversation between an agent and potential buyer near impossible. "Sometimes they can smell, but the noise is more distracting," says Ameer. "It's the overall aesthetic that it creates."
Reptiles. Snakes and iguanas may be your thing, but even in a secure cage, these animals can frighten potential buyers. After all, you don't want buyers identify your home as 'the house with the snake', warns Corbett.
A good rule is if you can smell a pet, you don't want it in your home when it's for sale. Ameer suggests inviting a friend or your agent to your home to ask if they smell anything. Regardless, bathe pets and clean cages and litter boxes regularly while your house is on the market to help keep your home odorless.
"Discuss with your agent that you will always need prior notice when there's a showing so you can take care of your pet issue," says Corbett. "You never want to say 'the dog's at the house, just come on over'. You always want to be contacted by the agent so you can prepare."