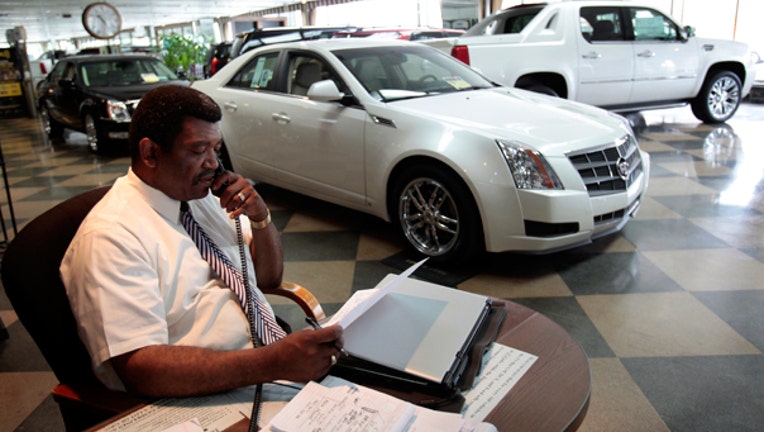 Buying a car can be a tedious process—especially when it comes to negotiating the final cost. A car is a major purchase and many drivers take out an auto loan, but the right financing that won't pinch your budget is just as important of finding a car with the right leg space.
"The first and foremost question around the auto loan is to figure out how much you can afford," says Steve Thompson, assistant vice president at USAA. "You should match what you can afford with the car you need before you go to the dealership." Buying an automobile is a high-pressure experience and being prepared with what you want and can afford will help you stick to a game plan. "Once you get into the emotion of buying a car, they're going to press you into making a decision," warns Thompson.
Knowing the make and model of the car you'd like to buy helps you get preapproved for an auto loan, making you an "all-cash" buyer in the eyes of the dealer. Having a loan offer in hand from a credit union, online lender or your personal bank will allow you to shop around and compare loan rates. However, being preapproved doesn't make you obligated to take that loan. The offer typically comes with a blank check that you can sign to the dealer up to a certain amount.
Knowing the loan terms, the car's price at different dealers and the value of your trade-in gives you power in the transaction, says Thompson. When you get your loan offer, your lender will tell you how much you can borrow and your interest rate. "This rate varies by term—longer loans typically have higher rates and lower payments. You have to balance payment flexibility with higher cost," says Thompson.
When financing a car purchase, experts say payments shouldn't extend beyond five years. "In general, it's better to pay off a car as fast as you can because it's a depreciating asset," says Phil Reed, senior consumer advice editor at Edmunds.com. Experts suggest buying less of a car with as short of a loan as you can, focusing on the financing and the total cost of the car rather than the monthly payments.
Lenders approve auto loans on a case-by-case basis depending on a person's income and other debt, such as mortgages payments and credit card debt, and determine the loan's terms based on credit, down payment amount and whether the car's new or used.
Your credit score affects your loan's interest rate the most, says Doug Lebda, chairman, chief executive officer and founder of LendingTree. Borrowers with credit scores above 720 may qualify for an interest rate below 4.30% as of July. Borrowers with credit scores below 720 may qualify for a loan having a rate of about 5.30%, according to LendingTree. "If you had bad credit and have a high interest rate on your auto loan and your credit improves, you can refinance your loan," says Lebda.
Buying a new or used car also affects your interest rate, says Thompson. "New cars have lower rates and some [rates] go down to make and model." If you think you are going to buy a new car but change your mind, your loan's interest rate can also change.
To help qualify and potentially lower your loan payments, experts suggest having a 20% down payment for a new car and 10% for a used car. "The down payment makes a bigger difference if you're borderline and can't qualify [for a loan]," says Reed.
Getting more than one preapproved offer can help you get better loan terms. "If you have three offers from different banks, you can pit them against each other," says Lebda.
Once you have your offers, identify the car you want to buy and shop around for the lowest price to minimize your monthly payments.
"The [dealer's] internet manager will deal with customers remotely where the whole sales force will get you physically to the car lot," says Reed. "With the internet manager, you can negotiate with multiple dealers at the same time." Every dealership has a website with a link for requesting a quote. Once you receive a quote, the Internet manager will respond and negotiate with you.
When you begin negotiating the car purchase, don't start with the monthly payment amount, advises Reed. "Act as a cash buyer and negotiate on the price [of the car]. Then go to the finance office and show your rate." Once you get the price that you want, the dealership will likely counter your loan.
If the dealer offers you a rebate instead of a lower interest rate, experts advise deconstructing the deal with an online calculator to determine the total dollar amount that you'll pay overtime. The better deal will depend on the amount of the rebate and the available interest rate, says Reed. "A lot of manufactures will offer 0% financing, which is quite attractive if you qualify." Still, it's best to shop around to put yourself in the best negotiating position.
Although it's good to consider your options at a dealership, in the heat of the moment, the decision can become confusing, says Reed, adding that "sales people play on emotion." In the dealership you may feel a sense of urgency after being there for a long time and probably sitting alone for most of it. "The more time you invest, the more likely you'll want to get it over with," says Reed.
Having a trade-in can lower the price of the car you're buying and the amount of your loan. "Be careful of the car you're trading in," says Thompson. "Sometimes they give you a lower trade-in value for a lower interest rate." If your old car is well maintained, you'll likely make more money selling it in the private market than you will if you trade it in.
No matter how much pressure you may feel to make that decision, it's your money. "Be in charge," says Lebda. "It's not bad to negotiate. It's your transaction. Take your time, shop around, and don't be afraid to walk away. You're the customer. You're doing them a favor."