How To Get Nike's Self-Lacing 'Back To The Future' Sneakers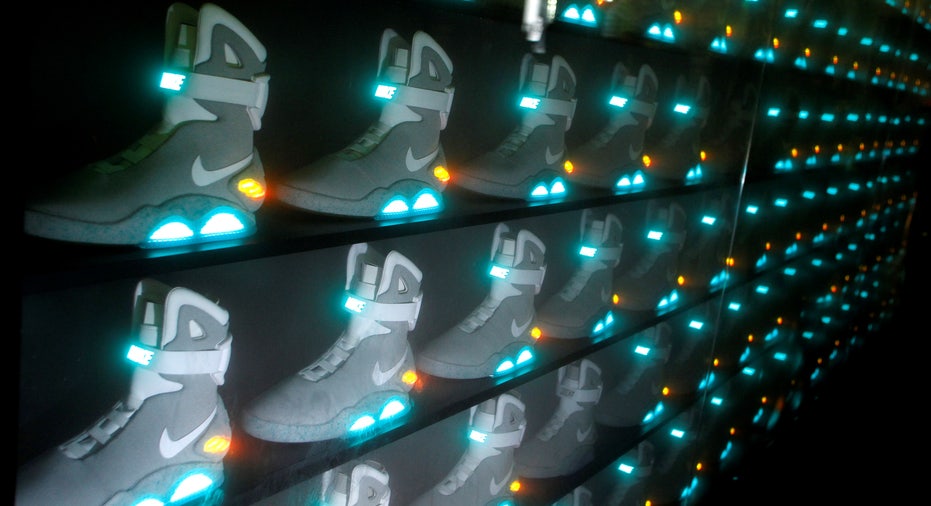 For less than 100 lucky customers around the world, the decades-long wait for a real-life version of the auto-lacing Nike (NYSE:NKE) "Air Mag" sneakers from "Back To The Future II" is nearly over. Nike will auction off a limited number of tech-enabled pairs later this month, the company announced Tuesday.
All proceeds from the auction, which begins Tuesday and runs through Oct. 11, will go to The Michael J. Fox Foundation to aid efforts to find a cure for Parkinson's Disease, the debilitating neurological disorder that affects the "Back To The Future" actor and millions of people worldwide. Participants can buy raffle entries for $10 each, with the winners of the 89 available pairs to be announced on Oct. 17. Nike will also auction off individual pairs of its Air Mags at special events in Hong Kong, London and New York, through mid-November.
Air Mag sneakers feature a version of Nike's new "HyperAdapt" system. Shoes with HyperAdapt automatically lace and alter their shape to fit the wearer's foot. The HyperAdapt 1.0, which spent years in production, is expected to hit stores later this year, though it's unclear how much it will cost.
"Though it initially shared only a few seconds of screen time with Michael, the idea behind the Nike Mag unlocked something much bigger at Nike," Nike Chairman and CEO Mark Parker said in a statement. "It sent us down an uncharted path of innovation, but it also opened our eyes to our ability to fight some of the world's biggest challenges. We feel privileged for the opportunity to raise even more awareness for the fight against Parkinson's."
Nike presented the first-ever working Air Mags to Fox last year on Oct. 21, 2015 – a date fans of the "Back To The Future" series will recognize. That's the same day Fox's character traveled to the future in the second film. Previously, the company said it raised nearly $10 million for charity by selling a non-tech version of the Air Mags.