How to Financially Survive Wedding Season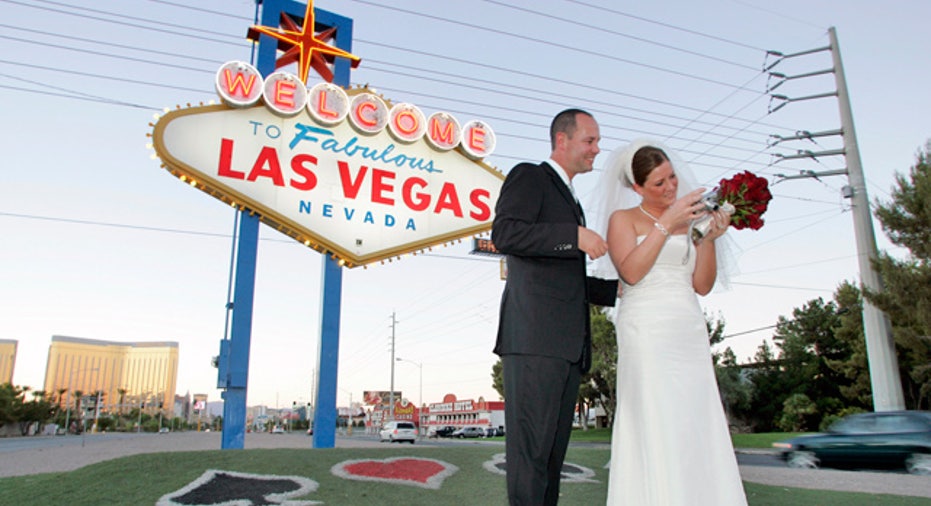 With summer right around the corner, wedding season is quickly approaching. According to the wedding planning site, The Knot, June, August, September and October are the most popular months for weddings.
For guests lucky (unlucky?) enough to be attending multiple weddings this year, costs of travel, accommodations, attire, transportation and wedding gifts can add up fast. Instead of blowing the bank flitting from ceremony to ceremony, follow these seven ways to say "I do" to saving money when attending multiple weddings.
You don't have to physically be at someone's wedding to take part in the festivities.
Tiffany San Souci, owner of Elegant Engagements, a wedding planning company in Denver, says this is a way for guests to see and interact with the wedding party, even if they're not physically present at the event.
"We have a lot of people who watch the wedding via Skype if it's just not feasible for you to travel," she explains. "We've had numerous couples that have asked us to set up video feeds online for families that are either out of town or family members that are deployed overseas for the military."
San Souci adds that wedding invitees who can't attend can show their support for the couple by sending warm wishes and a wedding gift instead of going to the event.
"Generally, there's always a block of rooms that has been reserved for guests to call in and receive at a reduced rate," says Randy Schaller, director of catering and food and beverage operations for the Hilton Philadelphia City Avenue. "This rate can be up to 50% less on pricing than a standard room."
Schaller adds that for guests who want to combine the wedding with a vacation, hotels will oftentimes extend the discounted rate for several days before or after the wedding if you ask.
Guests may also be able to pay with hotel points, airline miles or credit card loyalty points. Many major hotel chains, including Marriott, Hilton and Holiday Inn, offer free stays for those who enroll in their loyalty programs' credit cards. Though these cards usually come with an annual fee, the fee may be lower than the cost of a room for several nights. Even if you don't have enough points with that particular hotel chain, such sites as Points.com will allow you to trade points you have with other rewards programs.
The hotel the bride and groom pick out may not be the best deal. Alan Fields, co-author of the book "Bridal Bargains: Secrets to Throwing a Fantastic Wedding on a Realistic Budget," says that in addition to looking at the price of rooms at the bride and groom's choice hotel, guests should comparison shop by looking at other nearby hotels. Also, guests can check out BiddingForTravel.com, an online forum that posts hotel and rental car deals fellow travelers have landed through Priceline.com.
Consider that the best lodging deal may not be a hotel at all. Sites like Airbnb.com and Roomorama.com frequently offer unbeatable deals on room shares and furnished apartments. Good luck finding a hotel in the heart of Chicago for less than $49 a night, but a furnished apartment could be out there for the same price.
San Souci also advises guests to check out local bed-and-breakfasts as well as time shares.
"If (the bride and groom) have a wedding coordinator, call (the coordinator) and let them work their connections for you," she says.
"Food is (a cost) that really can add up," says Virginia Edelson, principal at Bluebird Productions, a wedding and event planning company in Aspen, Colo. "Obviously your dinner at the wedding is taken care of; brunches may or may not be taken care of, but you never know what to budget for food when you travel for a wedding."
An added bonus to renting an apartment or time share is that they frequently come with kitchen facilities, meaning you don't have to eat out for every meal unless you want to. In addition to buying some snacks for your room, wedding attendees can also save by investigating budget-friendly restaurants near the wedding ahead of time and purchasing meal deals through such sites as Groupon.com, Livingsocial.com and Urbandealight.com.
The bride and groom may be shelling out dough for the actual wedding, but those in the wedding party can easily fork over several hundred, or even thousands, to attend bachelor/bachelorette parties, engagement parties, bridal showers, prewedding brunches and anything else the soon-to-be-married couple has in mind. A survey by Wedding Channel.com of 20,000 brides nationwide showed that bridesmaids spend an average of $1,695 per wedding on travel, gifts, lodging and attire.
To help control costs, Michelle Catin, owner of the wedding supply site MimiWeddingFavors.com, recommends that those in the wedding party be selective about what they attend and to get their voice heard in the planning process.
"Become part of the planning committee, and keep an eye on discounts via (such coupon sites as) Groupon and LivingSocial travel deals," she says.
Looking good is a must at a wedding, but you don't have to blow the bank to do it.
"Women, if you have back-to-back weddings, consider making a one-time investment on a dress that you can wear to all of the upcoming events," says Catin. "You can mix up the look with accessories and different hairstyles."
Those in the wedding party can also request that the bride and groom consider dress-rental sites like RentTheRunway.com and LittleBorrowedDress.com when choosing what the wedding party will wear on the big day. Rental sites frequently offer wedding attire for half of the retail price -- plus bridesmaids won't be stuck with a piece they'll never wear again.
When it comes to wedding gifts, the more the merrier says Edelson. Going in on a gift with several other wedding attendees not only cuts down on costs for everyone, it also saves on gift wrap and shipping.
Wedding guests can also save by buying their gifts early (the reasonably priced items nearly always get snapped up first), price-checking registry items against prices offered at other stores and thinking outside the registry.
"Give an experience, something that's thoughtful (or) give your time -- especially if you don't have a ton of money," she says. "Give something that's going to be really meaningful to the bride and the groom, something that was passed down to you. ... Those are ways that are not expensive, but will be very meaningful."