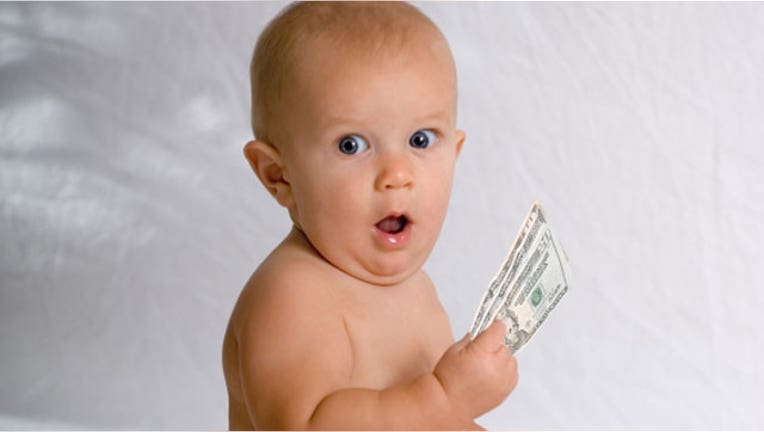 They say you are never quite ready for the life-changing event of having a baby. With that said, there are steps expecting parents can take to financially plan for and reduce the cost of having and caring for a baby.
There are ways to save on everything from delivering a baby to buying gear that doesn't involve giving birth at home or reusing diapers. Here's a look at five ways to stretch your dollars when you expecting a new addition to the family.
Delivery Alternatives
The cost of delivering a baby has steadily increased over the years along with the overall costs of medical care. According to Robin Elise Weiss, author of pregnancy and child rearing books including The Complete Illustrated Pregnancy Companion, a vaginal birth in a hospital with no complications cost $6,000 in 2009; a traditional C-section rang in close to $16,000.
While insurance covers most of the costs, some mothers still have to pay up to 20% of the bill out of pocket. If there are complications with the birth, Weiss says C-section costs rises to around $22,000, not including prenatal care leading up to delivery.
Weiss says a birthing center can be a less expensive alternative costing around $1,900, and includes prenatal care.  "A birthing center only treats women who are healthy. The vast majority of women have uncomplicated labors that give birth and then go home," says Weiss. She adds that mothers tend not to be able to stay at these centers for a couple days to recover like they would in a hospital setting.
Prenatal Vitamins
As soon as a woman learns she's having a baby, and in some cases before she's even pregnant, an OB/GYN will recommend the mom-to-be take prenatal vitamins that contain all the essential nutrients the baby will need. But they don't come cheap; they can cost as much as $50 a month.
Parenting writer and new mom to her second child Linda DiProperzio, says an over-counter version of the vitamins can be a cheaper alternative.  "As long as it has the recommended doses of folic acid and DHA, it's good," she says.  Pharmacies also sell the generic versions of prescription prenatal vitamins that will cost a fraction of the brand name ones.
Maternity Clothes  
It's only a matter of months before a pregnant woman's clothes no longer fit to accommodate a growing stomach.  According to Scott Adler, managing editor of BabyCenter.com, one of the best ways to save on maternity clothes is to borrow from friends who have already had kids.
Another good way to get a maternity wardrobe on the cheap is to organize a swap. Invite all your past and current pregnant friends to get together and bring three to five items of maternity wear they no longer want. "The rule is, though, if you take something, you have to give up something, too," DiProperzio says. "And everything you bring must be in good condition: no holes, stains, etc."
Weiss also reminds expectant mothers of a time-tested way to extend the life of jeans: the rubber band trick. Simply loop a rubber band through the button and it will give the jeans a couple more inches. Belly bands can also extend the life of a pair of pants.
For pregnant women that have to buy new clothes, discount retailers like Target, Old Navy and Kohl's sell a line of lower-priced maternity clothes.
Diapers
Diapers are one of the biggest expenses once the baby arrives. On average, a new baby will require 10-12 diaper changes daily in the first couple of months.
"Disposables can run between $30 to $85 per month," says Adler at BabyCenter. If disposables are the only option for a parent, he recommends buying in bulk to save money.
Disposable diapers are a very convenient way to keep a baby clean, cloth diapers can be a more economical and environmentally-friendly choice.
Feeding 
Breast feeding a baby can save a family $60 to $100 a month, according to Adler, but it's not an option for all mothers and babies.
If breast feeding isn't an option, DiProperzio recommends visiting baby formula makers' websites to get coupons and free samples. If the baby is on special formula for medical reasons, the insurance company may cover some or all the cost, she says. Using powder formula instead of liquid formula will also save money.