How To Cook to Stay Fit with Celebrity Chef Todd English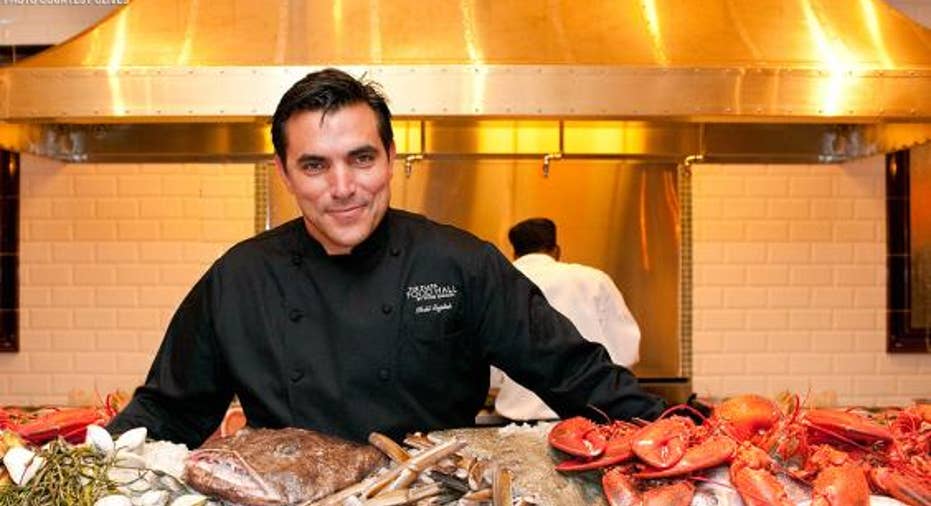 Celebrity Chef Todd English shares his recipe for Ginger-Soy Skirt Steak and Corn Raita as part of his tips for cooking your own meals to stay healthy.
Ginger-Soy Skirt Steak
"Loaded with aromatics, this marinade is a perfect match for grilled steaks. Marinate the steak for a few hours to really soak up the flavors, and serve it thinly sliced with my Sweet Corn Raita Salad! We used the marinade with the sliced beef tenderloin on the cover of my cookbook."
Ingredients
1 cup Soy Sauce
? cup Balsamic Vinegar
? cup firmly packed Brown Sugar,
? cup Worcestershire sauce
? cup Sesame oil,
3 Tbsp. chopped Fresh ginger,
1 Tbsp *Sriracha sauce,
3 cloves chopped Garlic,
3 lb Skirt steak,
Kosher salt and freshly ground black pepper to taste
*Substitute 1 chopped jalapeno pepper for sriracha sauce.
Method
1. Whisk together first 8 ingredients and 1 cup water in a large shallow dish or zip-top plastic freezer bag; add steak. Cover or seal, and chill 2 to 6 hours.
2. Preheat grill to 350 to 400 degrees (medium-high) heat. Remove steak from marinade, discarding marinade. Let stand at room temperature 15 minutes. Sprinkle with desired amount of salt and pepper.
3. Grill steak, covered with grill lid, 8 minutes or to desired degree of doneness. Let stand 10 minutes. Cut steak diagonally across the grain into thin slices. 6 to 8 servings.
Corn Raita
"The inspiration for this recipe is from the classic Indian condiment, raita. The addition of corn gives it new personality. Toasting the corn draws out its lovely sweetness and lends texture to the spread. Grill the corn whole and then cut the kernels off the cob or as per the instructions below. I keep a batch of this simple recipe on hand in the fridge to add to countless dishes, but I usually end up eating it one spoonful at a time on its own. Try a few spoonfuls with my skirt steak recipe or slathered in a pita sandwich. Nirvana!"
Ingredients
2 cups Fresh corn kernels
2 cups Plain Greek yogurt
2 tbsp. chopped Fresh cilantro leaves,
1 tsp Ground cumin
? tsp Kosher salt
? tsp Freshly ground black pepper
2 Tbsp. finely chopped Red onion,
1 seeded and minced (optional) Jalapeno pepper,
Method
1. Heat a large well-seasoned cast-iron skillet over high heat. Add corn to pan; cook 1 minute without stirring. Stir and cook 2 more minutes or until corn is beginning to brown. Transfer corn to a plate; cool completely.
2. Stir together yogurt and next 4 ingredients in a medium bowl. Fold in corn and onion. Add jalapeno pepper, if desired. 3 cups
© Cooking in Everyday English: The ABCs of Great Flavor at Home