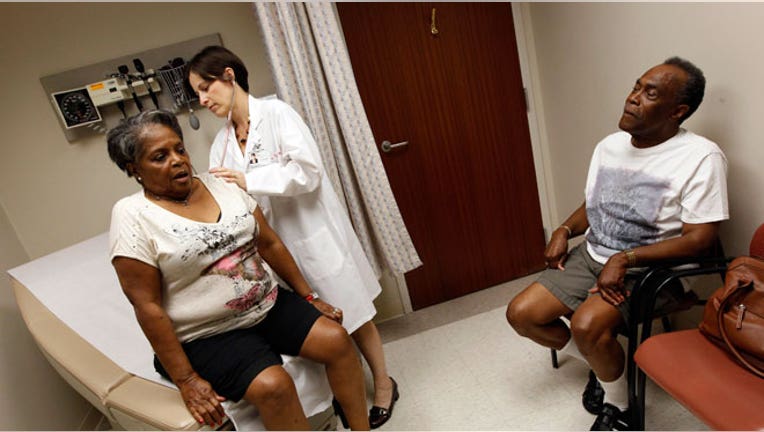 Employers have been picking up the lion's share of the employee health benefit tab for years, but they are desperate to find a less revenue-draining way to offer coverage in the face of soaring health costs.
Reducing benefits and lowering pay are impractical choices because of their inevitable negative impact on recruitment and retention, pushing consumer-directed health plans (CDHP) to center stage.
The low premium, high deductible (typically $1,000 or more) CDHPs combine with a tax-exempt health reimbursement arrangement or a health savings account that helps enrollees pay for out-of-pocket expenses—meaning both employers and employees save.
Experts say giving employees skin in the game will make them more motivated to be smart shoppers and be more active and responsible in their health-care decisions.
In fact, a 2012 case study from Change Healthcare, a company that provides personalized tools and information to assist consumers in the purchase of medical, dental and pharmacy services, found that when employees switched from a traditional PPO to a CDHP they could save as much as $15 to $140 per month per household on premium and out-of-pocket expenses. What's more, across the study population, 10% of covered members who elected to stay in the PPO plan had out-of-pocket expenses alone that were equal to or greater than the deductible for the CDHP.
While some employers are experiencing financial relief from offering CDHPs, consumers are only at the beginning of the adoption runway, says Douglas Ghertner, Change Healthcare's president and CEO.  He says consumers still don't understand their health benefits and are often scared by deductibles and lack confidence they can save with a CDHP.
Consumers put themselves at risk by making make economic decisions they don't fully understand, says. Jeffrey Cain, chief of family medicine at Children's Hospital Colorado and president of the American Academy of Family Physicians.
When they are choosing a health-care plan or service, Cain says consumers are often operating under misconceptions: that sticking with the familiarity of a traditional plan is better than picking a new option, the belief something is better because it is more expensive, or that a high deductible means they must hold back on preventive care when, in fact, the Accountable Care Act (ACA) mandates that preventive services will be covered under your plan at 100%.
Patients also tend to falsely believe that their insurance coverage will protect them against all financial challenges. The reality is that everyone is vulnerable to serious unpredictable medical emergencies in which hospital costs mount astronomically, enough, in many cases, to cause bankruptcy even if a consumer has health coverage, Cain says.
The first step in mitigating the uncertainty associated with the adoption of a CDHP is breaking down the plans ahead of open enrollment. Still, particularly these days, education does not come that easily. "It's not like shopping for a car and turning to Consumer Reports," claims Cain. There's currently no such resource for health services.
When choosing a plan, patients need to take into account the coverage options for more commonly occurring, non-emergency health services, as well as other bigger events like birth or knee replacement surgery, says Kathleen Stoll deputy executive director/director health policy at Families USA.
Plus, there's more than cost to consider, says Stoll. How providers perform the outcomes their patients experience are all part of the equation. "Performance and quality are part art, part science and harder to measure [than cost]."
Yet, strides in transparency particularly on cost are being made.
For example, tools like the standardized Summary of Benefits and Coverage required of private health insurance plans under The Affordable Care Act have been effective since last September. Health insurers,too, have increased their online interactive tools to educate patients on their options and share savings on treatments and medications.
These innovations are helping to reduce the jumble of information, but Ghertner says the tough part is keeping consumers engaged. Overall, the industry has to figure out how to deliver understandable, personalized information targeted to a consumer's health needs. Beyond that, the information will become part of the electronic medical record better equipping primary care doctors (PCPs) to counsel and refer patients.
"We can't force change overnight," says Ghertner. But right now if we work at a grassroots level on the common and recurring services, we are helping consumers understand variability and learn how to ask the right questions to make informed decisions that are good for their health and better for their wallets.
Tips on Being a Prudent Health Care Consumer
Take Advantage of Perks. Be sure to use offerings like preventive screenings, immunizations and annual physicals that are included for free under plans.
Educate yourself. Use educational tools from your health care providers to learn new preventative techniques, treatments and offerings to stay up to date on health-related issues.
Think value. Don't assume a plan or health service is better because it is more expensive. Find a plan that best covers your physical needs and financial situation.
Be realistic. Major life events are unpredictable and costly, so be prepared with savings as best you can, recognizing that insurance alone may not adequately cover your expenses.
Trust your PCP. As your quarterback, he/she can help you make sense of all the noise and don't be intimidated about asking questions and following up.
Talk price. "A good doctor understands it is part of the equation," says Stoll. Don't be afraid to ask for a cheaper alternative, bargain or seek a discount.