How To Avoid Super Bowl 50 Scams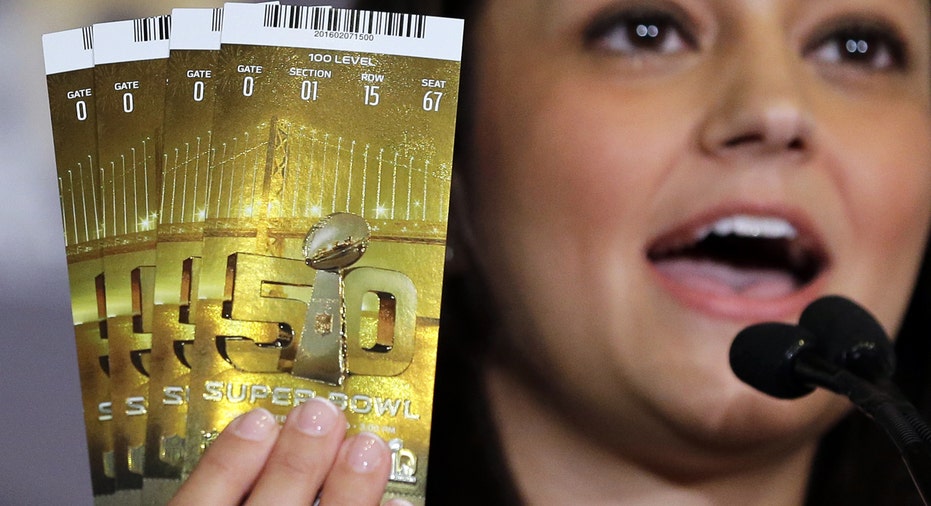 With Super Bowl 50 at Levi's Stadium in Santa Clara, California, just days away from kickoff, experts are warning sports fans to beware of vendors selling fake tickets and merchandise. Counterfeiters are using increasingly sophisticated techniques to trick customers out of their money before the Big Game, both in person and online.
Scalpers have been selling tickets and sports merchandise at stalls and outside stadiums for decades.  But the rise of e-commerce has added a new dimension to the fight against counterfeiters. Federal authorities have seized an estimated $39 million worth of fake sports-related gear since last year's Super Bowl alone, U.S. Immigrations and Customs Enforcement Director Sarah Saldana said in a press release Thursday.
Experts estimate that a mere 1% of Super Bowl ticket sales involve counterfeits. But with the average price of a Super Bowl 50 ticket hovering near $5,000 this week and the cheapest available seats selling for more than $3,000, a bad buy can be a crippling blow to a victim's finances.
"The problem is that they're just devastating for the people that get affected by them," said Steve McFarland, President and CEO of the Better Business Bureau of Los Angeles and Silicon Valley.
To start, pay close attention to how your ticket looks. Super Bowl 50 tickets have a sophisticated design meant to foil fraudsters, including "raised" or textured ink, a hologram of this year's Super Bowl logo, a version of the logo in heat-sensitive ink and a unique barcode. The safeguards make Super Bowl tickets tough to duplicate.
"Examine the ticket before the event," McFarland said. "If you're seeing blurred barcodes and you're seeing delaminated holograms and you're seeing smudged printing and the wrong date and things don't look correct, that should be a signal."
Ticket Tips
Fake tickets are just one of several schemes used to defraud unsuspecting fans. Some scalpers will resell previously used tickets – the real ticket will be used to enter the stadium and then handed back to a scalper outside the gate and resold for cash. Other scammers will promise to sell nonexistent Super Bowl tickets at dirt-cheap prices to collect credit card information from would-be buyers, or sell to users on Craigslist without the purchaser ever seeing the ticket.
Customers should carefully examine the websites they visit to buy tickets to ensure they aren't "mirror sites," with web addresses meant to look similar to legitimate online brokers. Look for misspellings in the URL or incorrect domain names.
Double check to make sure your ticket is real before spending money on airfare or hotel accommodations. Most online brokers will reimburse customers for fake tickets, but none of them will cover money spent on related expenses like travel or food.
Consumers can check the Better Business Bureau's website, BBB.org, or contact the National Association of Ticket Brokers to check on whether an online reseller is legitimate.
"Before you buy, investigate," McFarland said. "Don't buy last minute or in desperation without doing some research, especially if you're traveling to these events, because you're going to be having to endure airfare, car rental, hotel, food, and if all along your ticket is a hoax, you're going to be very upset when you get there."
StubHub, the popular online ticket reseller, requires vendors to submit the Super Bowl tickets they intend to sell days before the event itself, so that they can be examined and stored. When a ticket shortage left StubHub unable to fulfil its obligations to hundreds of buyers, the site spent more than $5 million to ensure customers received the tickets they purchased.
"Every single Super Bowl ticket goes through us first," StubHub spokesman Cameron Papp told FOXBusiness.com. We inspect every single ticket to ensure that it is an authentic one."
And be careful about those social media brags, too – tweeting out a photo that includes the ticket's bar code makes it easier for counterfeiters to commit fraud.
"These tickets are highly sophisticated. They're extremely hard to duplicate. You should be able to notice whether they're authentic or not," Papp said.
Buyer Beware
Fake sports merchandise is more difficult to avoid, especially for online shoppers. About 25% of shoppers have been tricked into buying counterfeit gear online, according to Charlie Abrahams, senior vice president of worldwide sales at MarkMonitor.
"There's a big difference when you buy things on the Internet compared to when you buy them on the street. You pay money before you get to see the product," Abrahams said. "You see a picture of a shirt or a jersey or something like that and you buy it based upon what the picture looks like. When you receive it, it may be of vastly inferior quality, but by then you've spent your money, so it's too late."
To avoid buying fake apparel, Abrahams advises customers to double-check website return policies and the grammar in product listings – a poorly-written description or error-riddled website is often a dead giveaway. Buyers should also refrain from doing business with websites that trumpet "discount" or "cheap" jerseys, as real vendors never want their products to be perceived as low-quality. If you're unsure whether a website is legitimate, try doing a search for its name to see if anyone has given it poor reviews online.
"If it seems too good to be true, it probably is too good to be true," Abrahams said.