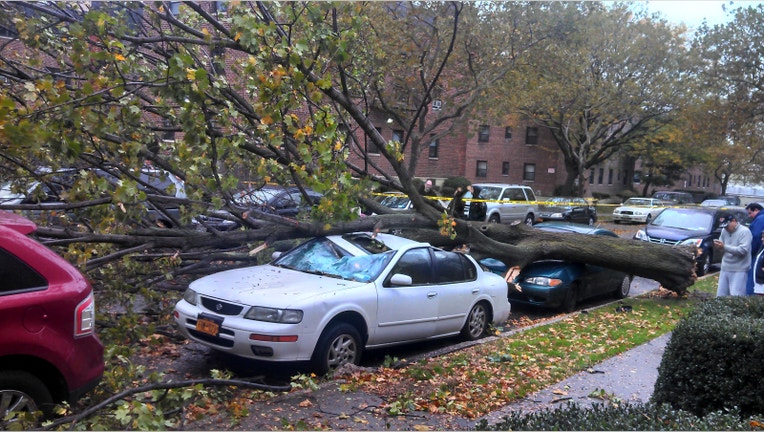 A  mega Halloween hurricane being dubbed "Frankenstorm" has residents up and down the East Coast on edge. Hurricane  Sandy is already responsible for 21 deaths in the Caribbean and it's now working its way up the coast.
When the warnings first go out about where a storm will strike, rescue personnel and emergency management agencies gust into action. Unfortunately, so do scammers.
Now, we all think that we're savvy enough not to fall for the tactics of some con-artist contractor, but consider the panic-stricken state you would be in if a storm tore through your neighborhood. Imagine standing in your driveway, shocked because half your roof was torn off or your windows were blown out. It wouldn't be uncommon for your trusted contractor to be booked solid when a storm hits a large area. In a desperate state, any one of us has the potential to become an easier target when someone walks up to our door and offers to help.
Some fraudsters try to cash in on your property insurance and financial relief from the federal government, while others demand cash up front for supplies and then never return to do the work.
As the storm warnings roll in, here are some good tips from the Federal Trade Commission and attorneys general across the country to make sure a contractor doesn't leave you soaked:
Even though you may be desperate, try to get at least three estimates in writing that itemize the work to be done.
Never pay cash or more than one-third of a job up front.
Ask for copies of the contractor's general liability and workers' compensation insurance.
Check the contractor's identification and references. Validate the contractor's license if required by your state.
You may even want to request your contractor's driver's license number and vehicle license plate.
Avoid paying more than the minimum in advance of work performed.
Deal with established businesses with offices in or near your community.
Check them out online - The Better Business Bureau is a good sounding board.
Once you've obtained estimates, contact your insurance company to discuss repairs and policy coverage.
Never allow a contractor to try and interpret your homeowner's insurance policy.
When you hire the contractor, have them sign a contract for work with a guarantee in writing.
If a contractor pushes you to pay cash or make a decision right away, you may want to close the door and keep looking -- you certainly don't want to make a bad situation worse. Should you suspect a scam, contact your local police department right away.
Read More from GalTime:
Top Geeky Women (You Need To Know About)
Customer Service Online: How to Get Results