How Small Businesses Can Harness the Power of LinkedIn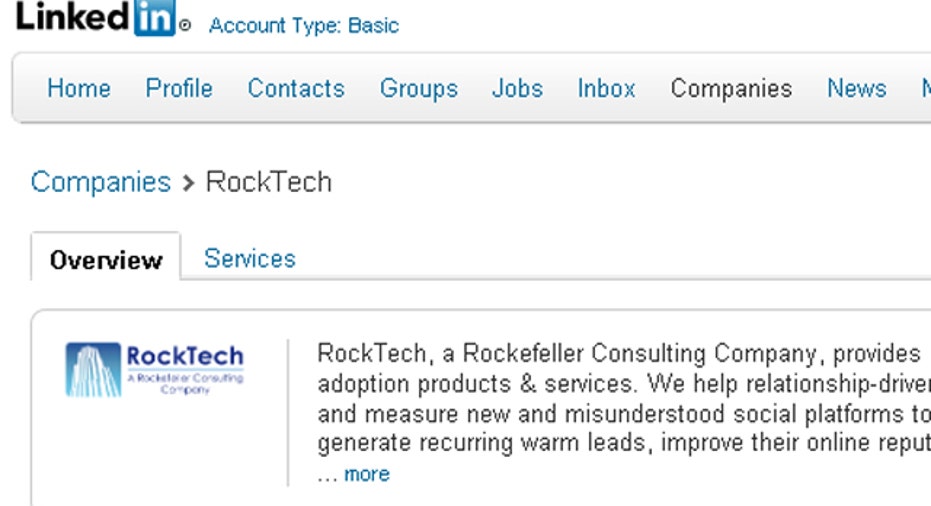 LinkedIn's blockbuster initial public offering dominated headlines last month and with more than 100 million global users, the 8-year-old networking site shows little signs of slowing in the near future. Most individuals are familiar with how to use the site on a personal level, but there are ways small businesses can use the site to grow and promote their brand.
David Gowel is living proof that when used properly, LinkedIn can be a huge asset for entrepreneurs. The Iraqi war veteran was able to start a company, hire new employees and solicit donations for charity -- all thanks to the networking site.
In addition to being in the service, Gowel is also an entrepreneur, philanthropist and published author. In May 2010, the West Point grad and Harvard grad student founded RockTech, a social technology consulting company that delivers training via technology adoption platforms [TAP]. RockTech grew out of the success Gowel had consulting on LinkedIn at his first company.
Click here to read Tips for Small Businesses Using LinkedIn
"LinkedIn is absolutely my most valuable business tool, as it allows me to get a much greater utility out of my network," said Gowel.
Check out how Gowel has been able to make LinkedIn work for him -- and how it can help you.
• Why you should use LinkedIn
LinkedIn allows professionals to connect with people they already know and to search for people they want to know, including employees, investors, partners or service providers. Gowel found RockTech's current chief business development officer through the site.
LinkedIn can help weed out unqualified job candidates and prevents companies from having ineffective meetings with new people, since it provides individuals' background information.
That said, it's critical to remember that like ice cream or wine, it's critical to exercise moderation when connecting via LinkedIn. Connect to those you actually know and be weary of over-connecting.
• Accomplish Personal Projects and Goals
Originally, Gowel intended to self-publish the his book "The Power in a Link: Open Doors, Close Deals and Change the Way you do Business Using LinkedIn." On a whim, he decided to use LinkedIn to search for top publishers on social media to see if he had any mutual contacts at these companies.
It turns out, one of RockTech's client's knew an executive at John Wiley & Sons. Gowel requested an introduction and received a contract from Wiley just two months later.
The book will be available December 2011.
• Give Back
Through LinkedIn, Gowel raised $35,000 for the Wounded Warrior Project (WWP), an organization that provides programs and services to severely-injured service members, a cause close to his heart.
Last summer, Gowel received a LinkedIn invitation to connect with someone he didn't know but decided to accept because they shared a mutual connection. The invite came from a man wanting to connect to benefit mutual non-profit interests.
The two had a call and soon Gowel was introduced to Curt Shilling whose company, 38 studios, made a sizeable donation to WWP.
Gowel also raised funds for WWP by performing an advanced people search in LinkedIn for c-level executives (the people best position to make donations) in Boston that had keywords related to military in their profile.
• What to avoid
The most common mistake entrepreneurs make according to Gowel, is over connecting just to increase their number of connections.
"I think a key point of failure for some LinkedIn users occurs when they value quantity over quality, either in terms of relationships or communications," said Gowel. "Vote the unknown off the island. Remove people you don't know from your network."
For an even more in depth advice on how small businesses can harness the power of LinkedIn check out Erin O'Harra, a LinkedIn spokesperson's detailed tips.
You named your small business, you set up a Web site, and you even started seeing profits from it. What's next? You could set up a profile page on a social networking site, such as Facebook or Myspace. And/or you may want to head to Twitter, the member-based site that boasts of allowing you to virtually shout your company's message from a technological rooftop.
Every week, Fox Small Business Center will highlight companies that are making their brand known through social media. As small businesses, you are on the frontlines of re-starting our economy, and we want your voice to be heard.