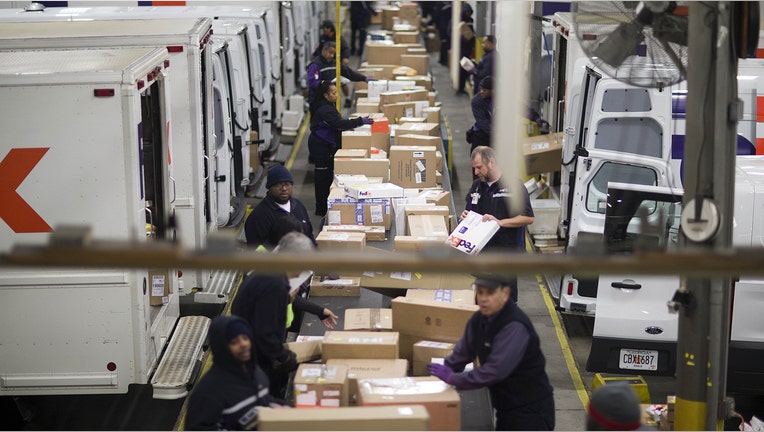 It's the most wonderful time of the year, but for retailers and shippers, it's also the most challenging time as they grapple with navigating the rush of holiday shipments.
The annual surge makes it challenging for companies to maintain a smooth fulfillment process while simultaneously keeping logistics costs in check during the holidays. Meanwhile, e-commerce has only made the busiest shopping period of the year even busier.
We're still in the stone age of e-commerce.
United Parcel Service (NYSE:UPS), the largest shipper in the U.S., buckled under a deluge of packages in 2013. Many deliveries did not reach their destinations until after Christmas. In 2014, UPS invested in a broad effort to make sure the holidays went smoothly. They did, but UPS's bottom line paid the price.
"Fifty percent of all e-commerce shipments occur in the six weeks prior to Christmas. That's an incredible amount of volume going through the supply network in a short period of time," said Ken Chrisman, president of Sealed Air's (NYSE:SEE) product care division.
Mike Glenn, executive vice president of market development and corporate communications at FedEx (NYSE:FDX), told analysts during a recent conference call that FedEx has talked to large retailers about shopping promotions designed to smooth demand.
"We're still dealing with capacity constraints in a 7- to 10-day period during peak season. We will continue to work with retailers and e-tailers in an effort to try to shift that demand, but a lot of that's consumer driven," Glenn said.
This year, UPS and FedEx also have new rate policies in place that will force online retailers to rethink how they pack items for the holidays.
Rate Hikes
At the start of 2015, UPS and FedEx extended the use of dimensional-weight pricing to all domestic ground shipments. In other words, shipping rates are now formulated using on the size of each package if it exceeds the actual weight.
The delivery giants cited logistical problems created by small e-commerce orders packed in large boxes that take up too much space on their planes and trucks. UPS and FedEx said the rate changes should encourage their customers to find more efficient means of packing merchandise.
UPS also announced new policies for heftier packages just in time for the holiday season. Last month, the company said it would charge $110 for oversize packages, up from $57.50, and hike fuel surcharges.
Chrisman told FOXBusiness.com that 88% of Sealed Air's e-commerce fulfillment customers saw an increase in freight costs this year. The rate increases "galvanized the industry" to find savings, he said. One way is to use automated systems that account for the size of each item, and Chrisman said one "very large" big-box company is implementing Sealed Air's solutions in its distribution centers.
Cost Savings
Sealed Air developed e-Cube, which sizes boxes on demand, thus replacing standard boxes that waste volume and now cost more to ship. FloWrap, another Sealed Air system, right-sizes up to 30 custom mailers per minute. The Charlotte, N.C.-based company, maker of the original Bubble Wrap, has also seen significant growth in padded mailers.
"We're still in the stone age of e-commerce. Customers still use one type of package to ship. Now we're matching items to packaging," Chrisman said. "We're still in the very early stages of modernizing e-commerce fulfillment, and we're seeing great receptivity to speeding up fulfillment or reducing packaging."
Shipping firms hope efficient packing and other strategies, such as handing off shipments to the U.S. Postal Service for the so-called "last mile," will ease the burden of delivering millions of holiday packages.
From Thanksgiving through the end of the year, UPS said it will deliver more than 630 million packages, a 10% increase over last year. FedEx projected a 12.4% increase to a company record of 317 million packages.
More Holiday Shipments
UPS believes that shipping volume will peak at 36 million packages three days before Christmas, doubling its normal daily average. The company moved 17 million shipments on its peak day just 10 years ago.
Online shopping is a major driver of the increase, and according to a National Retail Federation survey, e-commerce will be more popular this year than ever before. The trade group said 46.1% of holiday shopping will be conducted online, the highest mark since the question was first asked in 2006.
The NRF also found that 46.5% of online shoppers plan to pick up their orders in stores. Shoppers continue to seek out free shipping offers, too, with 93.1% saying they will take advantage of free shipping on holiday merchandise.
Chrisman noted how consumers are willing to wait longer for a delivery in order to receive free shipping, a trend that has spurred retailers to pack and ship orders directly from their brick-and-mortar stores. "By leveraging their stores, e-commerce fillers can save in freight," he said.