How Much is a Cruise Line Worth?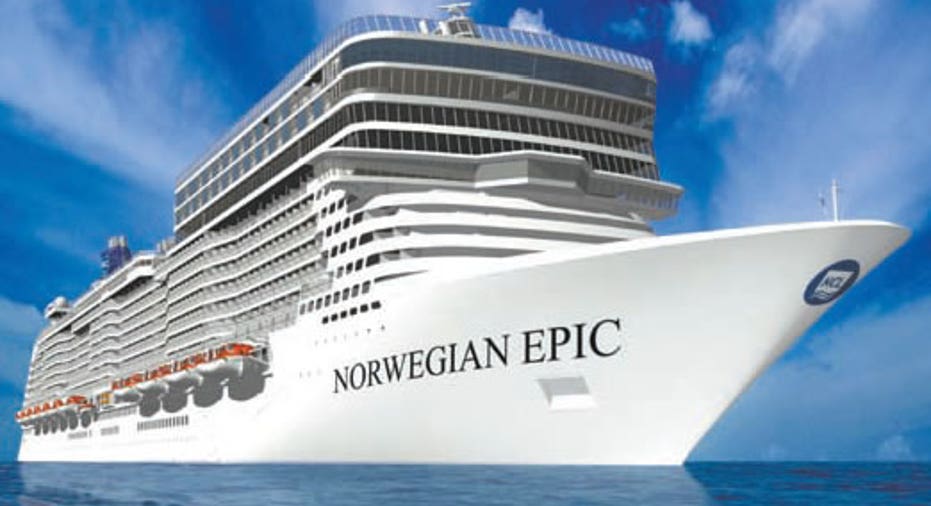 Norwegian Cruise Line, commonly referred to as NCL or Norwegian, filed for an initial public offering (IPO) last month and hopes to start trading on the Nasdaq sometime this year under the symbol NCLH. The cruise line will form a new company, NCL Holdings, to be traded as the holding company for the cruise line.
The company says it hopes to raise $250 million -- not a lot considering that its newest ship, Norwegian Epic, cost an estimated $1.2 billion. The line is also planning a new Project Breakaway to build two more new ships at about $850 million apiece.
NCL filed for an IPO last year, but changed its mind in March 2011, citing the effect of the Japanese earthquake on its Asian partner, Genting HK, a Malaysian company that runs the Asian cruise line Star Cruises and owns a 50% stake in NCL.
Genting previously acquired 100% of NCL in a dramatic bidding war back in 2000. At the time, there was already an NCL Holding trading on the New York Stock Exchange that went public in 1999; it owned both Norwegian Cruise Line and the smaller Orient Line. In 1999, Carnival Corp. launched a hostile bid for NCL Holding, offering shareholders a higher price than they could get on the open market. The bid was equal to $900 million at the time, and it looked like Carnival would win the day.
But a few days later a surprise player emerged: Star Cruises of Malaysia. The company acquired 20% of NCL Holdings overnight, and quickly increased its stake to 39%. It was not clear whether Star was working in concert with NCL to ward off Carnival, but in the end it didnt matter since enough shares had been taken off the table to stop Carnivals hostile takeover.
Once Star Cruises had sway with  the board of directors and it took NCL Holdings private again to ward off future hostile takeovers. But then in 2007, Star Cruises sold 50% of NCL to Apollo Management, led by Leon Black, for $1 billion. Apollo had also just acquired Oceania Cruises (also for $1 billion) and would also gobble up Regent Seven Seas in 2008 (again for $1 billion). Apollo subsequently sold 12.5% of its stake in NCL to TGP Viking Fund.
Today, Apollo and TGP have a majority on the NCL board of directors and they want to take it public again. According to the S-1 prospectus, the managing partners of the new NCL Holdings only have to hold their shares for 180 days before they can sell them on the open market.
Will Carnival be waiting in the wings again? Carnival also tried to take over NCL in 1996 in a scheme to acquire $101 million in NCL junk bonds that paid 13% at the time. Carnival hoped the company might default on the bonds and place assets on sale. But NCL sold two ships before the bonds matured and managed to make good for the bondholders.
Even though it has tried twice before to acquire NCL, Carnival has grown dramatically since its earlier efforts. NCL only represents 11% of the cruise market, but Carnival Corp. -- which owns Carnival Cruise Lines, Cunard, Holland America, Costa, Seabourn, Princess and P & O Cruises -- already controls more than 51% of the worldwide cruise market. Royal Caribbean Cruises Ltd. owns most of what is left.
If either Carnival or Royal Caribbean tried to take over NCL now, it is most likely that U.S. or  European regulators would raise antitrust issues.
Cruise Art Auctions - Bad Investment
I have written several articles warning cruisers about buying items at cruise ship art auctions. I am not going to say the artwork is fraudulent or overpriced, but I can say with certainly that several highly-qualified art experts have questioned the procedures used during cruise ship art auctions, which reflects on the value of the pieces they sell.
In one recent lawsuit, cruise ship art auctioneer Park West Gallery tried to sue small website Fine Art Registry for defamation seeking $46 million in damages. The jury ruled against Park West, awarding Fine Art Gallery $500,000 in a countersuit for trademark infringement. But the judge overturned the jury judgment and ordered a retrial that will start this autumn.
Meanwhile, just this week a publication for insurance adjusters reported that an insurance company was asked to reimburse a homeowner for a set of stolen artist-signed Dali prints that were purchased on a cruise ship from Park West. The insurance company determined that the prints were not authentic. The owner had relied on the appraisal supplied with the prints when he bought them, but the insurance company determined that according to Dali work catalogues, these works were never signed by the artist. So, even if the prints had been authentic (their quality was considered questionable), the forged signatures made them all but worthless, according to the insurance company experts.
The insurance adjusters used the concept of questionable provenance as enough evidence to lower the estimated value of the prints. There is no shortage of such questionable provenance: Several class action lawsuits filed by art buyers against Park West and the cruise lines will also commence this autumn.
Cruising 101
As always if you need to know more about cruising we urge you to consult our Cruising101 FAQ.
I started writing about stock market investing for Motley Fool in 1995, but previously I worked aboard cruise ships. I co-founded the CruiseMates.com cruise travel guide on the Internet in New York City in 1999. CruiseMates was acquired by Internet Brands in 2006. Once CEO, I am now the editor of CruiseMates Paul Motter.