How LeBron James and Steph Curry Stack Up Off the Court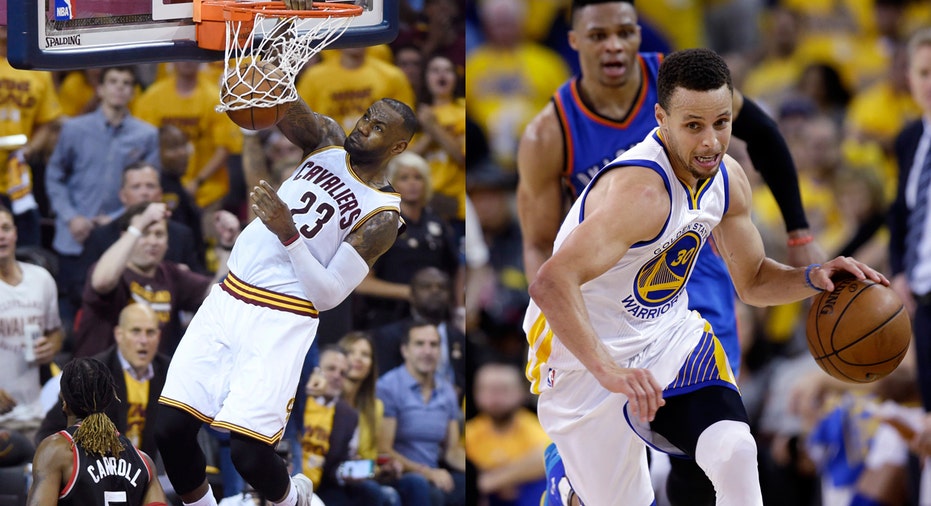 The Cleveland Cavaliers and Golden State Warriors are meeting again in the NBA Finals, setting the stage for a rematch between two of basketball's biggest stars: LeBron James and Stephen Curry.
James and Curry have built reputations as winners both on and off the court. James, a four-time MVP pick, won two championships with the Miami Heat. Curry, the unanimous choice for MVP this season, has won the award in back-to-back seasons. His Warriors got the better of the Cavaliers in the 2015 NBA Finals, taking the series, 4-2. Curry was the driving force behind the Warriors' big 2015-16 season, leading the team to a record 73 wins.
The rivalry between James and Curry is heating up off the court, too.
Endorsement King
With James and Curry going head-to-head for a second straight year, another battle is brewing between North America's two largest sportswear brands, Nike (NYSE:NKE) and Under Armour (NYSE:UA).
In December, Nike signed James to a massive endorsement deal. Multiple reports said the lifetime contract is worth more than the 10-year, $300 million deal that Nike awarded to Oklahoma City Thunder forward Kevin Durant. Some estimates put the deal over $500 million.
James is believed to be the first athlete to get a lifetime deal from Nike, although NBA great Michael Jordan has long been a Nike partner. Together, Nike and Air Jordan sneakers account for an estimated 90% of the market.
Nike first signed James to a seven-year, $90 million contract shortly before the 2003 draft. At the time, it was the largest athlete endorsement on record.
Nike also had Curry on its roster until 2013, when the Warriors star bolted for Under Armour. The Baltimore-based challenger to Nike gave Curry $4 million a year initially. In September, Under Armour signed Curry to an extension that lasts through 2024. Terms of that deal are unknown. But one thing is clear: Curry has become incredibly valuable to Under Armour.
According to a Morgan Stanley (NYSE:MS) research note in March, Curry could be worth approximately $14 billion to the athletic brand. The investment bank's bull case for Under Armour projected a $28.2 billion market value, assuming Curry continues on his current trajectory. Under a base-case scenario, Under Armour's market value would be closer to $14 billion.
Morgan Stanley also said Under Armour's U.S. basketball shoe sales were up 350% since the start of 2015, and Curry sneakers have outpaced sales of all other players except Jordan. Under Armour reported first-quarter footwear revenue of $264 million, a 64% gain.
Net Worth
Forbes ranked James as the top-earning NBA player, saying the 31-year-old forward is making $71 million from contractual earnings and endorsement deals.
His $23 million salary for the 2015-16 season is the third-best mark in the league. James is playing under a two-year contract that allows him to opt out after this season. If he chooses to stay in Cleveland, James will make about $24 million next season.
James makes twice as much in endorsements, a $48 million haul. Nike, Kia, McDonald's (NYSE:MCD), Coca-Cola (NYSE:KO) and Samsung all have deals with King James. He also has his own production company, SpringHill Entertainment, and a multimedia website, Uninterrupted.
Curry didn't make the Forbes list for 2016, although he recently scored a multi-year agreement with JPMorgan Chase (NYSE:JPM). Curry also has endorsements from Muscle Milk, Fanatics, Unilever (NYSE:UL) brand Degree and Harman's (NYSE:HAR) JBL.
Just this week, Curry released an emoji app, "Stephmoji," which sells for $1.99. By Thursday, it was the best-selling paid app in Apple's (NASDAQ:AAPL) App Store.
The 28-year-old is paid less than half of what James makes on the court. The Warriors signed Curry to a four-year, $44 million extension that began with the 2013-14 season. Curry is earning $11.4 million this season, according to Spotrac. The final year of the contract is worth about $12.1 million.
Curry Tops Jersey Sales
Curry has supplanted James as the most popular NBA jersey among fans. James was the sales leader on the NBA's official online store for six consecutive seasons. Curry jumped into the lead during the 2015 playoffs, and this year marked the first time Curry ended the regular season as the jersey king. James fell to third place behind Kobe Bryant, who is hanging up his sneakers after a 20-year career.
According to online retailer Fanatics, Curry ranks first in merchandise sales, and James ranks second.
Curry and James are credited with drawing attention to the sport across the country, not just in their local markets. Fanatics, which runs NBAStore.com, said New York is the second-most popular market for Warriors and Cavaliers gear. In an interesting twist, San Francisco is the third-best market for Cavaliers gear.