How and Where Can You Score Fast Cash -- Legally?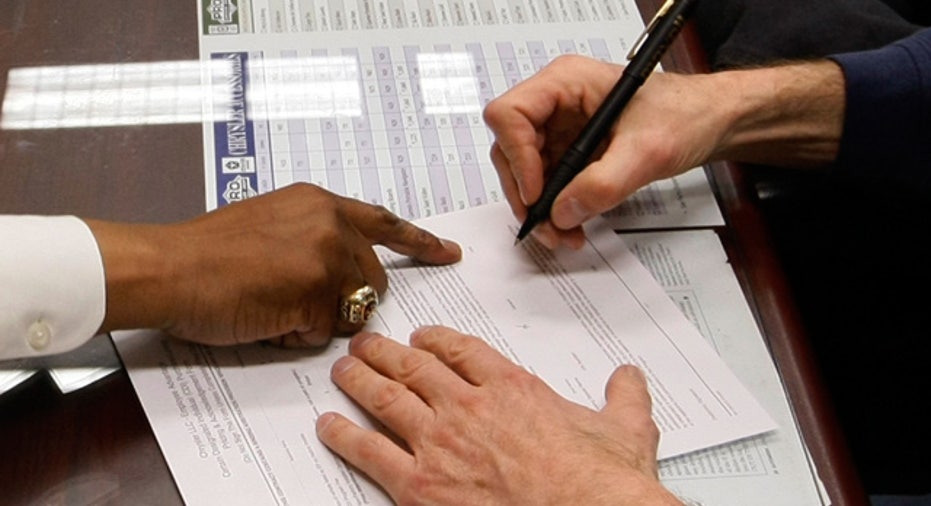 Looking to get fast cash for your car, jewelry or even your home? Chances are you won't get top dollar, but there are legitimate ways to sell your belongings fast. There's one catch. There are as many scam companies as there are real companies that will pay fast cash.
Because there are, you need to tread carefully when doing a quick-cash sale. Here's what to look for.
"Part of the problem is people are looking for quick money, and the scammer knows it," says Steven J.J. Weisman, a Cambridge, Mass., attorney and scam expert. "You have to be extra careful when doing anything that promises a quick profit to make sure you're not a victim."
One way for people to make fast cash is to sell their jewelry, especially gold. Going to the local pawnshop is an option, but you won't get face value there. According to Weisman, gold parties and mail-in gold companies are growing in popularity. With mail-in companies, you send in your jewelry and get a check in the mail in return. At gold parties, a group of friends get together and a middleman will come to weigh their gold and dole out money on the spot for their jewelry.
Sounds good, right? Weisman says the problem with many of the mail-in offers and parties is you get significantly less than the true value of your gold with a middleman involved.
"A few years ago, there was an expose of some mail-in places, and people were getting 16% of the value of their gold," Weisman says. "If you go to a pawnshop, you may get anywhere from 25% to 65% of what your gold is worth."
A better alternative is to sell your gold directly to a refinery. Weisman says you can get as much as 90% of the value. A drawback is that refineries don't generally buy small amounts of gold. Instead of holding a gold party, pool your gold with your friends' gold and sell it to the refinery as a group.
If you hold a gold party, follow the tips from Bankrate in its story, "Bring your bling to a gold party."
Fast Cash for Cars
A Google search of "fast cash for cars" will yield hundreds of companies that will give you cash on the spot for your used car. And that doesn't even include selling on classified advertising websites such as Craigslist.
But just as with gold-buying companies, many of the outfits are legitimate while some are scams designed to take your money and, in some cases, the title to your car.
According to Katherine Hutt, a spokeswoman for Arlington, Va.-based Council of Better Business Bureaus Inc., the Internet has created an environment where people selling their cars can easily be scammed. "Our rule of thumb is if it sounds too good to be true, it probably is," Hutt says.
One well-used scam is when a so-called buyer will send you a check for more than the car is worth and ask you to wire back the difference. You wire the money and three days later, the check bounces. Hutt says if the buyer won't meet you face to face or wants you to wire money, it should be a red flag that you might be getting scammed.
Buyer, beware when it comes to the companies that promise to give you fast cash on the spot for your used car. The company may not be trying to steal your car, but it might not be offering you top dollar for your car.
Most of the time, you'll be lucky to get book value, or the market value of a used car based on guides available to consumers online. Before dealing with one of those cash-for-cars companies, check if there are any complaints against the company with the Better Business Bureau or your state attorney general's office, and make sure you know how much your car is worth.
Never turn over the deed to the car until the check has completely cleared the bank, which takes about two weeks, Weisman says.
"No one should receive below book value selling a good used car these days, even if they're facing financial distress and are a motivated seller," says Robert Sinclair Jr., spokesman for AAA New York in Garden City, N.Y.
A better alternative is selling your car yourself. There are fewer used cars on the market, which means you can get a good price for your vehicle, Sinclair says.
Quick Home Sales Not a Reality
A particularly dangerous area where scams are plentiful is in the real estate market. In the current environment, people are sitting on mortgages that are worth more than their homes and are desperate to escape their situation. That desperation is fertile hunting ground for scam artists. When it comes to getting fast cash for your home, a huge dose of skepticism goes a long way.
"It's very hard to tell if it's legit or not," Weisman says. Before working with one of these companies that claim they can sell your house quickly, Weisman says you should check with your state's attorney general's office, the licensing agency in your state for real estate agents and the local district attorney's office to verify the company is legit.
"When someone is doing it totally on commission, it's not as bad," Weisman says. "Anytime these deals seem too good to be true, vet them out."
Jo Jenkins, regional vice president of Chicago-based National Association of Realtors, says when you're considering the sale of your home, you should talk to a real estate agent first because he or she can give you an accurate estimate of what the home's value is and how long it can take realistically to sell it.
According to Jenkins, Realtors know the current market value of homes while the companies that promise fast cash may not.