How 2015 Became the Year of the Cage-Free Hen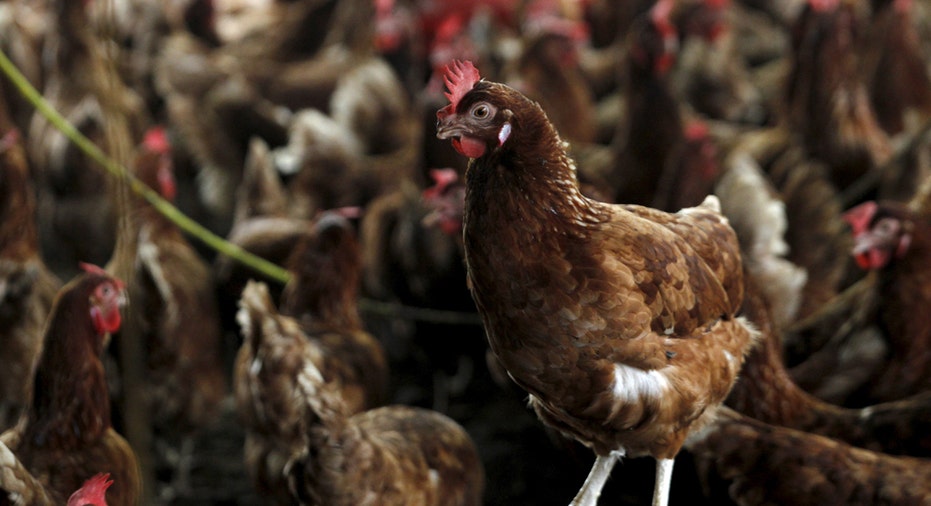 Ryan Gosling may have started it. Or maybe it was Brad Pitt.
Both of them made headlines this summer when they each sent a letter to Costco CEO Craig Jelinek, urging him to ditch the battery cages and release the hens.
"Cramming hens into cages for their entire lives constitutes cruelty to animals, and animals deserve better," Pitt wrote in his letter.
And after months of countless campaigns against America's second-largest retailer, the company recently announced their plans to go cage-free in 2016.
"We are working with our suppliers toward a complete and sustainable transition to a cage-free supply chain," the company said in a statement.
Costco (NASDAQ:COST) was the poster child that helped spark the conversation and got consumers involved in pushing corporations to make changes, something animal activist groups have been trying to do for decades.
"In 2015 alone, dozens of companies announced policies for converting to 100% cage-free eggs," says Matthew Prescott, senior food policy director for The Humane Society of the United States.
Taco Bell (NYSE:YUM), Starbucks (NASDAQ:SBUX), Jack in the Box (NASDAQ:JACK), Panera Bread (NASDAQ:PNRA), Dunkin Brands (NASDAQ:DNKN), General Mills (NYSE:GIS), Kellogg's (NYSE:K), and McDonald's (NYSE:MCD) are a few of the major corporations who vow to go completely cage-free this year.
"More than ever, companies are realizing that the way they interact with the rest of the animal kingdom can have a major bearing on their bottom line," adds Prescott.
However, some companies are falling behind, such as Wendy's (NASDAQ:WEN), Denny's (NASDAQ:DENN), IHOP, which is owned by DineEquity (NYSE:DIN) and Arby's. All have yet to announce plans to go completely cage-free.
"Wendy's will soon find itself at a competitive disadvantage without a cage-free commitment of its own," says Jaya Bhumitra, director of corporate outreach for Mercy for Animals, who says Millennials are part of the driving force behind the change.
"They are especially socially conscious, and as they hold the predominant purchasing power and social media influence, businesses are adapting to their expectations," she adds.
The true game-changer, many of the activist groups say, was McDonald's announcement in early September promising to convert every one of the two billion eggs they use in the U.S. and Canada.
"Their decision this year to go cage-free was pretty much the final nail in the battery cage coffin," says Gene Baur, president and co-founder of Farm Sanctuary.
"This set off an avalanche of similar announcements from companies," adds Prescott, who notes that Burger King was one of the true trend setters for announcing their cage-free policy back in 2012.
Mercy for Animals says while McDonald's commitment marks significant progress, the chain still has a lot of work to do in terms of animal welfare.
In August, FOXBusiness.com reported the company was under fire after an undercover video surfaced that showed factory farmers at one of their Tyson Foods (NYSE:TSN) suppliers beating chickens with spikes and stepping on their heads to break their necks. Since the report, both companies cut ties with the farm in question.
"We see cage-free egg policies as the gateway to much larger issues on our shelves, menus and dinner plates. Every year, the USA raises and slaughters nine billion (yes, billion!) meat chickens a year for consumption," says Leah Garces, USA director of Compassion in World Farming.
"Ninety-five percent of all factory farmed animals are broilers. The majority of these have been bred to grow so large, so fast, they are genetically lame. They have inherent immune problems and suffer from heart attacks as their bodies are too large for their hearts and lungs to service."
Garces adds, "somewhere we took a wrong turn" with the way we farm animals and it's time to fix that in the new year.
"I am confident we are going to see companies move away from fast-growing breeds of chickens raised for meat."
Prescott says he hopes 2016 brings an end to the dairy industry's practice of cutting cows' tails off.
Many farmers in recent decades have engaged in so-called "tail docking" because they believe amputation of the tail helps with hygiene and makes it easier to work with the animals.
"Study after study shows that Americans simply want animals in the food supply to be treated well. We're a nation of animal lovers, and affording animals basic decency is in our country's DNA — it's as American as apple pie," adds Prescott.