Houston Startup Pledges to Save the Planet With Water Bottles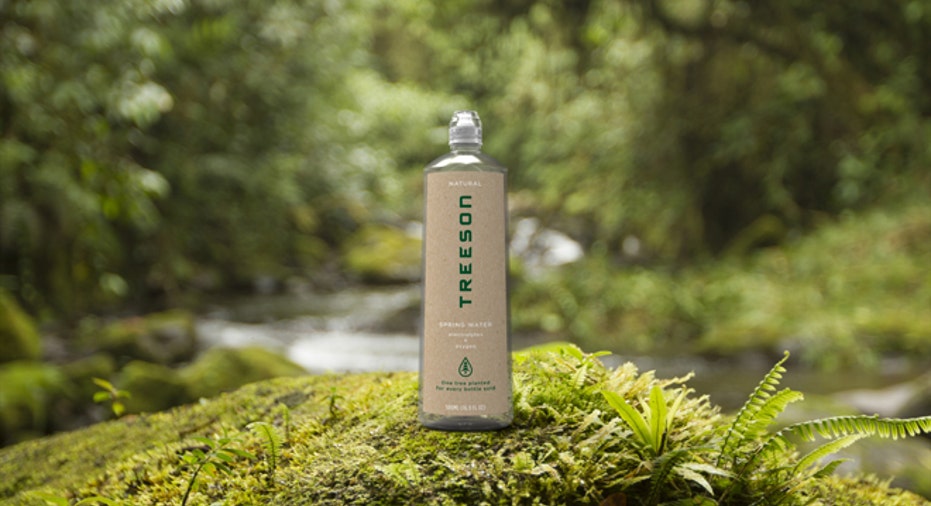 Small Business Spotlight: Treeson Spring Water, @treesonwater
Who: Carlton Solle, Founder and CEO of Treeson Spring Water
What: Treeson Spring Water is "a product from the environment, for the environment." The eco-friendly, trash-eliminating, clean energy-making upstart promises to plant a tree for every water bottle sold.
When: 2009 (an idea is born), 2014 (a Kickstarter campaign is launched)
Where: Houston, Texas and San Jose, Costa Rica
How: Five years ago while living in Costa Rica, founder Carlton Solle and his family took a trip to the beach. Shocked by the amount of un-recycled debris floating around, Solle decided to find a sustainable solution. Enter: Treeson (pronounced treez-un).
"A lot of the focus has been on what the bottle is made of, but the real problem … is where the bottle ends up," says Solle of the issues facing the beverage industry today.
Each year, 50 billion plastic water bottles are sold in the U.S., but less than 20% are actually recycled, according to Solle. He believes this has to do with the cost and energy it takes to recycle these materials, as well as the limited amount of things you can do with the recycled plastic.
His goal is to change the way bottled water is used. On Feb. 11, Treeson launched a Kickstarter campaign to gather the initial funds to do a first production run, set up a distribution space in Houston and purchase the equipment needed to put the idea in motion. With 23 days to go, so far the campaign has 264 backers and has raised $12,461 in funding.
The next step is to produce the first batch of the eco-friendly bottles for distribution. Solle says they tested out more than 100 different bottle and label designs, finally picking The Leaf Bottle design (which was inspired by a perfectly-shaped leaf his daughter brought home one day). The bottle is made of toxin-free, plant-based materials that are 100% sustainable and biodegradable. And in addition, the bottles flatten out when empty for easy mailing.
Bottles come with reply-mail labels, so consumers can ship them back to Treeson for free (via USPS) to be pared down and turned into clean energy.
But the real draw is Treeson's one-for-one business model. Like TOMS shoes, Treeson promises to plant one tree for every bottle sold. Through these reforestation efforts, Treeson wants to put the power of restoring vital habitats in consumers' hands and raise awareness about clean energy initiatives.
"Millions of people around the world do not have access to clean water sources and that is why bottled water is actually a necessity in many places for those who can afford it," says Solle.
Biggest challenge: Solle says it's hard to measure the young company's biggest challenge at this point in the game. Still, he says "wading through the water" in all the different areas has been tough.
"I'd never started [something] of this magnitude, and [five years out] I'm just getting started," Solle says.
One moment in time: "For me the goal is way down the road," Solle says. "There's a lot of other neat things that we're excited to do next, but when we get 500,000 eyes on the [Kickstarter] campaign, that'll be great."