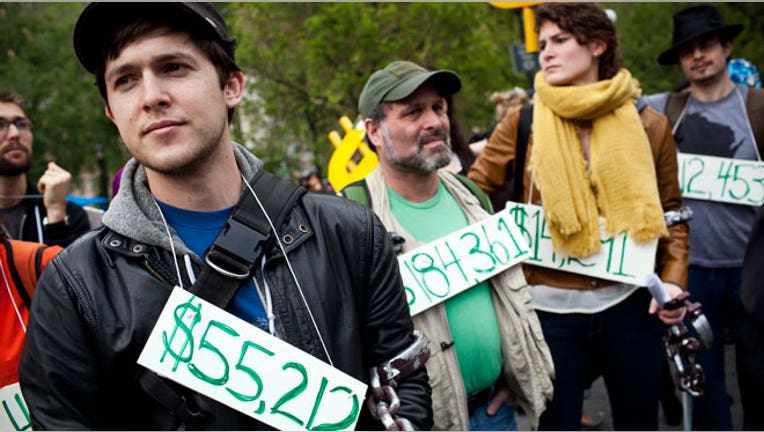 Americans are continuing to rack up debt as overall household debts rose to $129 billion in the first quarter of 2014. This marks the third straight quarterly increase, but debt loads still remain below their peak before the 2008 financial crisis.
A new report from the New York Federal Reserve finds debt is up 1.1%, but there is some good news: Credit card delinquencies continue to decline.
The Fed reports total debt in the U.S. has climbed to $11.65 trillion, 8.1% below the all-time high hit in 2008 of $12.6 trillion. The report is based on data drawn from anonymized Equifax credit data.
Greg McBride, senior financial analyst at Bankrate.com (NYSE: RATE) says the report is a positive sign for the economy.
"It's reflective of a better economy— more people are working and there are lower levels of delinquencies--that is to be expected," McBride says. "If consumers don't take on more debt, it will be difficult to grow this economy. We don't want to see consumers take on too much debt, but it's a positive sign to see, from an economic standpoint, to see consumers borrowing as long as we are not overdoing it."
The increase in debt was led by mortgage debt at $116 billion, although mortgage originations fell by $120 billion to $332 billion for the quarter. This is the lowest level since the third quarter of 2011. What's more, 145,000 Americans had new foreclosure notations added to their credit reports, which is 12,000 below the previous quarter.
Behind mortgage debts was student loan debt at $31 billion and auto loan balances came in at $12 billion. The Fed's blog, Liberty Street Economics, points out that student loan debts outpace auto loans, credit card debt and home-equity balances. This is causing those with student debt loads to stay out of the housing market longer than they had in the past, according to the Fed.
Homeownership rates between 2003 and 2009 significantly higher for thirty-year-olds with a history of student debt being higher, because these people were typically better educated and had better jobs. Yet post-recession, a shift occurred, with homeownership rates declining by 5% among 30-year-olds without a history of student debt and 10% for those with debt. The report points out that by 2012, homeownership rates for student debtors fell 2 percentage points lower than those without student debt for the first time in the past decade.
But when it comes to student debt, the devil is in the details, McBride says.
"It's not the aggregate amount of debt," he says. "It's about the details—if someone is borrowing $25,000 to $35,000 to get an accounting or engineering degree—that is great. They will grow their earnings and will be highly employable and will make contributions to the economy for years to come. But to get a $100,000 degree in anthropology? Not so much."