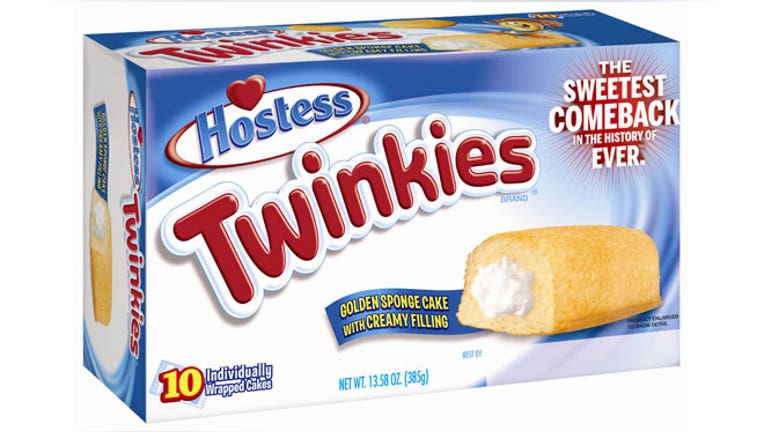 When Twinkies go back on sale next week, many shoppers will find that the spongy yellow cake has a longer life expectancy.
The revamped Hostess Brands, which announced late last month that its iconic Twinkies snack cake will return to store shelves on July 15, said Monday the cakes will continue to have a shelf life of 45 days, up from the original 26 days.
Hannah Arnold, a spokesperson for Hostess, said the old company that went bankrupt made the change and introduced the longer-lasting Twinkies shortly before its liquidation and sale of assets.
Hostess also said it will freeze some of the cakes before shipping them at the request of certain customers.
According to Arnold, about 10% of Hostess' distribution requested to receive frozen product. The decision is up to the bakery's customers, she added, and only those customers who asked for frozen Twinkies will receive them.
"This allows the retailer to date the product for freshness, provides flexibility in filling their shelves and has no impact on the quality or taste of our products," Arnold said of freezing the cakes. "The new ownership is absolutely committed to baking top quality snack cakes and, in fact, is making major investments to ensure that Hostess products are as good, if not even better than before."
Hostess has billed the return of its Twinkies and other snack cakes as "the sweetest comeback in the history of ever." On its website, Hostess has a digital clock counting down until the return of the "American snack icons that the people decided they just couldn't live without."
Private equity firms Apollo Global Management (NYSE:APO) and C. Dean Metropoulos & Co. partnered to buy Twinkies and other Hostess cakes, including Ho Hos, Ding Dongs and CupCakes, for $410 million.
McKee Foods, which purchased Drake's snack cakes for $27.5 million, is also planning a comeback. McKee Foods said some of the former Hostess brand's products will return by late summer or early fall. The rollout will start with a selection of Drake's cakes, and more could be added over time.