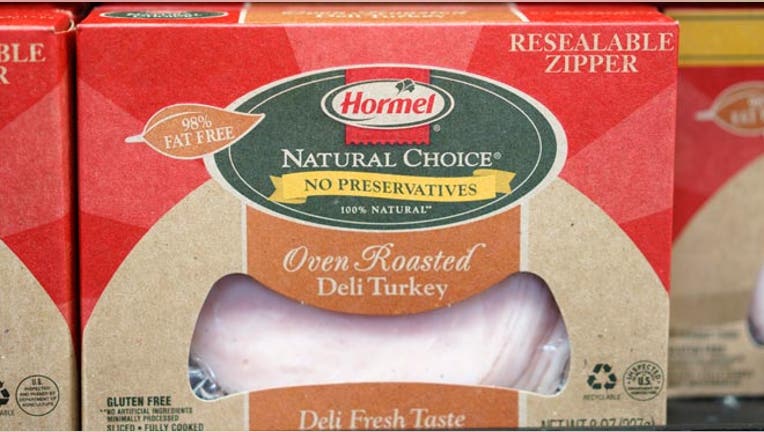 Hormel Foods Corp. agreed to buy Applegate Farms LLC for about $775 million, a move that would give the maker of Spam a foothold in the organic-meats category.
Closely held Applegate's annual sales are expected to be about $340 million this year, Hormel said in a news release Tuesday announcing the deal.
A deal would follow other transactions over the past year involving protein companies. In 2014, Tyson Foods Inc. paid $7.7 billion for Hillshire Brands Co., which makes Jimmy Dean sausages, and Post Holdings Inc. bought egg and dairy-goods company Michael Foods Group Inc.
A change in consumer eating habits is underpinning consolidation in the sector. Americans are moving to more protein-heavy diets and eschewing carbohydrates, while seeking more organic products.
Hormel has been diversifying its portfolio of food brands to capitalize on growing protein demand and higher-margin foods. The company last year paid $450 million for CytoSport Holdings Inc., maker of Muscle Milk-brand protein shakes and powders, and in 2013 it acquired the Skippy peanut butter brand from Unilever PLC for about $700 million.
Buying Applegate would help Hormel appeal to consumers that increasingly are seeking organic meats, including meat from animals raised without antibiotics. Hormel mainly sells conventional meat products, while rivals including Tyson Foods Inc. and Pilgrim's Pride Corp. have ramped up sales of antibiotic-free meats.
Applegate, based in New Jersey, sells deli meats, hot dogs, bacon and other products at retailers including Trader Joe's and Whole Foods Market Inc. The company long has sourced meat from farmers that eschew antibiotics. It also sells cheeses and frozen burgers, breaded chicken and corn dogs.
Austin, Minn.-based Hormel said the deal allows it to improve its supply chain for natural and organic products and "provides a faster path" to expand offerings in a high-growth category.
"This deal allows us to expand the breadth of our protein offerings to provide consumers more choice," Hormel Chief Executive Jeffrey Ettinger said in a news release.
The deal is expected to close within 60 days. Applegate will operate autonomously as a stand-alone subsidiary in Hormel's refrigerated-foods segment, Hormel said.
Hormel said Tuesday that it expects the deal to be neutral to its per-share earnings in the current fiscal year, which ends in October, but add 7 cents to 8 cents to per-share earnings in the following year. Analysts, on average, were expecting per-share earnings of $2.53 in 2015 and $2.72 in 2016.
Shares of Hormel, up 21% over the past 12 months, rose 3.4% to $58.52 in after-hours trading.
(By Dana Mattioli and David Kesmodel)