Homeowners Snag Refis at Near Record-Low Rates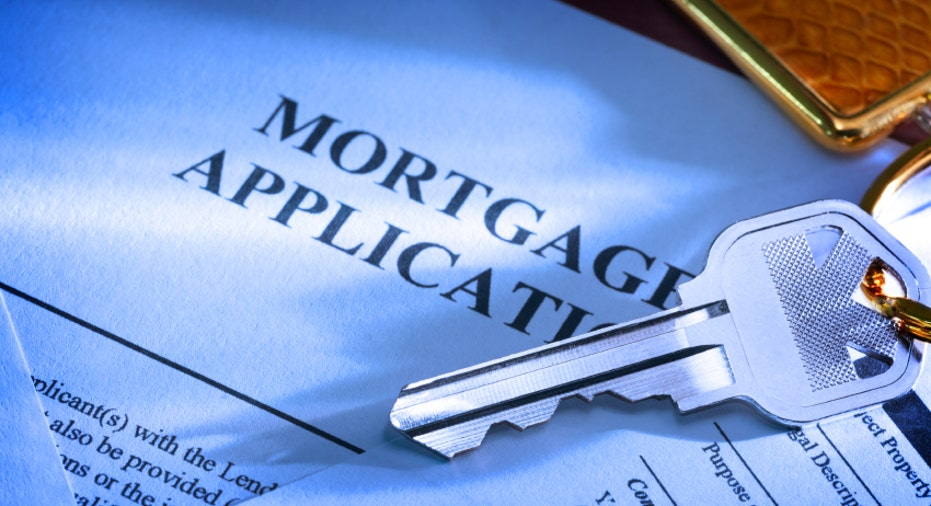 Mortgage rates stayed near all-time lows this week, as homeowners jumped at the opportunity to refinance after the recent rate spike scare.
The benchmark 30-year fixed-rate mortgage fell to 4.1%, compared to 4.11% the previous week, according to the Bankrate.com national survey of large lenders. The mortgages in this week's survey had an average total of 0.42 discount and origination points. One year ago, the mortgage index was 4.96%; four weeks ago, it was 4.29%.
At 4.1%, the 30-year fixed matched its record low in the 26-year history of Bankrate's weekly mortgage rate survey.
The benchmark 15-year fixed-rate mortgage was unchanged at 3.32%, and the benchmark 5/1 adjustable-rate mortgage rose to 3.05% from 3.03% the previous week.
Second chance
Rates had recently risen from their lows, and many borrowers thought they had missed their chance of grabbing the best deal, but when rates tumbled last week, borrowers acted quickly.
The volume of refinance applications increased 13.5% last week, compared to the previous week, according to the Mortgage Bankers Association.
"People have gotten a scare a few weeks ago and don't want to miss the boat again," says Michael Moskowitz, president of Equity Now, a mortgage bank in New York City.
HARP 2.0
The uptick also is partially attributable to HARP 2.0, the revamped version of the Home Affordable Refinance Program. Up until recently, millions of homeowners had been unable to refinance because they owe much more than their houses are worth. They waited months for HARP, as the program allows them to refinance regardless of how underwater they are.
While not all lenders have fully embraced the new HARP guidelines, many borrowers have been able to benefit from the revised program.
About 32% of the refinance activity seen last week was for HARP loans, according to Jay Brinkmann, MBA's chief economist.
"We had a lot of reservations for HARP, and now they are actually turning into deals," says Rob Nunziata, president of FBC Mortgage in Orlando.
Mixed news for the housing market
Unlike refinancers, homebuyers don't seem in a hurry to get a mortgage.
The volume of mortgage applications from buyers decreased 11.2% from one week earlier, according to the MBA. Most of the decline was due to a 23% drop in applications for FHA purchase loans.
"This was the largest weekly drop in the government purchase index since the expiration of the first-time homebuyer tax credit in May 2010," Brinkmann says.
The drop doesn't necessarily mean fewer buyers on the market. It follows a sharp increase in the demand for FHA loans in previous weeks as borrowers tried to beat FHA's higher mortgage insurance premiums, he says. The increases went into effect last week.
Housing experts, including real estate agents, say they have noticed that more buyers have gotten off the fence and started shopping for homes. While this is far from a healthy market, the increased confidence is a good sign, Nunziata says.
"The market is definitely recovering," he says. "There is probably less supply than we've had in a very long time."
Market Can't Handle Higher Rates
Many mortgage experts expect low mortgage rates to continue to help the housing market at least through the end of the year. If rates rise, the recovery could slow.
"I do not think the housing market can handle a significant increase in rates," says Brett Sinnott, director of secondary marketing at CMG Mortgage at San Ramon, Calif. "The purchase market seems to be making a slight comeback. But when rates rise, house prices fall, so housing is going to continue to be a problem for several years."
What Are You Waiting For?
Whether you are a potential buyer or thinking of refinancing, don't expect the low rates to be here when you want them. It the numbers make sense now, don't take a chance, says Michael Becker, a mortgage banker for WCS Funding in Baltimore.
"I think we are in pretty good spot for rates right now," Becker says. "But I tell people, 'Don't be complacent.'"