Home Health Care Franchises on the Rise as Boomers Age, Costs Rise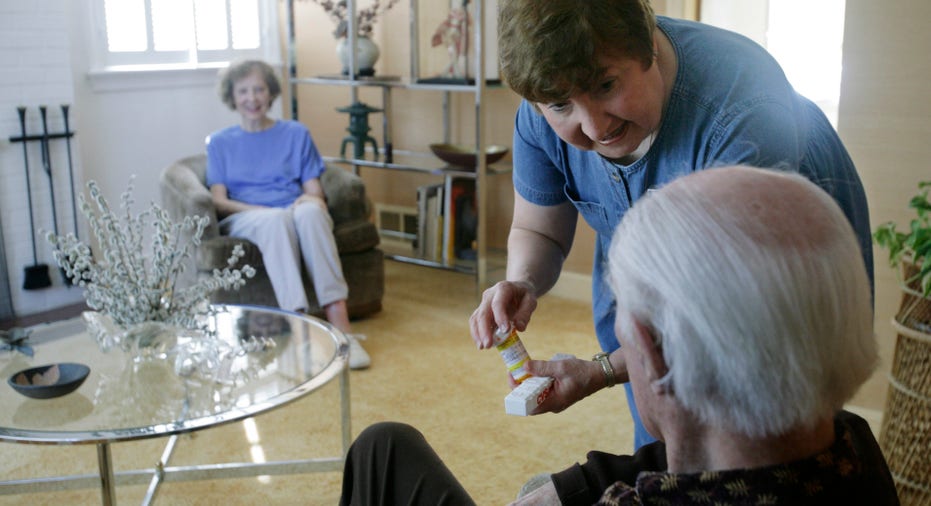 More than 8,000 people in America are turning 65 each day this year, and the senior population is expected to be around 49 million by the end of this year. By 2025, that number is expected to grow to nearly 72 million.
These are pretty astounding numbers, and for some businesses, they provide big business opportunities.
The gaining baby boomer population combined with increasing health-care costs, health-care reform, cutbacks in Medicare and many people looking for work in the recession, has been a boon to the home health care franchise industry in the U.S.
"People prefer to stay at home versus going to nursing homes," explained Christine Friedberg, director of FRANdata, a franchise information service. The elderly are also being forced to pay for nursing or assisted living facilities bills out of pocket since Medicare and Medicaid don't always cover the cost or just partially cover it, she added. "People are shopping around looking for that home health care provider."
The home health care franchise industry grew by 13% each year from 2006 to 2008, providing services such as home care, non-medical assistance, shopping and companion services and nurse care, according to data released in October 2009 by FRANdata. The majority of brands had been in business for less than five years. According to FRANdata figures, eight established home health care companies began franchising in 2011, three started franchising in 2010, five in 2009, and six every year from 2006 through 2008.
But no one home health care company holds the market share, allowing room for more players to enter the market. With that said, Friedberg expects some mergers and acquisitions activity within the next few years.
"That is a benefit of franchising--having that brand recognition. Especially when you're providing care, you want to be able to trust the name," she said.
FirstLight Home Care entered the market in March 2010 and has 29 franchise locations in 16 states. Its franchises not only serve seniors at home, but new moms, those recovering from surgery, and others who may be disabled or need assistance. The company has plans to open at least another 45 per year during each of the next three years.
"There are certainly good companies out there, but with the aging baby boomers, people with disabilities, new moms, people coming out procedures or physical therapy – we see and know there's a real increasing need out there to create a provider that really has high brand awareness and really has a high culture of care," FirstLight CEO Jeff Bevis said in explaining why FirstLight is so bullish about its growth. "We see health-care reform actually as being a generator, an accelerator, for the need to our services. It's helping to raise awareness."
In the past 10 years, Florida-based Nautilus Senior Home Care has also grown tremendously, experiencing double-digit growth every year since 2006 despite the abysmal economy. Husband and wife founders Bruce and Patty Catanzaro began franchising a little more than  a month ago.
"We've gotten a tremendous amount of interest from people but no one's put the money down yet. Once it does, every indication we have is that things are going to explode," said Bruce.
Plus, home care is typically cheaper and tends to bring more personalized service. An average semi-private room in a nursing home in Massachusetts, for example, can cost about $116,800, according to Genworth Financial, while an assisted living facility can cost about $60,000 a year. The same costs in Nebraska are $63,875 for a semi-private room, and $33,630 for an assisted living facility. These prices tend to include meals, room and board and round-the-clock assess to care. Eighteen hours of care a week from FirstLight totals less than $18,000 a year. Typical rates for Nautilus are about $17 an hour; if a client gets six hours of care a day, that's about $100 a day, or $3,000 a month
Bruce explained that the availability of long-term care insurance, combined with the fact that more patients are being forced to pay out of pocket for care is why he and his wife have a rosy outlook on their company's growth.
"The potential is just tremendous. It's one thing if you want to eat out for lunch or get your grass cut – those are all fairly discretionary. But if mom need a home health aid because she can't get out of bed or can't take care of herself, the family pulls together to get the money and that's critical in an economy like right now. They can't cut back on the health care."
Recession a Boom to Industry
The recession is also serving as a boom to home health care franchises. Many laid-off or unemployed workers – particularly those nearing retirement – see getting into this business as a way to change careers, doing something in which they can give back in the later years of their life.
"A lot of people are saying, 'I don't want to go through a layoff again. I want to be in control of my destiny. I want to be my own boss. I want to give back to the community,'" Bevis said. "Those are all additional factors fueling our growth."
Nautilus is targeting husband and wife teams in their 40s or 50s as potential franchisees. This demographic may have more time to commit to the job. Plus, many of their target couples "are just total victims of the economy," Bruce said. He recalled recently meeting one man who owned a State Farm insurance agency franchise for 20 years but found himself out of work after the company pulled up stakes in Florida. Realtors are other professionals not having much luck in their industry who would make great home care franchisees, as well, he said. A health care background isn't necessary.
"These are bright, go-getter type of people and haven't had anywhere to put their efforts," Catanzaro added.
Bevis and Catanzaro offered several tips for those thinking about getting into the home health care franchise industry, including: 
-Do your homework and understand what type of franchise is most interesting to you. 
-Get to know the potential franchisor and compare that company to others in the industry. "I think that all helps for someone to see if they would fit well in the industry," Bevis said. "Some people aren't sure about taking the entrepreneurial leap. Doing that research of the market and competition helps validate whether they should take that leap or not."
-Make sure you have adequate working capital to front. "Undercapitalization is the No. 1 reason any business – franchise or otherwise – fails," Bevis said. FirstLight, for example, requires $53,000 to $79,000 of franchisees, which includes the franchise fee, working capital, startup costs, insurance, etc… Estimated up-front costs at Nautilus range from $70,000 to $95,000.
-Consider home health care franchises that offer both medical and non-medical care. "If you don't, you will only be able to get half the money for the patient compared to what care is needed. Many franchisees get scared when they see the word 'medical,'" Catanzaro said. Don't worry; franchisors help recruit workers with both medical and non-medical backgrounds for the jobs available and assist with other 'scary' details. Home health care is "pretty sophisticated but it's not overwhelming where someone with a good head on their shoulder with good information from the franchise" can't succeed, Catanzaro added. "We can share that information with them and help them avoid a lot of pitfalls."