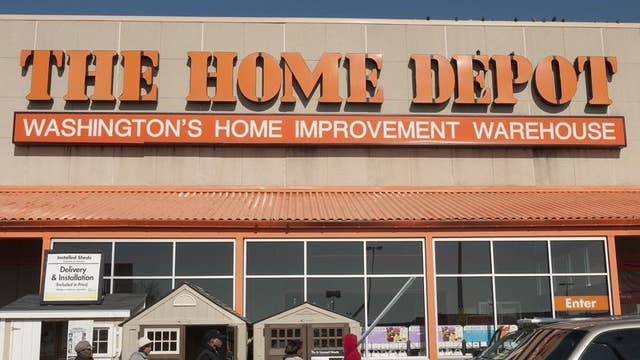 Home Depot's (NYSE:HD) second-quarter profit climbed 17% amid double-digit growth in comparable store sales, as a stronger U.S. housing market helped the home-improvement retailer beat Wall Street expectations.
The company also gave another upgrade to its outlook for the year, calling for per-share earnings of $3.60 and revenue growth of 4.5%. Home Depot previously expected earnings of $3.52 a share and revenue growth of 2.8%.
Shares jumped 2.9% to $77.40 in pre-market trading Tuesday. As of Monday's close, the stock has risen 32.6% over the last year.
Home Depot has reported better quarterly results of late, thanks in part to its turnaround efforts, a stronger home construction industry and higher new home sales.
In the latest period, the Atlanta-based company recorded a profit of $1.8 billion compared to $1.53 billion in the year-ago period. On a per-share basis, earnings rose to $1.24 from $1.01. Analysts projected earnings of $1.21 a share.
Sales were up 9.5% at $22.52 billion, handily beating estimates of $21.8 billion. Home Depot said a calendar-timing change reduced total sales growth for the second quarter by about $249 million.
Same-store sales leapt 10.7% overall and 11.4% in the U.S., one year after Home Depot saw just 2.1% growth overall.
Gross margin ticked up to 34.3% from 34.2%, while output costs rose 9.3%. The average customer ticket was $57.39, up 4.3% year-over-year. Transaction volume increase 4.9%.
"The second quarter results exceeded our expectations as our business benefited from a rebound in our seasonal categories, continued strength in the core of the store and the recovering housing market in the U.S.," Chairman and CEO Frank Blake said in a statement.
Home Depot also noted that it has bought back $4.3 billion of its shares so far this year and intends to buy an additional $2.2 billion by the end of this year.
Rival Lowe's (NYSE:LOW) is slated to report second-quarter earnings on Wednesday, with analysts looking for per-share earnings of 79 cents on revenue of $15.07 billion.