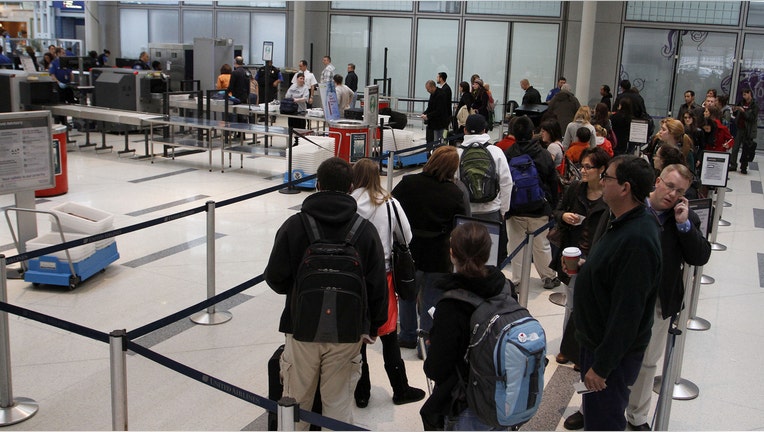 If you'll be hopping on an airplane to travel during the holiday season, be prepared for longer lines at terminals and jam-packed flights.
More passengers will be taking to the skies on U.S. airlines this holiday season compared to the same period last year, according to a new study.
Some 51 million passengers will fly globally on U.S. airlines during the 21-day winter holiday travel period—which runs until Jan. 4—an uptick of 3.5% from 2016, according to the report commissioned by Airlines for America (A4A), a trade organization representing some of the largest U.S. passenger and freight air carriers.
"With affordable fares and expanded route options, flying to see family, friends and loved ones this holiday season is more accessible than ever before," said A4A Vice President and Chief Economist John Heimlich.
Here are some tips from FOX Business to take the headache out of your hectic holiday travels:
GET THERE ON TIME
The Transportation Security Administration (TSA) suggests allowing two hours before a domestic flight and three hours prior to an international flight, a familiar guideline that you may want to follow more strictly this holiday season.
In an effort to reduce congestion, San Francisco International Airport (SFO) is introducing express drop-off areas to alleviate airport traffic.
"It's like having a remote curb option that is also very convenient to the terminals, but helps spread out that curbside traffic, and gives folks that maybe experience that traffic congestion [the ability] to go into the garage," SFO Airport Director Ivar Satero told FOX Business.
To avoid waiting in long check-in lines, travelers should either print boarding passes at home or have them available on their mobile phones, especially for those not checking bags.
For those checking bags, the key is to have a confirmation number or credit card handy to use at airport kiosks.
"You'll just put your credit card in or confirmation number, tell the system how many bags you're checking," American Airlines spokesperson Ross Feinstein told FOX Business. "You can pay for your bags right there. It'll print out your bag tags, you'll put the bag tags on your bags and you'll be on your way."
BE PREPARED FOR TSA
Prior to getting in line, passengers should know the rules and regulations that TSA requires for carry-on items, such as the 3-1-1 rule for liquids.
"The better option is to check all of those things through your checked baggage so you don't get delayed passing through the checkpoint process," Satero said, adding that at SFO, TSA lines can sometimes take up to 25 minutes.
USE MOBILE APPS
Many airlines have focused on building their mobile apps in an effort to help passengers during their airport and flight experiences. American Airlines' app, for example, allows travelers to re-book their flights right away if there are extensive delays or cancellations and re-route bags to the new destination, especially important as winter weather may impact holiday travel.
The United Airlines app allows customers to change and cancel flights and track baggage. Fliers also can add their MileagePlus and United Club cards to the Apple Wallet.
GET READY FOR RE-ENTRY (INTERNATIONAL)
For U.S. citizens and Canadian visitors traveling internationally, both airlines and airports recommend downloading the Mobile Passport Control (MPC) app from U.S. Customs and Border Patrol (CBP) to expedite the entry process into America at 24 international airports, similar to the TSA's Automated Passport Control (APC). Passengers using MPC and APC are still required to bring their passports and receipts to a Customs officer to finalize their inspection for entry into the U.S.
There's also CBP's Global Entry program, which also expedites the re-entry process into the U.S. However, travelers have to be pre-approved for the program.