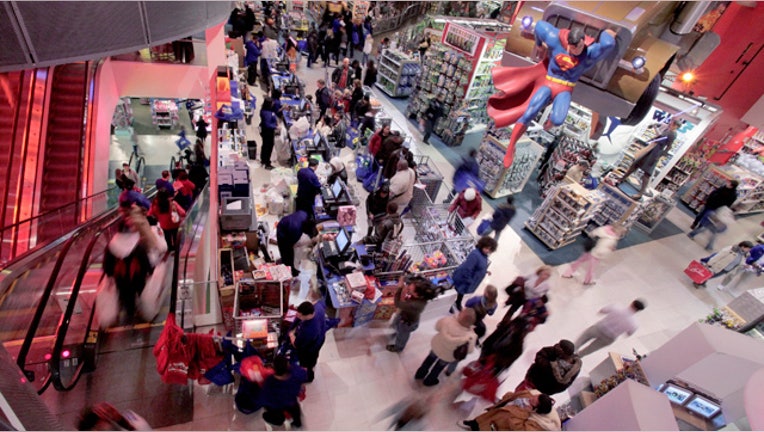 It's still officially summer, but that hasn't stopped some retailers from gearing up for the holiday shopping season. And it looks like they might need to pull out all the stops this year to get customers in their doors.
ShopperTrak, a store traffic measurement firm, forecast this year's shopping season will be the worst since 2009.
Retail sales for November and December, when the bulk of holiday shopping takes place, are expected to rise 2.4%, less than the 3% increase last year and 4% in 2011 and 2010, ShopperTrak reports. Historically, about 20% of annual retail activity takes place during this season and the shopping period is the most important for retailers' overall sales.
Sales and traffic in apparel and electronic retailers will mirror national trends, the report states, at 2.8% and 2.0% respectively. The survey crunches data from more than 60,000 global locations in a proprietary model.
Bill Martin, ShopperTrak founder, says the trend of decreased spending is partly due to the slowdown in growth of brick and mortar stores post-recession.
"Growth of brick-and-mortar and online stores are slowing," he says. "I feel like there has also been a lot of harsh news that has had an impact on consumers; when we see gas prices [rise], as well as other things, that impacts their ability to spend in retail."
Experts add that the drawn-out economic recovery has weighed on shoppers' confidence and has shifting their spending attitudes.
After several years of moderate holiday spending, consumers are realizing that a blow-out shopping spree isn't as important as a well-thought out gift, says Julia Scott, founder of BargainBabe.com.
"People are seeing you don't have to go crazy to have a fantastic Christmas," Scott says. "They set a limit, do a Secret Santa, a lot more people are doing trips instead of presents, or volunteering, just branching out. It's a post-recession trend."
Scott says search terms on her own blog have shown visitors beginning to focus on discounts for holiday shopping.
"We have been seeing people talk a bit about Christmas gifts at more reasonable prices, or gifts that will last, as opposed to a trendy sweater that will look awful by next year," she says.  "They are focusing on how to afford [holidays], she says. People are already thinking about Christmas, and the more you plan and save, you can spend better and take advantage of sales."
While the trend is down, it's hardly a "panic" number, Martin says. Shoppers are taking more of a cautious and thoughtful approach to spending this season.
"We call it a return to 'surgical shopping,'" he says. "The internet no longer requires moving from store-to-store. And when they do go to the mall and shop, it's at one store to capture the sale."