Hiring Our Heroes Marks First Anniversary with Job Fair in NYC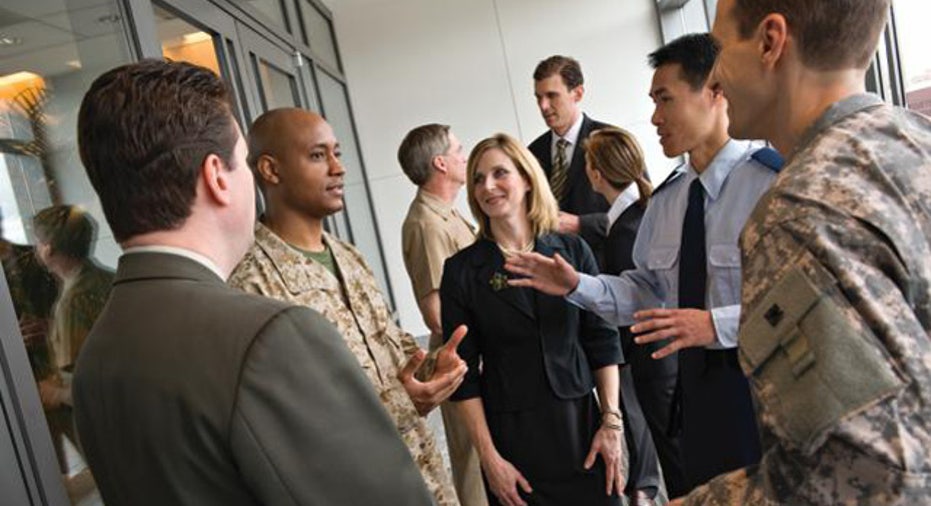 With the unemployment rate for all veterans currently standing at 8.3%, many organizations and companies are taking an active role in getting the men and women of our armed forces back to work.
This week, the National Chamber of Commerce joined forces with Veterans on Wall Street (VOWS) to host the second annual "Hiring Our Heroes" job fair. More than 100 employers exhibited at the fair with positions for veterans and their spouses. The founding member banks of VOWS, including Bank of America (NYSE:BAC), Citi (NYSE:C), Credit Suisse, Deutsche Bank and Goldman Sachs (NYSE:GS) were in attendance, as well as several smaller private companies.
"The financial firms participating today are naturally competitive, so the fact that they are coming together for this really says a lot," says Suni Harford, managing director of Citigroup North America. "Most of the financial companies here are new to the hiring fair genre. We are an industry that typically doesn't make on-the-spot offers, so we had to learn how to screen resumes in advance and we trained our hiring managers on the unique skill set that veterans bring to the table."
Approximately 50% of the jobs that Citi fills in a given year do not require college degrees, says Harford, so even veterans who don't have a four-year education are encouraged to apply. Harford says her hope is that more veterans see that financial firms are "so much more than Gordon Gekko."
In the last year, Hiring Our Heroes has helped more than 9,500 veterans and military spouses find work by hosting more than 200 job fairs across the country. Although the New York fair is one of the largest, Lt. Col. Kevin Schmiegel, executive director of Hiring Our Heroes and 20-year Marine Corps veteran, says that the organization's goal is that the public and private sectors work together seamlessly to employee veterans nationwide.
"When the five biggest financial firms in the nation come together to do something as meaningful as this, it's going to make a big impact," says Schmiegel. "We aren't just connecting vets and their spouses to employment opportunities; many of them will spend the day networking and making valuable connections for future. They can also sign up for workshops and classroom instruction. Everyone here is going to pick up a piece of information that's going to help them the next time they step in front of an employer." Prudential Insurance Company was also in attendance Thursday looking to fill job openings.
"We're looking to hire for a range of jobs in sales and marketing, financial services, and communications," says Anthony Cillo, a staffing associate at Prudential and former aviation warfare systems operator in the U.S. Navy. "If we get two or three veterans on board today, we'll be thrilled.
After an initial on-the-spot interview, Cillo and his team will take qualified candidates' resumes and pass them onto the department heads at Prudential who are looking to hire. The veterans who meet with Cillo will be automatically greenlighted to the next phase in the interview process.
Another company in attendance, the privately-held US Foods, found success at the first annual Hiring Our Heroes job fair in 2011 and returned this year with an eye towards bringing on even more veterans than before. Last year, US Foods interviewed seven qualified veterans, made three job offers, and made two hires.
"This year, we have 36 open positions, and we're hoping to do even better," says Charlie Murphy, human resources coordinator for US Foods. "Vets bring so much to the table. Their organization skills and discipline are on a level that many people don't have." The veterans in attendance at the job fair were excited with the prospect of getting callbacks and were busy passing out resumes and shaking hands. One of those veterans, Kirtan Stout, a nine year Army veteran and former staff sergeant, says he's looking for something in investment management and international business.
"The post 9/11 G.I. bill was wonderful, and since I got off active duty, I pursued my MBA, and now I'm looking for my first job in corporate America," says Stout. "I haven't done much searching yet, but the reception overall seems to be positive. I think most companies will want to hire veterans. Why wouldn't they?"