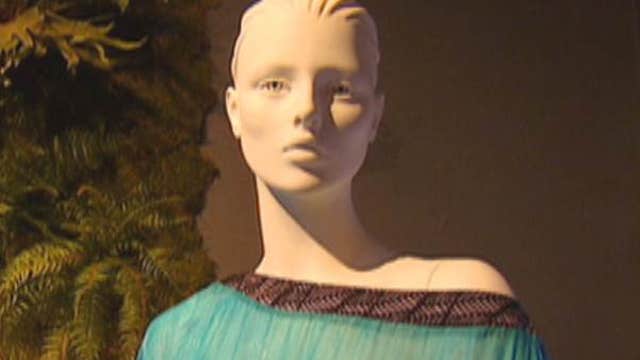 Brick-and-mortar retailers are trying new ways to win over shoppers.  They're going high-tech and using the power of data to gain insight into customer behavior and buying patterns.
From heat maps to targeted discounts to futuristic mannequins, this tracking technology is designed to get valuable customer information to help turn store visits into final sales.
One company in this space is Prism Skylabs. The San Francisco-based startup uses video from existing security surveillance cameras to create heat maps showing high-traffic areas and build flow charts of  people's movements in a store.
Retailers that use the video analytics service can see what items people pick up the most or the areas in a store that attracts shoppers. The foot traffic information is anonymous and no personally identifiable information is ever used or stored, according to Prism Skylabs.
And then there is Italian mannequin maker, Almax, with an entirely different business proposition for retailers: the EyeSee Mannequin.
Inside one of the mannequin's pupils is a camera that's connected to facial recognition software. When someone stands in front of the mannequin, the software instantly breaks down their gender, age range, ethnicity and dwell time.
"All very important information (for retailers) that can be further dissected to determine what's selling, what's hot, what's not," said Ken Stolls, president of Global Visual Group, the parent company of Almax.
The mannequin is designed for retailers to personalize what they offer customers and observe who is attracted by store windows and displays.
"Anything that the retailer can do to differentiate themselves, not only from the in-store, but after-store experience, is going to put them at a more competitive advantage," said Stolls. The price for an EyeSee mannequin starts at $5,000 and is already in some U.S. stores.  Stolls declined to name them due to confidentiality agreements.
As for customer privacy concerns, the cameras don't record anything and the demographic data is processed live in real time, according to Almax. "It's collecting the data that you or I or someone else may represent, but it's not taking a picture of you and storing it somewhere," Stolls said.
Almax has expanded its services to include targeted marketing.
"We could do something where there's a small screen next to (the mannequin) and based upon the data that is collected, it can punch up a relevant product," Stoll said. "Maybe it's a guy in his mid-40s and there will be a grill that's being promoted."
Retailers may turn to these high-tech tools to compete with the growing popularity of online shopping.  This holiday season, retailers have opened their doors early, stayed open later and some have even stayed open for 24 hours straight. Yet in-store retail sales and traffic dropped during the first three weeks of December from last year.  Sales fell by 3.1% and retail brick-and-mortar shopper traffic plunged by 21.2% the week before Christmas, according to ShopperTrak.