High-Tech Concession Stands Let Fans Pour Their Own Beer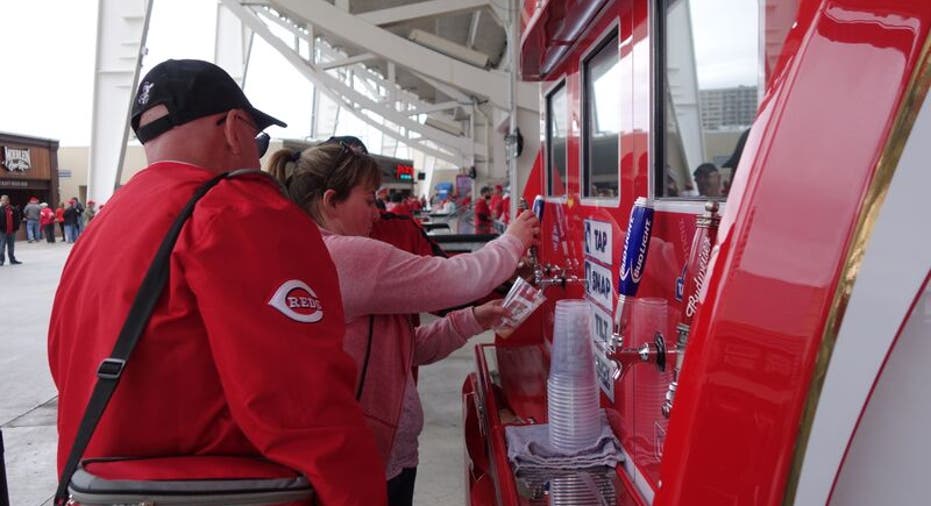 Any sports fan who has gone on a beer run at their favorite team's stadium knows the struggle of waiting in line at a crowded concession stand. But a number of vendors at arenas and entertainment venues throughout the United States are experimenting with self-service beer stations that could drastically reduce the time you spend away from your seat.
DraftServ Technologies, a Georgia-based tech company with roots in the restaurant industry, has rolled out self-service units at several MLB, NFL, NHL and NBA venues around the country, as well as the Kentucky Derby locale Churchill Downs and the Indy 500. Fans with a valid ID can purchase preloaded $10, $20, or even $50 cards for use at DraftServ kiosks, select the beer of their choice and pay for their beverage by the ounce.
Shorter concession lines and order customization are just part of the appeal. Company founder Jose Hevia says DraftServ machines save customers money and allow vendors to closely monitor their inventory, identify sales trends and maximum their revenue.
"Another thing that we give [clients] that's especially valuable is a lot of data and information," Hevia told FOXBusiness.com. "We tell them what they're selling, when they're selling, when people have a choice between these brands, here's what they're choosing, which inning, what time of the game, what side of the stadium, things like that."
Traditional concession stands and beer vendors are still far more common at sports stadiums than the self-service beer machines developed by DraftServ and its competitors. In total, DraftServ has about 300 mobile units in operation. Machines carry a price tag of anywhere from $5,000 to $20,000, depending on the number of faucets per station.
The company also charges clients a monthly fee for tech support and sales data analytics. At present, Hevia says DraftServ has partnerships with four major concessionaires, including Buffalo-based hospitality firm Delaware North and Philadelphia-based Aramark, as well as six major cruise lines.
A career restaurateur, Hevia has spent the last 25 years honing his craft at establishments throughout the greater Atlanta, Georgia area. In 2007, Hevia installed his first-ever self-serve beer stations at a Cheeky restaurant in Suwanee, Georgia. The proprietary device ran beer lines to taps that were built into tables, allowing customers to pour their own beverage and pay by the ounce.
"I didn't know at the time that I was the first person to do that in North America," he said.
Hevia spent the next three years experimenting with self-serve stations at his restaurants. Eventually, his team developed an RFID-enabled beer wall, where customers could use prepaid cards to select and pay for their drinks.
Before long, the self-serve system has generated some local buzz and attracted interest from other vendors. To meet the demand, Hevia founded DraftServ Technologies. The Suwanee-based company landed its first major client, Carnival Cruise Lines, in 2013, installing machines that allowed cruisegoers to use their cabin key to buy beverages. The 2014 MLB All-Star Game marked DraftServ's first test at a national sporting event.
Hevia says DraftServ's data shows its self-serve kiosks sell anywhere from two to four times more beer than a traditional concession stand. DraftServ machines averaged a keg yield of 92.8% in 2015, compared to an industry average of 75% at normal draft stations that lose a quarter of their product to spills, waste and theft.
The tech-based systems also allow concessionaires more control over price.
"If you were going to go to a game now or be on a cruise ship or in a hotel, you're typically going to pay one price for domestic beer and another price for craft beer. But those kegs all have different cost ratio," Hevia said. "Now [vendors] can price their beer product in line with the profitability they need to attain as opposed to just dropping them into simple buckets."
Aside from the high cost of the machines, self-serve alcohol stations come with some inherent safety concerns, especially in the charged environment of a competitive sporting event. Pro stadiums and concerts routinely set beverage limits or cut off service after a certain time to prevent alcohol-fueled violence or reckless driving.
DraftServ's approach to safety issues has evolved since the company was founded nine years ago. Each self-serve machine has an attendant to check IDs and determine that patrons aren't too drunk to buy more beer. Systems can also be programmed to deactivate at a specific point, such as the 7th inning of a baseball game, or to prevent a customer from being too many drinks at once.
The company is expanding its offering to include wine and batched cocktails, as well as nonalcoholic options like soda or water. Eventually, Hevia and his team are aiming to provide the data analytics software to vendors for use alongside both self-serve machines and traditional, full-service concession stands.
"The same way you have an operating system on your laptop or on your mobile phone, we're embedding beverage operating systems for our clients," Hevia said.