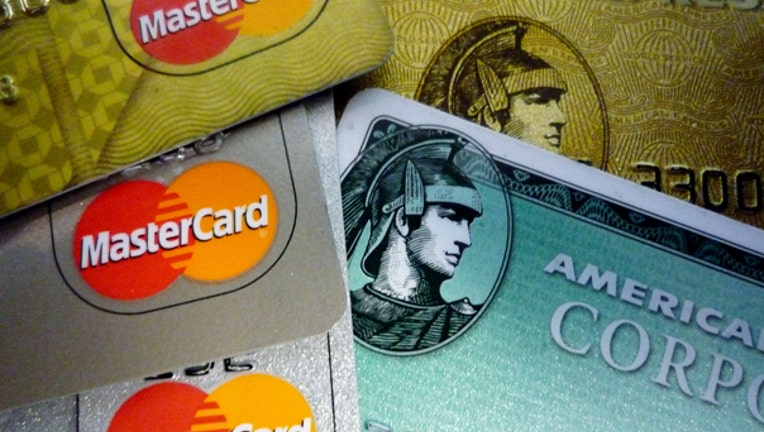 Business owners only want the best for their business, right down to the last detail. With dozens of business credit cards on the market, it can be hard to find the right match that will make the right impression when paying for a client lunch and at the same time provide rewards that can impact the company's bottom line.
Credit card companies offer an array of business cards, and just because a card has high annual fees, that doesn't mean it offers the best rewards and advantages than the no or low-annual fee counterparts.
A card like the American Express Centurion Card, also known as the Black Card, not only has an annual fee that runs thousands of dollars, it also has a minimum spending amount per year that is rumored to be $250,000. The card costs $5,000 to activate and charges a $2,500 annual fee and is offered by invitation only--no one quite knows how to snag an invitation, outside of being Donald Trump or Angelina Jolie.
To get an idea of what kinds of rewards a card with a high annual fee can offer, here's a look at some business credit cards that do carry a steep annual fee (though nothing like the AmEx Black Card!) and are available to anyone with a strong credit rating. Paying an annual fee can be the ticket to the elite credit card that your business deserves – just be sure to pick the right one.
The Business Platinum Card from American Express OPEN
Annual Fee: $450
This business credit card is the closest you can come to carrying a Black Card from American Express, if that's important to you. With a high annual fee, it's still available only to people with extremely good credit, so don't even bother applying if your credit isn't stellar.
Why is this card worth that $450 annual fee? Well, when you spend $5,000 in the first three months, you'll get 25,000 bonus Membership Rewards points – usually earned at a rate of one point per dollar spent – and American Express Membership Rewards is one of the very best rewards programs out there. Not only can the points be used to pay for plane reservations, hotel rooms, merchandise and more (pro tip: air travel offers the biggest bang for your buck, when it comes to rewards), but rewards can be used to redeem travel through virtually any travel loyalty program you wish.
The card also gives access to VIP airport clubs and lounges, as well as free bag check and  in-flight refreshments. Holders also get $200 annually from Amex to refund any incidental travel fees, along with 24/7 concierge service from the American Express team, which is known for going above and beyond to assist cardholders with everything from making reservations to running errands. Just think of them as an on-call personal assistant.
There's no pre-set spending limit with this card, and you'll get access to exclusive AmEx events, from sporting events to concerts, that are sure to impress clients and potential partners.
Capital One Spark Miles for Business
Annual Fee: $59 (waived the first year)
This card gives double miles on purchases, a 15,000 bonus mile sign-on bonus (10,000 miles for spending $1,000 in three months and 5,000 more for adding an employee card), and lets you use the miles on any airline, anytime, with no blackout dates, restrictions, or expiration dates.
But the benefits also extend beyond travel rewards.
Capital One provides holders business management tools like spending summaries, expense reports, tax prep help, budgeting tools, and amazing, award-winning customer service. The Spark business cards are extremely popular and give good value for the money. At $59, the annual fee isn't high at all, and with the potential to earn free flights and get help tracking business spending, this card is well worth considering.
Miles can be used for gift cards, merchandise and cash back, but remember that travel is always the best redemption value.
Citi Business AAdvantage World MasterCard
Annual Fee: $95
For the business owner who travels frequently and wants high-value rewards with lots of flexibility, this is great credit card that will pay off far more than its $95 annual fee. Bonus miles can be used on American Airlines, but as they are cutting some of their routes, remember that AAdvantage bonus miles can also be used to book travel on any of the twelve oneworld alliance partners, including airberlin, Japan Airlines, British Airways, Cathay Pacific, and more.
Businesses applying for this card must have established credit history and a great credit score. Once approved, users will enjoy benefits like 30,000 bonus miles after making $1,000 in purchases during the first three months, free baggage check, priority boarding, double miles on eligible American Airlines purchases, and a 5% mileage bonus every year, depending on the eligible purchase amount.
Applied Bank Visa Business Card
Annual Fee: $119.40
The annual fee with this card is disguised; it looks lower because it's broken down to $9.95 a month which adds up to almost $120 a year. The Applied Bank Visa Business card offers no rewards, no concierge service, no expense reports or spending summaries and no travel perks.
It does offer a high APR of 23.99% on purchases, and the ability to be approved with less-than-great credit. In my opinion, this business credit card isn't worth the money, so don't make the mistake of thinking that a high annual fee always means elite status. It doesn't.
Elite Cards: What to Look For
Business owners can still impress clients and colleagues with a prestigious credit card. Just remember that if a business credit card carries a high annual fee, it should give something in return: travel benefits like priority boarding and free bag check, exclusive access to events and VIP lounges, concierge service, and high-value rewards.
Michael Germanovsky is a personal finance expert with in-depth knowledge of credit cards, charge cards, and pre-paid cards. His tenure as a personal finance expert began at the Novoye Russkoye Slovo, a partner of the New York Times International Weekly. In 2011, Germanovsky created the Student Credit Card Education Initiative and sounded awareness of high interest rates. At large, Michael is editor-in-chief at Credit-Land.com
.