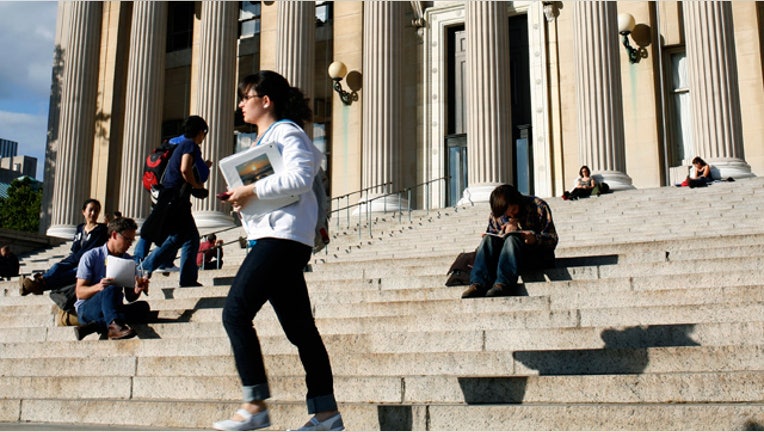 The college process is long and arduous, and students and their parents are increasingly turning to private admissions consultants in an attempt to outshine the competition and increase acceptance odds.
According to consulting agency Strive for College Collaborative, the number of registered private college consultants has doubled in the past two years, with 22% of students at private colleges having used admissions consulting.
"Acceptance rates at top-tier colleges have become so competitive that good grades and test scores simply don't distinguish an applicant anymore, so they're looking for that edge on the more qualitative component of the application," says Jon Small, vice president of College Prep at VeritasPrep, a test prep and admissions consulting company
Families are increasingly turning to private consulting because cash-strapped high schools can no longer afford a strong commitment to counseling, says Jim Miller, chair of governance and Nominating and past President of the National Association for College Admissions Counseling (NACAC).
"Whether those services are absent or because the student to counselor ratio is so high, sometimes it's 1000 to one, the counselor really doesn't have as much time as the family would like."
What High-End Coaching can Do
Private consultants help students understand their audience and submit compelling applications that set them apart from other applicants, says Michele Hernández, co-founder of Application Boot Camp and former assistant director of admissions at Dartmouth College.
"Our job is to teach students what colleges are looking for and how they can present themselves and their scholarly niche so colleges can see right away how they will contribute to the campus," she says. "We debunk the myths so they don't write clichéd essays that hurt them or use their time in high school in a un- focused way."
One misconception about consulting services is that counselors are putting in a good word to decision makers on behalf of students, says Lynn O'Shaughnessy, author of The College Solution.
"These counselors help direct these students to schools that would be a good academic fit--I think it's rare that counselors are calling up admissions people and saying you should take this child."
The Price Tag
Private consulting service prices can vary from a couple thousand to tens of thousands of dollars, say the experts.
"By getting accepted to top tier schools, [students] receive large financial aid packages that make up for the price a hundred times over," says Hernández. "Why not get into the best college you can…and get more financial aid from the top schools that have much bigger financial aid budgets and much larger endowments."
For families unable to afford high end consulting, there are ways to bridge the gap and access valuable information to help students get accepted.
Look for discounted or free services from private consultants. Experts recommend families with limited finances seek out free resources from consulting companies such as newsletters, free presentations and qualified pro bono services.
"The best consultants are now spreading their expertise much farther than ever before," says Small. "Some of them will charge less for assistance over the phone or internet than for the traditional one-on-one consulting engagement."
Application Boot Camp and Veritas Prep recently partnered to make the guidance and assistance offered in its $14,000 workshops available to families through the Application Boot Camp on Demand program for just $750.
"It's not some watered-down knock-off version of the live workshop people pay $14,000 for--it captures the exact same advice and guidance, only it's delivered as an interactive, online and on-demand program," says Small. "It's affordable to a much larger population of students and their families, helping them get the knowledge and assistance they need to prepare the most competitive applications possible."
Narrow down choices as a family. Paring down the list of schools that would be a good fit academically, economically and socially will limit application stress to only real contenders.
"They need to first back up and think about who they are, how strong a student they are, what kind of goals and aspirations they have, whether they would better fit into the large urban campus or the college town football school, think about the setting, the course dynamics," Miller says.
The experts suggest using websites and search engines to find schools to fit students' needs and wants such as College Navigator,College Completion  and College Results.
O'Shaughnessy recommends families also take the time to look at the net price calculators on school websites to see if their top choices will be financially feasible before applying.
Use high school resources. Miller suggests students use whatever resources students' high schools offer to get into college, particularly if there are counselors willing to sit down and talk to students about the college experience.
"They can provide a level of understanding of the campus options that you just can't get out of a book," he says. "If they have someone…who can say, 'in the past hour or two, I've gotten to know you and College X would not be great for you, so you should consider College Y,' I don't see a need for independent counseling."
School counselors can also connect families with former students from their high school who have gone on to attend that student's top choice colleges, says Miller.
"You want someone who has successfully navigated to that institution from a circumstance that is somewhat similar to yours."