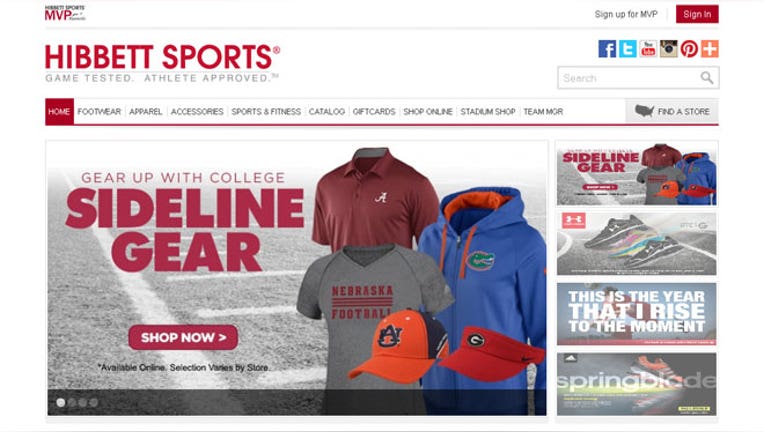 Hibbett Sports (NASDAQ:HIBB) booked a 12.9% decline in its fourth-quarter profit, as higher costs and weaker store traffic in January overshadowed a slight improvement in sales.
The sporting-goods retailer said Friday its earnings fell to $16.9 million from $19.4 million in the same period a year earlier. Per-share earnings checked in at 64 cents versus 73 cents.
Sales ticked 0.2% higher to $217.8 million. The year-ago quarter had the benefit of an extra week of sales.
Analysts were looking for strong earnings of 70 cents a share. Revenue also missed a consensus estimate of $221 million.
Chief executive Jeff Rosenthal said the Birmingham, Ala.-based company faced a tough year-over-year comparison due to merchandise sales related to last year's NCAA national football championship between Florida State University and Auburn University. Hibbett operates stores in the South, Southwest, Midwest and mid-Atlantic regions.
But same-store sales during the fourth quarter, including the holiday shopping season, were up 1.7%.
"We were very pleased with sales during the holiday season, although we experienced a significant slowdown in January due to significant weather-related store closures and a less favorable sales impact this year from the college football championship game," he said.
In addition, gross margins narrowed to 35.8% from 36.1% amid an uptick in input costs. Operating costs were up 7%.
For fiscal 2015, Hibbett expects to post earnings of $2.78 to $2.98 a share and a low- to mid-single digit percentage increase in same-store sales.
The retailer noted its operating expenses will increase as a percentage of sales due to higher healthcare costs, which are projected to hit earnings by two cents a share.
Hibbett plans to open 75 to 80 new stores during the year while closing 15 to 20 locations. The company also has 10 to 15 expansions in the works.
Shares fell 3.2% to $56.00 in early morning trading. The stock was already down 13.9% year-to-date through Thursday's close.