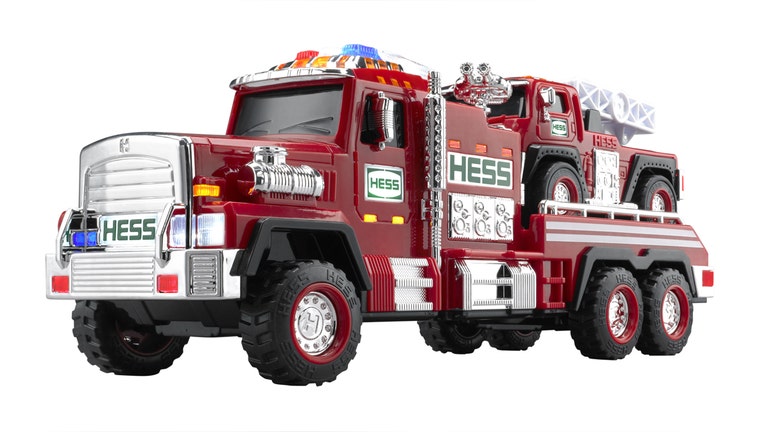 Hess (NYSE:HES) sold its retail business, the largest chain of gas stations and convenience stores along the East Coast, to Marathon Petroleum's (NYSE:MPC) Speedway in 2014. But Hess promised to continue making its popular toy trucks, holding onto a longtime holiday tradition.
Hess Toy Truck is one of the longest-running toy brands in America. Even though Hess trucks are available for a limited time, they are responsible for nearly 10% of the toy truck market for the whole year, according to Hess.
The company believed it was important to make sure the toys remained a part of the holidays.
"The Hess Toy Truck has been a cherished tradition on the East Coast for 50 years, so we wanted to continue that tradition and bring smiles to kids' faces," said Justin Mayer, General Manager of Hess Toy Truck.
The 2015 Hess Fire Truck and Ladder Rescue will be sold online starting Nov. 1 for $30.99, batteries and shipping included. Hess will also have kiosks in select shopping malls.
Leon Hess opened the first Hess-branded gas station in 1960, and four years later, the Hess Toy Truck was born. The first toy was modeled after the Hess tanker trailers that would deliver gasoline to stations. It sold for $1.29 with batteries included.
For the first 31 years, the limited-quantity Hess trucks debuted on Thanksgiving Day to long lines of customers. In hopes of encouraging Americans to skip Thanksgiving shopping, Hess moved the first day of sales to early November in 1995.
Hess trucks are moving into a new era without the company's retail outlets. Online ordering was introduced in 2012 with out-of-town customers in mind. Now the website is the primary way for fans to buy the latest Hess truck, and Hess added free shipping since its stores are no longer an option. Mayer expects "a ton of traffic on the website this year."
"We think this is going to be a great year for us," Mayer added.
In a sneak peek at the 2015 model, Hess said the red fire truck has a LED searchlight and four sound effects, among other features. The included ladder rescue features a push-activated friction motor that powers the wheels.
The design process, which takes several years, is a "fairly guarded secret," according to Mayer. "We think it adds to some of the fun."
Hess sold two different products for the first and only time in 2014, the 50th anniversary of Hess Toy Truck. In addition to the 2014 Space Cruiser with Scout, the company offered a collector's edition truck featuring a Hess tanker and a smaller replica of the original 1964 tanker.
Hess is adding a new twist this year. An individually numbered Silver Edition Fire Truck and Ladder Rescue will be hidden in 100 boxes sold online or at Hess kiosks.
Holiday shoppers in the Northeast can find the kiosks in 10 New York, New Jersey and Pennsylvania shopping malls. Hess said the mall locations will open on Nov. 12.
"Families have the tradition of going to the store. We call it the annual pilgrimage," Mayer said. "We wanted to continue that tradition."