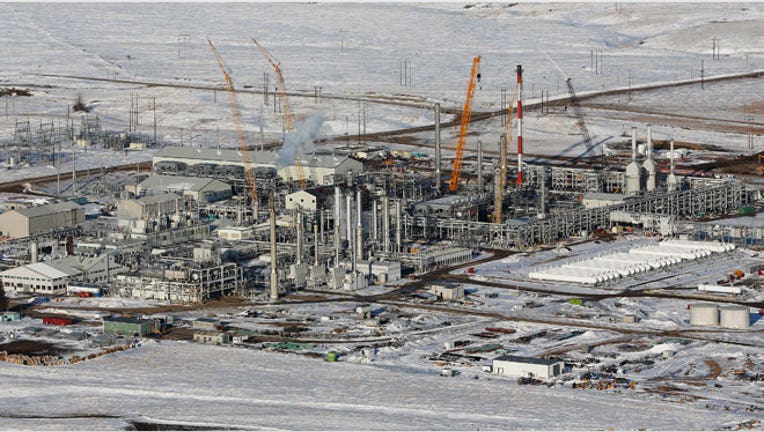 Hess (NYSE:HES) said Monday it expects fourth-quarter earnings to check in below Wall Street's projections, as the energy company trimmed its production guidance and forecasted lower selling prices for oil.
For the first two months of the fourth quarter, global realized selling prices for crude oil averaged $98.65 a barrel, down from $104.95 for the entire third period. Hess explained that the decline was largely fueled by an $11 drop in domestic price realizations.
The New York-based company said it expects the decline in realized selling prices to push adjusted earnings below third-quarter results, thereby missing market expectations for the current period.
Hess recorded adjusted per-share earnings of $1.18 in the third quarter. Analysts recently projected $1.38 a share for the fourth quarter.
Hess added that production will likely remain level with third-quarter results. Fourth-quarter production is now forecasted to average 310,000 barrels of oil equivalent per day, below the company's prior guidance of 320,000.
The company has embarked on a plan to transform itself into a pure-play exploration and production company, shedding a wide range of assets.
It recently agreed to sell its East Coast and St. Lucia terminal network to Buckeye Partners (NYSE:BPL) for $850 million. Hess also sold its stake in a Russian unit to Lukoil for $1.8 billion, in addition to a $1.2 billion deal to sell its energy marketing business to Direct Energy, the North American unit of British company Centrica.
Hess said it has closed the Buckeye and Direct Energy deals, in addition to the $650 million sale of its Natuna A asset, through the first two months of the current period. The energy producer recently unveiled a deal to sell its interest in the Pangkah asset in Indonesia for $650 million.
Including announced and completed divestitures, total after-tax proceeds from the company's portfolio shakeup has reached $7.8 billion year-to-date, Hess said on Monday.
Hess shares ticked 38 cents higher to $79.33 in early morning trading. The stock has outpaced the broader market this year, posting a 49% gain through Friday's close.