Hershey's Gold is company's first new bar brand since 1995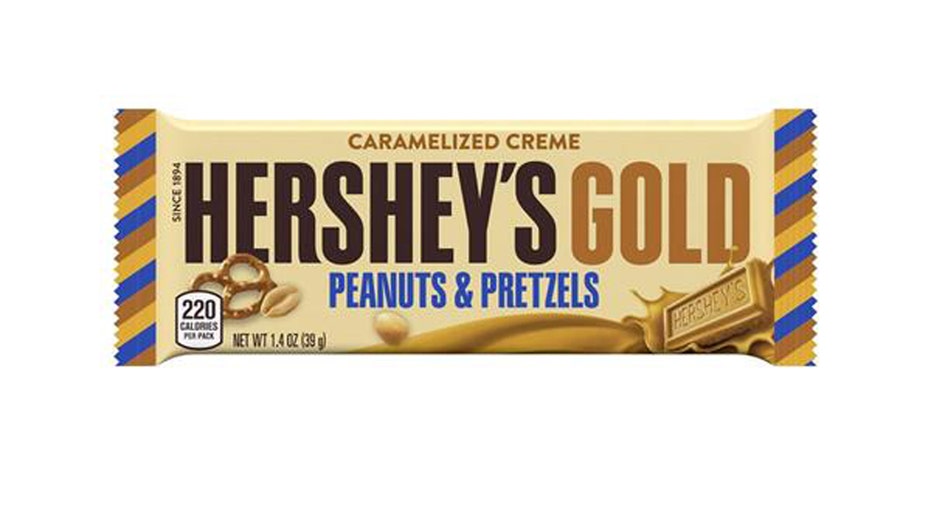 The Hershey Company (NYSE:HSY) is launching its first new Hershey bar brand in 22 years nationwide on Friday with the release of "Hershey's Gold," in the latest stage of the confectionary giant's wider expansion push.
The "Gold" bar is described as a caramelized crème bar that also contains peanuts and pretzels. The new product, which does not contain any of Hershey's trademark chocolate, is the first new candy bar to bear the Hershey's name since the release of "Cookies 'n' Crème" bar in 1995.
"The buttery, sweet taste of Hershey's Gold bars provides an entirely new way for consumers to enjoy our brand," Hershey's said in a press release. "We use a proprietary cooking process to transform the white crème into a golden bar by caramelizing the crème, which helps maintain a sweet, creamy taste."
Hershey's third-quarter revenue and earnings-per-share beat Wall Street's expectations last month. At the time, company executives touted the launch of "Hershey's Gold" during a call with analysts as part of its bid to reach new consumers.
"Hershey's Gold" will see heavy promotion during the 2018 Winter Olympics, which begin in February. The company has tapped U.S. speedskater and eight-time medalist Apollo Ohno, gymnast and four-time gold medalist Simone Biles and gold medal-winning Paralympian Rico Roman to serve as its brand ambassadors during the games.
The Hershey Company earned $1.5 billion of its $7.4 billion in revenue through its Hershey's brand in fiscal 2016. As of last year, Hershey said it held a 32.1% share of the U.S. confection market.
Hershey CEO Michele Buck told Fortune last October that she aims to expand from a primarily confection-focused company to an "innovation snacking powerhouse" and said she would not rule out a potential "transformational acquisition" to reach that goal. Hershey rejected a $23 billion acquisition bid in 2016 from Mondelez International, the maker of Cadbury chocolates and Oreo cookies.
"I'm very open to mergers and acquisitions. I see them playing a key role in our growth agenda going forward," said Buck. "We've an opportunity with mergers and acquisitions to go into spaces where our brands currently can't travel. And that will be one way we grow."
Hershey shares are up nearly 7% since January and were trading at roughly $111 as of market close on Thursday.