Hershey Rejects Initial Takeover Offer From Mondelez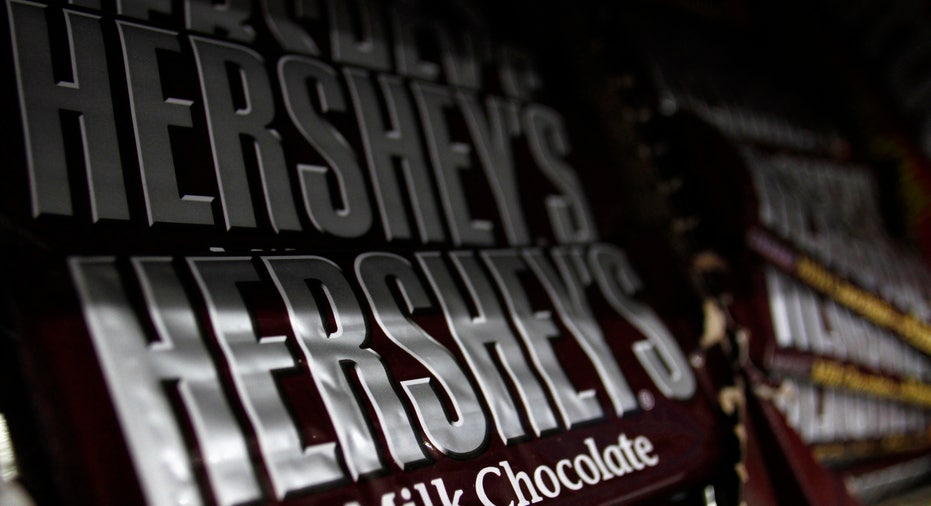 Mondelez International Inc. has made a roughly $23 billion bid for chocolate giant Hershey Co. in what would be a blockbuster deal uniting two of the world's best-known candy makers.
Mondelez, which makes Oreo cookies and Cadbury chocolate bars, recently sent a letter to Hershey proposing the tie-up at $107 a share, according to people familiar with the matter. The bid is 50% cash and 50% stock, they said.
Hershey shares surged 15% to $111.87 after The Wall Street Journal first reported on the bid. Mondelez gained 5% to $45.13.
Hershey promptly rejected the approach, saying its board determined the expression of interest provided no basis for further discussion with Mondelez.
The maker of eponymous Kisses and chocolate bars had a $21 billion market value Thursday ahead of the report. Mondelez had a $69 billion market value.
Any sort of deal would be contingent on the approval of the Hershey Trust, which holds 8.4% of the famous company's common stock and 81% of its voting power. The Trust has been opposed to selling the company in the past, though Mondelez is prepared to go to lengths to win it over.
Mondelez is pledging to protect jobs following a merger of the companies, locate its global chocolate headquarters in Hershey, Pa., and rename the company Hershey, according to one of the people.
A Mondelez-Hershey deal would create the world's biggest candy company, bringing together the second- and fifth-largest industry players by revenue, according to research firm Euromonitor. Mondelez currently ranks as the world's second-largest confectionery maker, after Mars Inc.
The bid would be expected to face little resistance from antitrust authorities, as Mondelez doesn't have its own presence in the U.S. chocolate market. Hershey, meanwhile, has a limited non-U.S. presence.
Still, it's far from clear the offer will lead to a deal.
For one thing, the bid could cause others who have long coveted the iconic company to come out of the woodwork. Nestlé SA is one possibility. The Swiss food giant already licenses the KitKat brand to Hershey in the U.S. Nestlé has the right to reclaim control of the chocolate-covered wafer treat if someone else buys Hershey -- at no cost, which could diminish Hershey's value to Mondelez by $3 billion, according to a person familiar with the matter. Nestlé could have greater antitrust issues in the U.S. if it were to try to buy Hershey, however.
Then there's the trust, which was established by the 122-year-old company's founder, Milton Hershey, and runs a school in Hershey for underprivileged children. The trust's mandate extends beyond simply maximizing shareholder value.
Mr. Hershey was considered as much a philanthropist as an entrepreneur. His Mennonite background led the son of German immigrants to a belief that businesses and their leaders are morally obligated to share their wealth with society. So as he built the chocolate company, he raised a town as well, erecting a bank, a department store, churches, golf courses, a zoo and a trolley system -- public accouterments that were all completed by the early 1900s. Then he and his wife, Catherine, founded a school for orphan boys, now called the Milton Hershey School. The prime beneficiary of the Hershey School Trust is the Milton Hershey School, which was set up in 1909 to serve disadvantaged students and is now a lavishly appointed institution.
More than a decade ago, Wrigley, now a unit of the privately held candy giant Mars, tried to buy Hershey, but resistance from the trust scuttled the deal at the last minute.
There has been turnover recently on the trust's board. The Pennsylvania Attorney General is investigating the board for alleged overpayment of directors and conflicts of interest. This year, several board members of the Trust have resigned or been fired, and it's possible the shake-up could change the dynamic and sentiment of the board. The trust has said it is working with the attorney general's office.
It's also unclear what reception any deal would get in the town of Hershey, where the company is based and where the streetlights along Chocolate and Cocoa Avenues are topped with giant Hershey kisses.
Hershey had sales of $1.8 billion in the first quarter, a 5.6% decline from the year-earlier period, in part because of adverse currency moves. In 2015, the candy maker had sales of $7.4 billion and earnings of $513 million. Today, the company has about 80 brands, and has recently moved to court more health-conscious consumers.
Mondelez, based in Deerfield, Ill., had sales of $29.6 billion in 2015, a 13.5% drop from the year-earlier period -- also in part because of currency pressure. In the first quarter, the company had revenue of $6.5 billion, down nearly 17% from the year earlier amid pressure on its coffee business.
Mondelez has a complicated deal-making history. The company is the product of a 2012 separation from Kraft Foods Inc., which had been under pressure from Trian Fund Management LP and other activist investors. That came only two years after Kraft had acquired the U.K. chocolate company Cadbury PLC for $19 billion, and the chocolate assets went with Mondelez in the separation, while Kraft Foods Group Inc. kept cheeses, nuts and other well-known grocery-store brands.
In 2015, Kraft Foods merged with ketchup giant Heinz, owned by Brazilian private-equity giant 3G Capital Partners. William Ackman's Pershing Square Capital Management LP disclosed a $5.5 billion stake in Mondelez last year, betting the company would become a target, rather than an acquirer, in a coming wave of consolidation in the snack industry. Mr. Ackman, an investor in 3G, has pushed Mondelez to either cut costs or consider selling to Kraft Heinz Co., as it's now known.
Amid trouble in his own portfolio, which led that bet to become an outsize holding proportionally, Mr. Ackman recently trimmed the Mondelez stake to 5.6% including options.
Trian also has a big Mondelez holding and firm founder Nelson Peltz is on the snack company's board.
Trian in 2013 unveiled stakes in PepsiCo Inc. and Mondelez and began pushing for a merger of the two to be followed by a spinout of Pepsi's beverage business, which Mr. Peltz argued was dragging down its more profitable and faster-growing snack business.
Pepsi rejected the idea, and Trian dropped its call for a merger when Mr. Peltz joined Mondelez's board in 2014. Trian owns about 3% of the snack maker's stock, a stake worth more than $2 billion at recent prices.
-- Annie Gasparro contributed to this article.
Write to Liz Hoffman at liz.hoffman@wsj.com, Dana Mattioli at dana.mattioli@wsj.com, Dana Cimilluca at dana.cimilluca@wsj.com and David Benoit at david.benoit@wsj.com