Hershey CEO Weighing Next Steps in China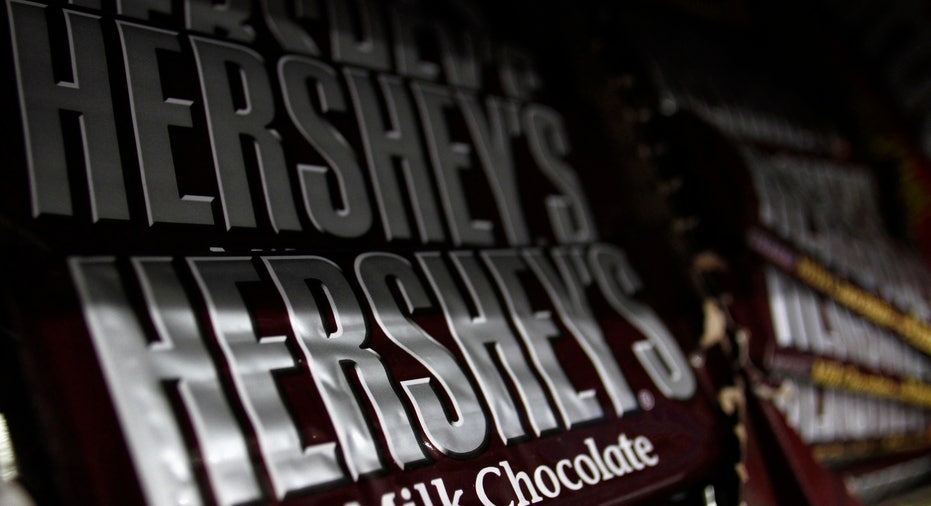 Hershey Co (NYSE:HSY), which just agreed to buy out its joint venture partner in India, is weighing its next step in China.
The U.S. candy maker owns a factory in China with South Korea's Lotte Shopping Co Ltd <023530.KS>. Current demand for the two companies' products uses 90 percent of the factory's capacity and Hershey Chief Executive John Bilbrey sees it exceeding that very soon.
"We're looking now at what do we do next. Do we joint venture again on an additional factory or do we build our own factory? Do we do it in Southeast Asia? We haven't answered that question," Bilbrey said in an interview at the company headquarters in Hershey, Pennsylvania, ahead of a new factory opening.
Hershey just spent $300 million to modernize and double the size of a factory less than 2 miles from where its founder Milton Hershey opened his first chocolate factory in 1905.
The updated factory, which opens officially on Tuesday, can make 70 million Hershey's Kisses a day, up from roughly 40 million before.
As for China, Bilbrey said another option could be to move into Lotte's other factories there, space-permitting.
"I think we know enough to build (a factory) on our own, but that may not be the most financially viable way to do it," Bilbrey said. He expects to make a decision over the next 12 to 18 months.
Many international joint ventures are structured with eventual exit plans. So Bilbrey said it was no surprise when Hershey moved earlier this month to buy out its Indian partner, Godrej Consumer Products <GOCP.NS>.
"We learned a lot from them. They were good partners," he said. "But food is not a core competency for them. We got ourselves to where it would be better for us to go on our way."
Just because Hershey bought out its Indian partner does not mean it will buy out all its partners, Bilbrey said. Referring to a Brazilian venture Hershey has with Bauducco Foods, he said he had no reason to believe that relationship will change.
"That may go on in perpetuity because it's good for them," Bilbrey said of the Brazilian maker of panettone - an Italian holiday cake. Since Bauducco's business is seasonal, it helps to have a partner to share the factory's costs, he said.
Along the same lines, Hershey is currently building a distribution center in Canada with Italy's Ferrero.
Hershey has forecast 2012 sales of about $6.5 billion, with about 15 percent of that coming from international markets. By 2017, Hershey expects revenue of about $10 billion, with international sales accounting for about 20 percent.
Growth of the company's existing brands, such as Reese's, Kit Kat, Twizzlers and Jolly Rancher, should bring the company to about $9.3 billion, Bilbrey said. The remainder should come from acquisitions.
"We actively look all the time," said Bilbrey, whose favorite candy bars are Hershey's Milk Chocolate with Almonds and PayDay.
Acquisition targets could include brands in international markets or in the United States, in candy or in adjacent categories such as snack bars or other nutritional products.
In December 2011, Hershey agreed to acquire Canada's Brookside Foods, which makes chocolate-covered jelly candies.
Those candies, made with fruits like acai and pomegranate, are currently sold only in Canada and in U.S. Costco Wholesale Corp (NASDAQ:COST) stores. But Hershey plans to roll them out widely across the United States, starting in January.
(Reporting By Martinne Geller in New York; Editing By Ryan Woo)