Here's What Tom Brady's Missing Super Bowl Jersey is Worth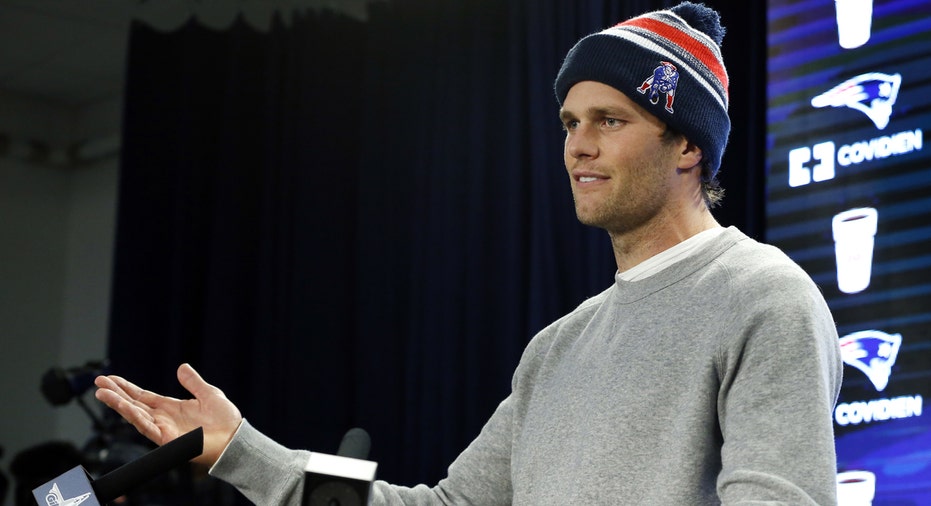 New England Patriots quarterback Tom Brady's missing Super Bowl jersey is worth much more than its sentimental value, according to a Houston police document obtained by FOX Business.
A police report filed on Feb. 13 values the jersey, which Brady first reported missing from the locker room while talking to the media shortly after winning Super Bowl 51, at $500,000.
"On 2/05/17, the City of Houston hosted Super Bowl LI in the NRG Stadium. Shortly after winning the game, New England Patriots quarterback Tom Brady noticed his game jersey missing from his locker in the Patriots' designated locker room," the police report's description of the incident said.
The document lists Brady as the complainant and notes that the Houston Police Department division called "Major Offenders – Police Impersona/Swindle" is handling the case. The crime is being investigated as a first-degree felony.
TMZ Sports originally published the police report.
Brady's jersey was already destined to draw a pricey valuation due to the circumstances of the Patriots' victory. Trailing 28-3 after the first half, the 39-year-old quarterback led the Patriots to a 34-28 comeback win, earning Most Valuable Player honors and an unprecedented fifth Super Bowl ring in the process.
"It wouldn't surprise me that somebody would want to pay $500,000 to have that. Especially at this point, where it's gotten so much notoriety that whoever does get it – if they should one day get it – would get that much money in public relations and marketing support," Brandon Steiner, founder and CEO of New York-based memorabilia company Steiner Sports, told FOX Business.
Ironically, the apparent theft of Brady's jersey enhanced its value as a collectible – if authorities manage to recover it.
"It's always about the story that goes around that jersey," Steiner added. "What he accomplished in that game was amazing. It will be remembered up in New England forever and a day. And now, because it was missing, if they ever find it, it probably will be worth that much because of all the stuff that surrounds that jersey now, between the story and the greatness of the player and the greatness of that game."
The famed Texas Rangers are assisting the Houston Police Department on the case. Earlier this month, FBI officials in Boston declined to specify their involvement in the case.
Patriots team owner Robert Kraft told FOX Business earlier this month that Brady's jersey would be recovered "one way or another."
"It's very sad to me that someone would do something like this. It's like taking a great Chagall or Picasso or something. You can never display it. And somehow, I feel there'll be some news that'll clear this up in the not-too-distant future," Kraft told the FOX Business Network's Maria Bartiromo.