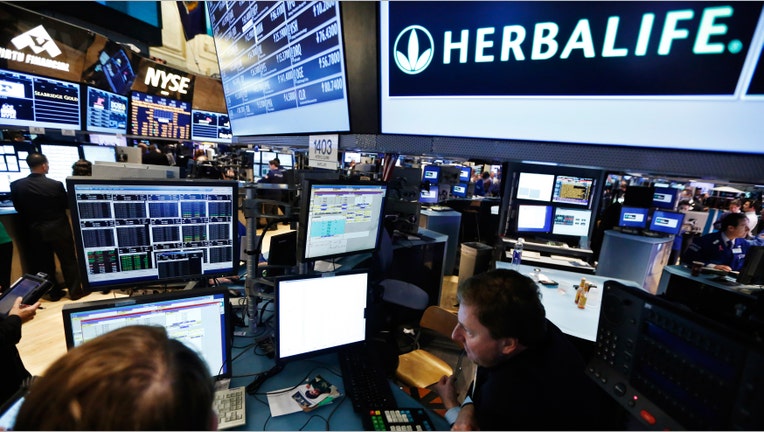 Herbalife (NYSE:HLF) posted a steep first-quarter earnings beat on Monday and raised its full-year guidance, seemingly undeterred by a wave of negative publicity as the FBI probes its business practices.
The nutrition giant reported GAAP earnings of $74.6 million, or 74 cents a share, compared with $119 million, or $1.10 a share, in the year-earlier period.
Adjusted for one-time items, Herbalife said it earned $1.50 a share, topping average analyst estimates by 20 cents a share.
Revenue for the three-month period ended March 31 was $1.26 billion, up from $1.12 billion a year ago and topping the Street's view of $1.24 billion.
For the full year, Herbalife raised its non-GAAP earnings to between $6.10 and $6.30 a share, up from a range of $5.85 to $6.05 a share provided in February. Analysts on average are calling for earnings of $6.04.
The controversial health supplement manufacturer has been under fire for more than a year from activist investor Bill Ackman, who has called the nutrition company a pyramid scheme. This has triggered the F.B.I. and attorneys general from New York and Illinois to probe Herbalife's business practices.
Ackman will launch a Herbalife documentary on Friday of alleged victims who say they were defrauded by the company in another effort to try and delegitimize Herbalife.
While the negative attention has racked up legal fees for Herbalife, the company nevertheless reaffirmed its commitment to returning value to shareholders on Monday -- a signal of healthy margins as revenue continue to grow.
"We continue to achieve record earnings, strong sales growth and enhanced profitability," Herbalife CEO Michael Johnson said in a statement. "Our performance reflects the demand for our exceptional products, as well as the hard work of our independent members who continue to cultivate and grow their base of satisfied customers worldwide."
The robust earnings follow a record fourth quarter for Herbalife, during which the company exceeded expectations as revenue increased across Herbalife's six regions -- particularly in China and South and Central America.
Shares have since tumbled in reaction to the multiple investigations, and are down 25% since January 1. However, they were up about 2% to $60 in extended trade late Monday.
Meanwhile, activist investor Carl Icahn has spoken out against Ackman and has increased his representation on the nutrition company's board. With a 16.8% stake in Herbalife, Icahn is the company's largest stakeholder.
In a tweet on Monday, he commended the nutrition company for suspending its dividend and focusing on shareholder value, calling it a "great move" and saying it "confirms confidence in the future."