Help Kids Learn About Entrepreneurship by Starting a Summer Business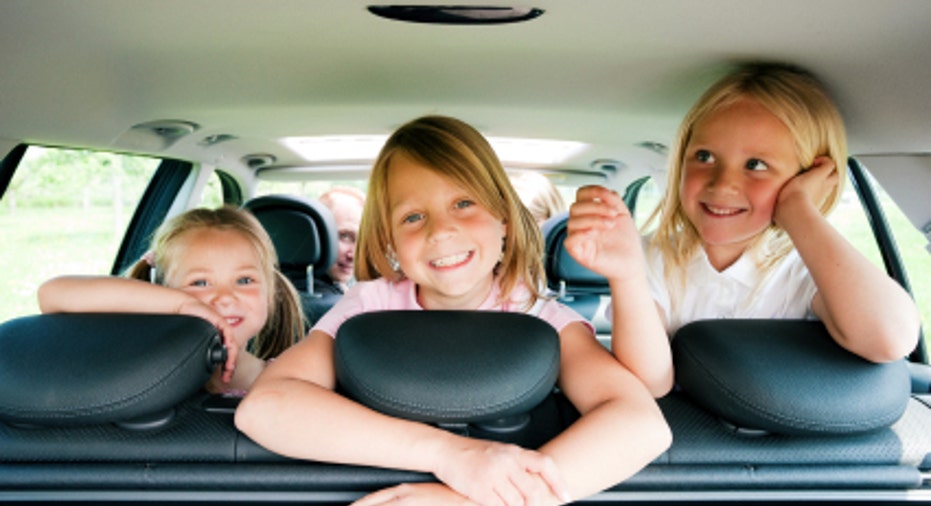 We all want our children to become confident, intrepid, and imaginative little men and women. We want them to follow their dreams, take chances, and understand they don't always have to color within the lines. These lessons aren't necessarily taught in the classroom, but can be learned during their earliest entrepreneurial pursuits.
A summer business can be the perfect breeding ground to help your child's confidence and entrepreneurial spirit take flight. It encourages creativity, while also teaching some very practical skills like balance sheets and marketing. And today's kids aren't just sitting by the lemonade stand either. They're busy building an organic lemonade empire, or creating an app that lets you know where the best lemonade stands are on a given afternoon.
If your child shows an interest in starting a business this summer, here are a few ways to help make that experience (if not the business itself) a success:
Let Them Follow Their Passions
My husband and I try to instill in our children that they need to be passionate about what they do. We discuss the things they like and how they can turn that into a business concept. As entrepreneurs ourselves, we wholeheartedly believe that if you do something you love, you never really have to work a day in your life. That's one of the most important lessons I'd like to pass down to my kids.
If your child doesn't have a specific enterprise idea in mind, have them make a list of their favorite hobbies and activities. If they love pets, maybe they're ready for a dog-walking or pet-sitting business. Maybe they want to sell jewelry on Etsy or resell vintage items they find at garage sales. One of my favorite entrepreneurs, Zappos founder Tony Hsieh, got his start as a worm farmer at the age of nine.
As parents, we need to stay open-minded about their ideas. Hsieh's very supportive parents made the two-hour trip to buy a box of mud that was supposed to contain 100 worms! It's far better to help our kids pursue their own idea (provided it's safe and legal!), than impose our own ideas on them. After all, you want them to enjoy the process and not lose interest by the beginning of July.
Make a Plan
A good business plan is at the core of any startup. While your child doesn't need to put together a fancy PowerPoint to pitch to a VC, you do want to teach the importance of planning. Have them create a list of all the equipment and supplies they need to launch their business. For example, if they're starting a cupcake business, what ingredients do they need? How will they package their cupcakes? If it's a babysitting business, they might want to take a CPR or first aid course. How much time do they think the business will take and how will they balance it with their other activities?
In addition, have them write down their goals ahead of time. How much money can they make? What else do they want to achieve in the business? It will be a great exercise to revisit these goals at the end of the summer.
Be Their Investor
Once your child has created the plan, you'll need to give them the money they need to launch. Their business plan should itemize all the necessary upfront costs, so you'll know exactly how much you'll need to spend. If possible, you can stipulate that you'll fund a certain level, provided they also contribute with their birthday money, allowance, or other savings. You can even create a mock investor meeting where they pitch their idea, and then write up a short contract on the funding agreement.
boy holding cash
Open a Bank Account
Open a bank account in both your name and theirs. Let them see their money grow each week/month. If possible, business expenses should come out of this account so your child can get a more realistic sense of how expenses impact their profits. This will encourage them to make smart choices about how to invest in their business.
Make It Legal
Children are subject to the same rules as adults, and certain types of businesses require a permit in order to legally operate, even if the business owner is just starting high school! In particular, food-service businesses will require permits as they grow. You can usually find out licensing information by calling your local city clerk or secretary of state. Or call an online filing service for help.
Depending on the type and scope of the business, you may want to consider forming an official company structure. While most kids operate as sole proprietors, this business structure can put your family's assets at risk if something should happen with your child's business venture. For example, my oldest son likes to design apps. If an app looks like it will take off on iTunes, we'll want to roll it under our holding company (if we didn't already have a holding company, we'd create an LLC). Use your best judgment in terms of how seriously to take your child's business and liability protection.
Don't Forget About Uncle Sam
As tempting as it may be to let your child's business fly under the radar, this is a great opportunity to teach your children about taxes and civic responsibility. Ethical businesses can get ahead.
While you report your child's unearned income (like interest and dividends) on your own tax return, generally speaking a child is responsible for filing their own tax return if they have business income greater than $400. Keep in mind that your child won't get the deduction for their personal exemption (you'll still report them as a dependent). But the good news is that they will pay tax on their income at their own tax rate, and not yours! You can read more about tax requirements in IRS Pub 929.
It's OK to Fail
As adults, we know that we're going to fail a few times on our way to success. However, any kind of disappointment can be devastating for your child and deter them from trying in the future. It's up to you to help your child understand that failure is not such a bad thing. Share an example of one of your brilliant failures, or let them know that even icons like Steve Jobs had some massive failures along the way.
As entrepreneurs, our greatest lessons often come from failures. Discuss the experience with your child — get them thinking about what happened and what they could do differently. There's always a chance for a brand new business next year.
More AllBusiness.com:
The Top 25 Home-Based Business Ideas
10 Websites Where You Should Have Your Company Profile Listed
25 Frequently Asked Questions on Starting a Business
50 Inspirational Quotes for Entrepreneurs and Start-Ups
Nellie Akalp is a passionate entrepreneur, small business advocate and mother of four. As CEO of CorpNet, a legal document filing service, Nellie helps entrepreneurs start a business, incorporate, form an LLC or set up Sole Proprietorships (DBAs) for a new or existing business.