Health and Fitness Jobs: What You Need, Where to Go, and What You'll Pay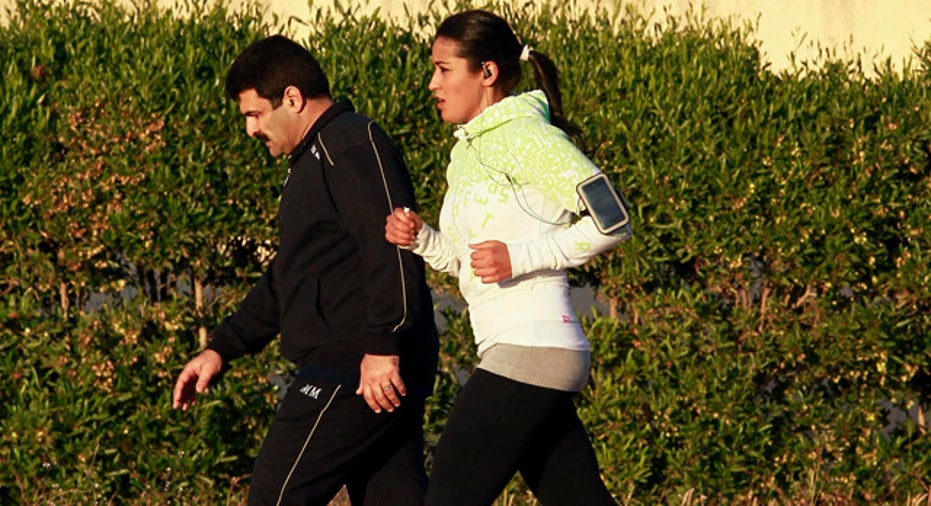 Whether you're a professional marathoner or you only get off the couch for a chip run, it's hard to overlook the growing interest in health and fitness issues in the U.S.
With more Americans taking a proactive role in their health, careers in the health and fitness sectors are experiencing unprecedented growth.
"In the last five years, I've seen trainers and athletic coaches grow their businesses by 500%," says John Romaniello, author of Final Phase Fat Loss and founder of Roman Fitness Systems in New York City.
Ten years ago, Romaniello says personal trainers were paid around $75 an hour to train one person. Today, there's been a shift in training methods and many instructors now take on four clients per hour at $60 each. Additionally, things like "bootcamps," outdoor group classes with up to 40 people, are also big money-makers for fitness pros.
"Today, instructors are making $240 an hour, but the clients are happy, too, because they're paying less overall," says Romaniello. "With bootcamps, you can charge 30 people $20 per class without the overhead of a studio rental, and all of a sudden you're making $600 an hour."
For those interested in pursuing a career in health and fitness fields, Todd Galati,  spokesperson for the American Council on Exercise, says the current environment makes for an easy transition.
"Public awareness is up that fitness is not only for the fit," says Galati. "Fitness professionals aren't just working in gyms. It's going to be a solid growth industry over the next 10 years."
Fitness careers are also expanding online, according to Jake Steinfled, owner of the "Body By Jake" franchise and chair of the National Foundation for Governor's Fitness Councils.
"The change that's happening in the industry has to do with education and the fact that more people interested in getting in shape now have access to a professional," says Steinfeld. "People are very private and a gym can be a very intimidating place if you are not in shape and not feeling good about yourself. Thankfully, more people are turning to the web to get their personal training sessions virtually."
Steinfled launched online fitness hub FitOrbit.com in 2009, and now employs more than 400 personal trainers all over the country that work with thousands of clients each month from the comfort of their bedrooms or living rooms.
But if working out virtually doesn't appeal to you, schools are also another growth area for fitness professionals, according to Steinfeld.
The Governor's Fitness Councils have installed 18 "Live Positively" fitness centers that teach exercise and fitness classes to schoolchildren in California in the last year, and more are currently being built in Pennsylvania, Massachusetts, New York, and Washington, D.C.
But no matter where you're looking to work, anyone entering the fitness world seeking to become a professional should look carefully before paying for certification. Although many companies claim to offer a certificate of some sort, only 13 fitness organizations in the U.S. are accredited by the National Commission for Certifying, (NCC), the independent accrediting body for the majority of credentials in the health and fitness field.
"Certification from a nationally-accredited and recognized provider is essential," says Lisa Hufcut, spokesperson for Town Sports International, (NASDAQ:CLUB) the largest health club company in the Northeast, which does not hire any trainers or teachers without an NCC-recognized certificate or membership in the Yoga Alliance. "We worked closely with the American Council on Exercise to develop our certification program."
But with so many different careers in athletics to choose from, knowing what qualifications are necessary and what kind of costs are involved can be difficult. Here's a breakdown of what to expect if a career in fitness sounds like the right move for you:
If you want to be a Strength and Conditioning Trainer:
You'll need: A four-year university degree and a passing score on the National Strength and Conditioning Association (NSCA) exam
You'll Pay: $200 for the exam, and anywhere from $500 to $1,000 for study courses and materials leading up to the exam
You'll do: "Strength and conditioning experts focus on improving a person's athletic performance rather than helping someone lose weight," says Todd Miller, NSCA board member and head of the Department of Exercise Science at George Washington University. "They design exercise programs that improve performance, and they design very different programs based on the athletic population they're training. "
If you want to be a Yoga Teacher:
You'll need: Certification from the Yoga Alliance, although some yoga studios do not enforce this requirement. If you're looking to teach at a larger gym, like Town Sports, you'll need to be registered at the Registered Yoga Teacher (RYT) 200-hour level, or the RYT 500-hour level, which shows that you've completed the requisite hours of training at a school accredited by the Yoga Alliance.
You'll pay: An average of $3,000 nationally for a teacher training program at a Yoga Alliance accredited school. There will likely be additional fees for books, special workshops or guest teachers. The registration fee for filing with the Yoga Alliance once your training is complete is $80.
You'll do: Students typically teach the yoga type they train in, but yoga offerings have changed a lot in the last few years, says Romaniello.
"There is traditional yoga with its roots in spirituality and meditation, and then there are these very niched varieties that appeal to different populations. There's Broga-yoga, which is basically yoga for men that's a mix of yoga and strength training, then there's partner yoga, where every single move is done with a person you don't know. There's something for everyone."
If you want to be a Personal Trainer:
You'll need: Prerequisites include being 18 or older and holding a current CPR & AED certificate. You'll also need to complete a training course from an accredited organization like ACE and sit for and pass the exam.
You'll pay: The ACE training course is one of the best deals out there at $579.95 including the exam; the exam alone costs $200
You'll do:  "Personal trainers can provide either  one on one or small group exercise programming, offer fitness assessments, and help create programs for people that improve cardio respiratory fitness," says Galati.
"Trainers work with people who cannot even walk 3 minutes without stopping, and with people who are training for marathons and are looking for ways to improve their endurance and their personal best."
If you want to be a Group Fitness Instructor:
You'll need: To be 18 or older and hold a current CPR & AED Certificate. You'll also need to complete a training course from an accredited organization like ACE and sit for and pass the exam.
You'll pay: The ACE training course costs around $499.95 including the exam; the exam alone costs $200
You'll do:  "Group fitness instructors design and deliver unique group fitness programs," says Galati.  "They can invent their own programs or do pre-choreographed programs."
Some types of group classes include spinning classes, or various dance classes that incorporate aerobic movements.
If you want to be a Lifestyle and Weight Management Consultant:
You'll need: You'll either need to hold an NCC accredited certification (like an ACE certification in personal training or group fitness instruction) or a bachelor's degree.
You'll pay: The ACE training course costs $439.95 including the exam, the exam alone costs $200
You'll do: "A lifestyle and weight management coach is a lifestyle coach who helps people with behavioral changes as well as fitness and nutritional changes," says Galati. "It's not taking the place of a registered dietician, but you can help people understand how they can improve their health with dietary changes."